Plantulas de Tetela
Grower Profile:
Federico Martinez
Production Manager
Location: Cuernavaca, Morelos, Mexico

Crop: Seedlings and cuttings
Greenhouse: 4 Hectares - Plastic houses
Climate Needs: Protecting from the inclemencies of the weather and decreasing the incoming radiation.
Svensson Solution: SOLARWOVEN ULTRA - Reinforced transparent greenhouse cover. Temperature reduction, higher PAR light penetration and minimal sunburn damage
High solar radiation is a factor that affects all crops equally, including ornamental plants
With the objective of being more competitive and producing better quality, many ornamental growers in Mexico are focusing more on implementing better technologies that allow them to produce more without having to increase the cultivation area.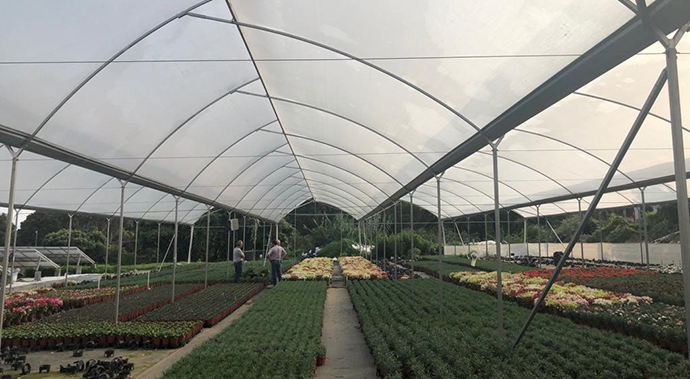 The ornamental horticulture industry in Mexico generates 1,000 million dollars annually, and although Mexico is not a top exporting country in this industry, it occupies the 3rd place worldwide in surface destined to the production of ornamental plants, with approximately 22,000 hectares, of which only 10% is destined for export.
Located in Cuernavaca, Morelos, Mexico, Plantulas de Tetela is an operation of approximately 4 hectares of protected horticulture focused mainly on the production of seedlings of various species of ornamental plants, in addition to also produce cuttings and seedlings for vegetables. "The philosophy of Plantulas de Tetela is to invest in human capital and high technology infrastructure to be able to offer our customers the best quality in young plants, always using high quality genetic material, as well as providing a better service through technical assistance and the cultivation guides that are delivered with every purchase." Says Federico Martinez, production manager.
The Solarwoven plastic is a tool that Plantulas de Tetela uses for crop protection against rain and radiation. According to Federico, Solarwoven has helped them to block UV light by up to 85%, without PAR light being affected, blocking only 15% of it. "A conventional plastic covering heats the greenhouse a lot, so it is required that we use shading. This means sacrificing the quality of the plant, the flower and the number of flowers. Under Solarwoven I can grow plants that need plenty of light during the rainy season, while they are protected from rain and hail."
The main problem at Plantulas de Tetela is the large amount of rain and hail they receive in the region. To protect crops from these inclemencies they resort to plastic coverings, but conventional plastics generate high temperatures in the greenhouse, causing the plant to go into stress, and consequently decrease its production. "By switching to Solarwoven, we were able to lower the temperature, both in the leaf and in the growing environment. Also, thanks to this weather protection, during the rainy season we continue production, obtaining the same quality as when we place the plants in direct sun light. With a conventional greenhouse covering we would not have these results," emphasizes Federico.
For Federico Martinez, Solarwoven is the ideal covering for protecting crops in areas with very high temperatures and from the inclemencies of the weather, while considerably decreasing the incoming radiation.