To this day the Svensson textile factory weaves its magic in a red-brick castle in Kinna in the west of Sweden. This is where its manufacturing operations and headquarters have been based since the turn of the last century. And even though its products are exported to hundreds of countries, it will never move. Because home is where the heart is.
Text: Petter Eklund Photo: Erik Lefvander
Our story must begin right here. I catch sight of the factory from the middle of the town: a brick castle that has loomed over Kinna for 113 years. Chimneys rising up to the horizon, the hiss of steam, trucks bumping over the railway tracks. For almost two generations textiles have flowed from the factory down here in the valley. The company used to be the largest manufacturer of curtains in Sweden, now Svensson is the world leader in climate screens for the horticultural industry. But the principles are the same: security and continuity, intermingled with ingenuity and drive.
Everything is grounded in geography and a sense of belonging. Nestled between forests and communities separated by a maze of waterways, the Sjuhärad countryside stretches between Mark in the west to Ulricehamn in the east. Why have people chosen to work with textiles here? The industry has deep roots. "This was once a border region between Denmark and Sweden, and there was a lot of trade," says Anne Ludvigson, CEO of Ludvigson Invest, which owns Svensson. She is a fourth-generation factory owner, raised in the factory from a summer job all the way up to CEO. Her great-grandfather started it all. "The landscape is not particularly fertile, and people have always complemented agriculture with other things to survive." It started with woodwork, then textiles came with the trade routes. Businesses developed. Farmers bought yarn and raw materials and outsourced manufacturing to cottages where women spun and wove goods that traders sold throughout Sweden.
 
"The Sjuhärad region reflects the industrial development of Sweden as a whole"
Wealthier farmers set up weaving mills that allowed them, over time, to build what are now called "farm estates". Out of these mills, the industry grew. In the middle of the 19th century, machines were imported from England.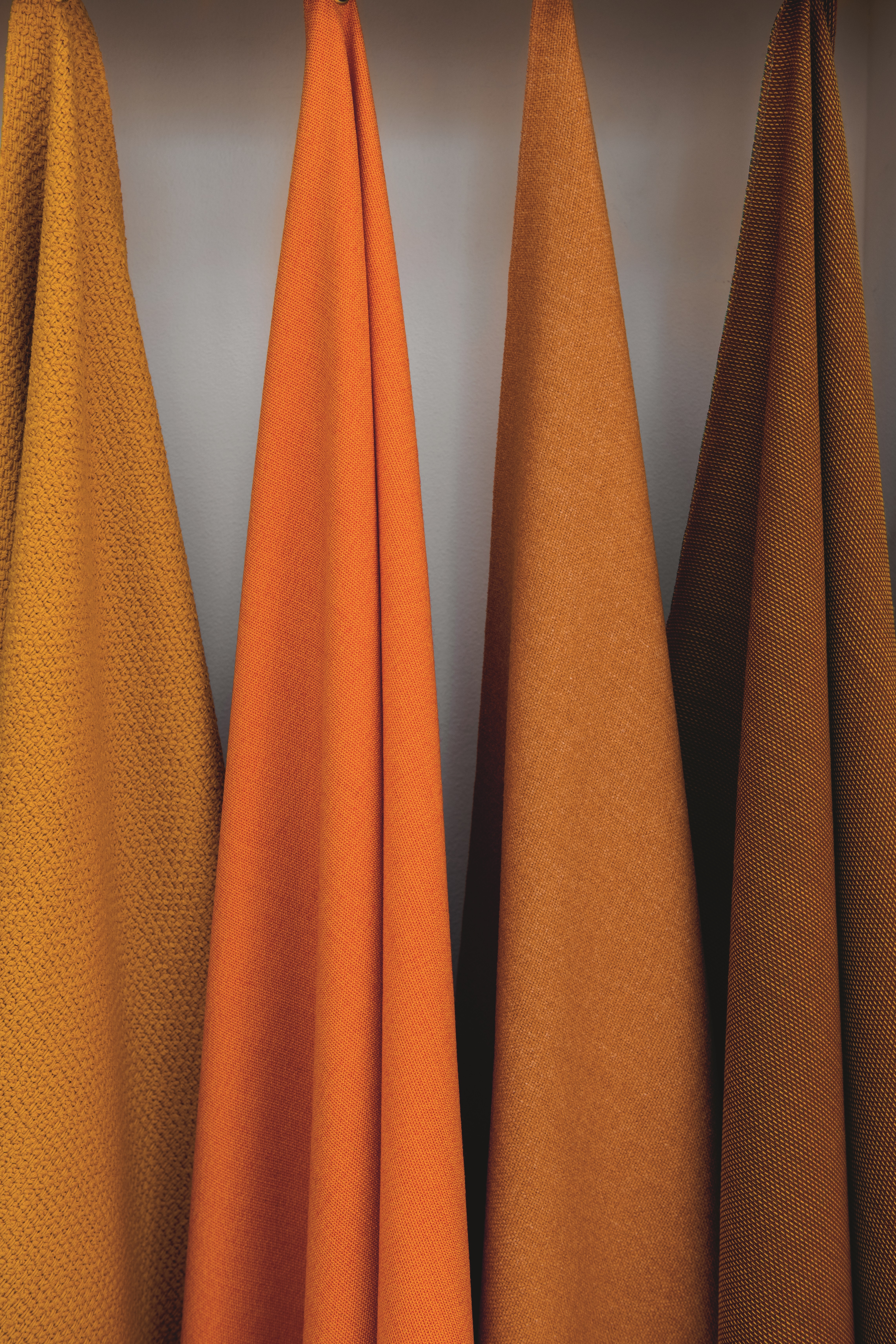 "The first ones were smuggled here," Ludvigson says. "England did not want to share its technology and encourage competition." Geography also played an important role. Water is needed for dyeing and finishing, and the Viskan river winds right through the town. The water powered the machines. "Weaving also requires the right air humidity." Everything just fell into place. Profits from the textile trade were invested in machines, and factories sprung up all along the river: clothing in Borås, weaving in Rydboholm and Fritsla, home textiles, curtains, upholstery in Kinna, and further down, Horred. "Successful craftsmen from Sjuhärad went to Gothenburg and started weaving mills there as well," Ludvigson says. One engineer – Sven Wingquist – invented the ball bearing and started SKF. Out of that came Volvo. This region reflects the industrial development of Sweden as a whole. Swedes are nothing if not enterprising. "The work ethic is ingrained in us. You have to work and do your share," Ludvigson says.
It is a workday and production is at full speed. A container at one end of the plant is filled and collected once a day. Eighty-five per cent of the products goes overseas to the Netherlands, the United States, Australia, and Russia. The factory is a hive of activity: designers busy with fabric samples, experts in light, sound and materials. Space-age devices simulate UV rays to test how the fabrics will react to sunlight. And then we have the machines – the ticking, roaring, beating heart of Svensson.
Products within the business area climate screens and interior textiles for the contract market are made in the knitting and weaving departments. Product and machine development has gone hand in hand over the years and has paved the way for, among other things, success in climate screens.
Today, the knitting department is as large as a football pitch, lined with rows of powerful machines. The world is demanding more and more climate screens. Hundreds of thousands of square meters of screens are produced each week.
Department manager Kjell-Åke Blomberg has been with Svensson since 20 January 1972 when he started as a knitter. During the 1970s, a completely different range of fabrics was being manufactured. "Back then we made 500 kilometres of Crimplene for apparel, coats and horse quilts. Another big product was 'granny curtains' that looked as if they were handmade."
You can't survive on denim or bed sheeting today. You need fabrics with added value, quality, high technology and specialisation.
 
'I was going to stay for another summer. Now I have been here 45 years'
In the warping department, the yarn from hundreds of yarn reels is transferred to a large steel beam that then becomes the longitudinal threads of the fabric. Threads run everywhere and are spooled up at 700 revolutions per minute. There may be 5,000 threads in a warp. Kristina Avramsson Volcini, also known as Kicki, is a supervisor here. She started out as a warper in 1999. Her father worked in the dye house. "It is independent work with great colleagues and a wonderful atmosphere," she says.
Kicki and her co-workers can spot even the slightest deviation in the shimmering flow of threads that are warped up on the beam. A laser and camera are also used to detect changes and damage, and stop the machine when something is wrong. Lena Eriksson started working in the warping department in 2000. "The first day on warper 4, when I saw all the threads in the air, I wondered how the heck I was going to manage." Her supervisor, Ing-Marie, had worked at the factory her entire life and knew how intimidating it could be.
Thankfully the next day went a bit better, and the next day better still. Svensson veteran Irmeli Kaitasuo has been warping since the early Seventies. Her family came over from Finland and there was a demand for labour. Her father drove a forklift. When Irmeli was 15, she and three friends applied for jobs after finishing school in the summer of 1973. It's a sweet image from the good old days, three girls at the reception desk asking, "Do you have any jobs?" "All of us got jobs. I was going to stay until the following summer. Now, I have been here 45 years," she laughs. "There was a lot of brown and orange curtain fabric when I started. It was piecework back then. It is a varied job, you take care of yourself."
Svensson works with yarn-dyed textiles. It is a longer, more expensive process, but it gives products an exquisite lustre and quality and visual expression that can not be achieved otherwise. In the dye house we meet dyer Johan Stenström, who has worked here since 1986.
"It was basically a case of just going into the office to apply. I started out as a yarn picker and had no intention of staying on, but I'm still here. Obviously, I got used to it. I can't have been unhappy."
People stay at Svensson. There is a special kind of comfort in knowing these machines and increasing your knowledge with each shift. Beginners become experts on the job, learning all the tricks of the trade. Now, 512 yarn rolls will be dyed. They are unpacked from their boxes and put on a stand to be placed in an autoclave, which works like a giant pressure cooker. Here too there have been rapid advances in technology.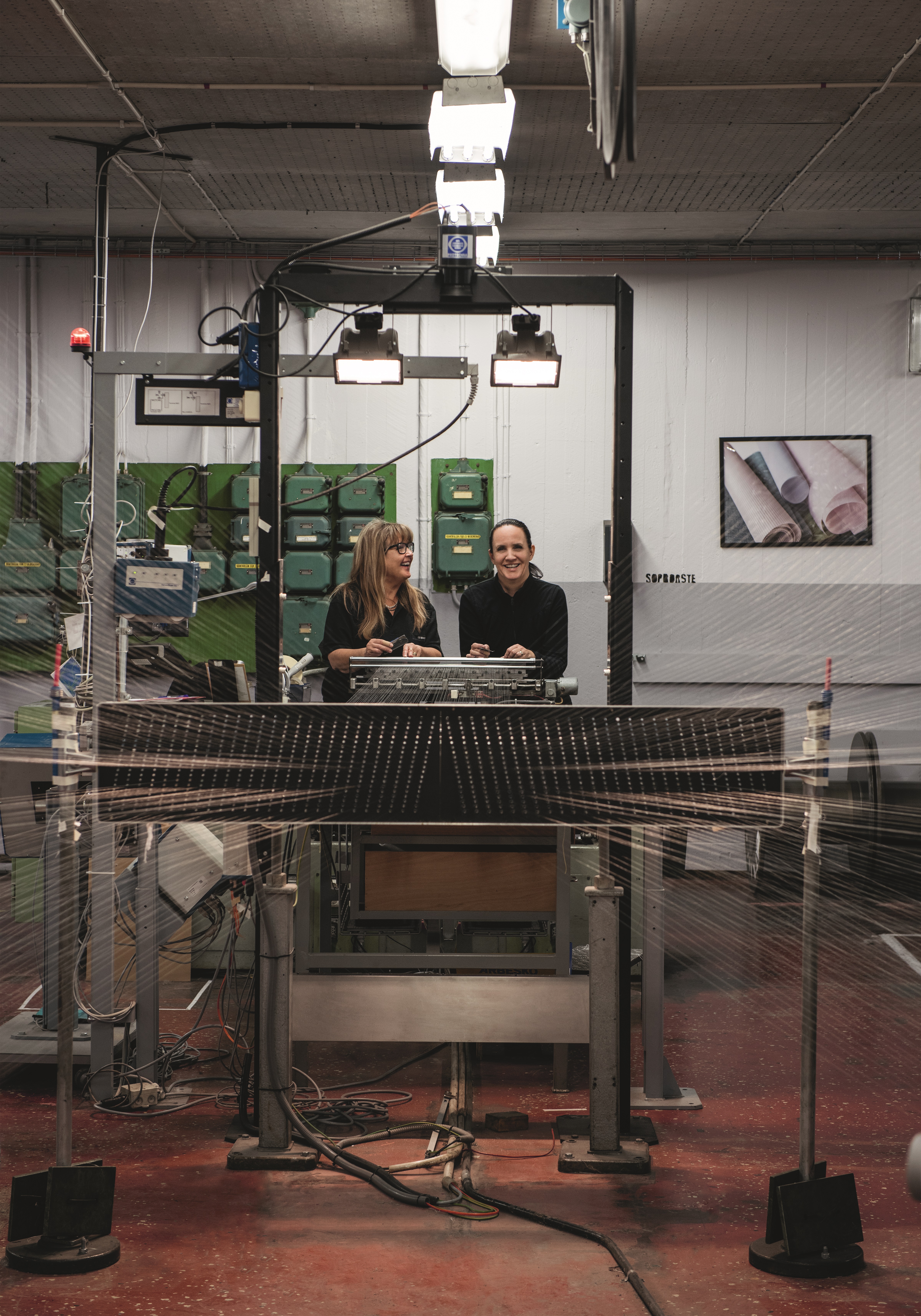 "We use less and less water per meter of fabric, and maintain rigorous controls to ensure environmental and quality certification," Stenström says.
Deep among the beams, we find Dilan Ibrahimhauling out one with 800 meters of green warp. She is a weaver at Svensson and has worked here for three years. She is interested in technology; there is something about the machines that appeal to her. She repaired cars, but was looking for steady work and found her way here. "Actually, I'm a welder and thought, 'Fabrics are made by someone else.' But I soon saw the handiwork involved, and how much time and knowledge is required. Now I see fabrics in an entirely different light and understand why they cost as much as they do. I got a new perspective," she says during a break in the lunchroom, while still keeping an eye on the 10-15 machines in her charge. Like other new recruits, she learnt the ropes for six months, first in the warping and then in the weaving department, where she is the second youngest. "It's more fun than I thought. Anything can happen. There's a lot of problem solving. Certain qualities are more problematic but we have a very low error rate."
Dilan was born in Syria, grew up in Lebanon and came to Sweden when her parents fled here in 1989. She has just learnt to tie a new warp to an old one. It is an unbelievably fiddly process, with thousands of threads that need to be combed right and inserted among massive machine parts. "Tying the warp was the hardest thing to learn," she says. But it hasn't dented her enthusiasm. Now she wants to be a weave technician.
For those who are curious and eager to learn, the factory not only offers job security but also a way to advance in the exciting borderland between technology and design. Through innovation, the factory has spurred prosperity in the region. Anne Ludvigson embodies the Svensson spirit, the sense of family that has grown through generations out of the textile kingdom's soil.
"The skills and traditions are only found here. We are solution-oriented, easy to work with. We bring that attitude with us out into the world. We are good at adapting, but our company values, and our spirit remains our foundation."