Glass that combines an AR coating with a low-e coating can save about 22% additional energy, research by Wageningen UR Greenhouse Horticulture has shown. The anti-reflection coating increases light transmission, while the low-emission coating reduces heat loss from the greenhouse. This is a new type of glass from AGCulture, with which Svensson has started a strategic cooperation. Climate Consultant Hugo Plaisier sees added value in the combination of high-quality climate screens and this specialized glass. "What matters is that we can collectively come up with even better solutions to the greenhouse climate and energy issue." 
Common low-e coatings reduce the light transmittance of glass and need a protective atmosphere to prevent degradation, which is why until now it could only be used on the inside of double-glazing. Thanks to innovation, anti-reflection and low-e properties have been combined in one coating, yielding clear energy savings, according to a study at Wageningen UR (WUR) Greenhouse Horticulture. 
Excellent combinations
AGCulture is a Japanese glass producer with various branches in Europe. In one of these branches, in Magdeburg, Germany, special horticultural glass has been developed and produced for several years. One of these high-tech glasses combines anti-reflection and low-e properties in a durable coating. Plaisier: "This is a unique type of glass, which we can offer to customers who are building new facilities. Special glass and climate screens complement each other perfectly. We provide insight into this relationship so that we can recommend the best combinations of glass and screens. For example, when advising screens, we take into account the diffusivity (Hortiscatter) of the glass: the higher this is, the lower the screening percentage of the screen needs to be, resulting in a net light gain for the crop. Ultimately, it's about the best combination of cultivation, greenhouse cover, greenhouse technology and location. We have a lot of knowledge about this in-house."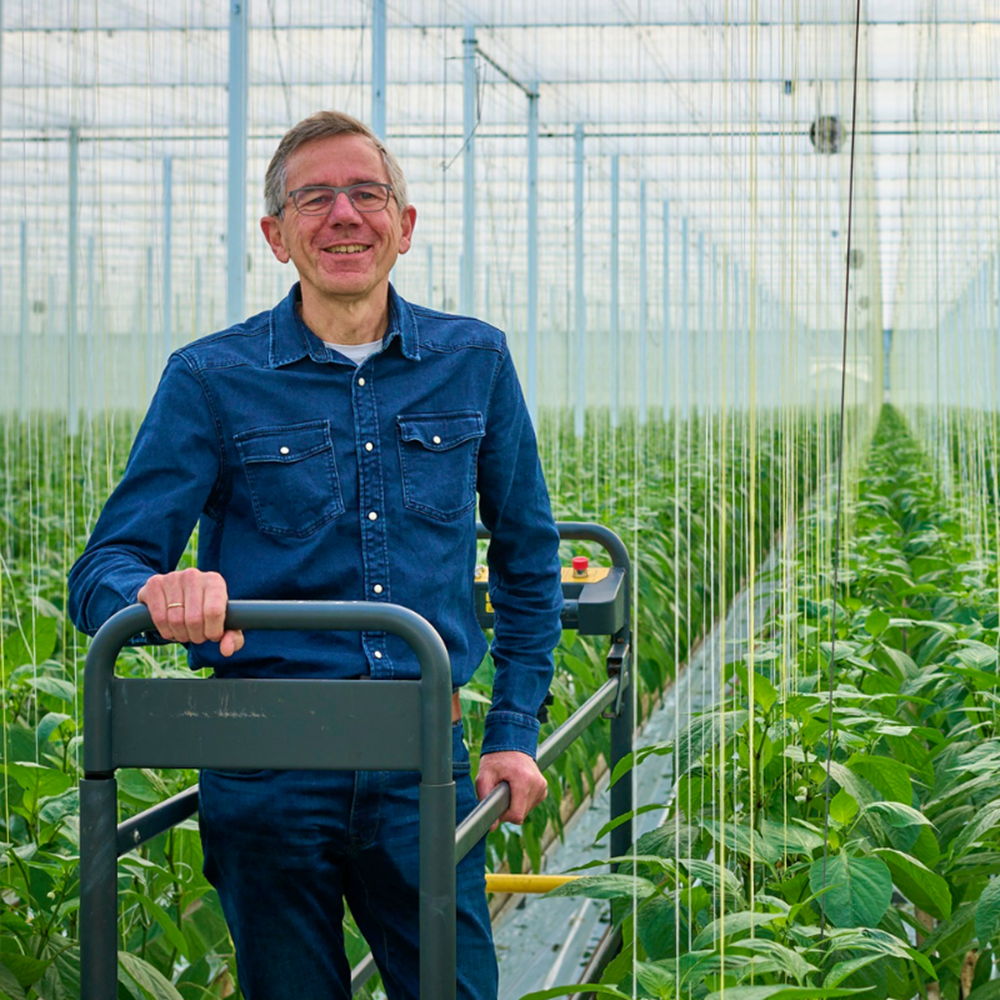 Energy savings of up to 22%
According to AGCulture, the new innovative AR / low-e glass, named Geysir, is the first energy-saving single-pane glass with high light transmission. The durable low-e coating is applied to the outside of the glass, along with an AR coating on the inside and outside of the glass to increase PAR and hemispheric light transmission to levels comparable to current greenhouse glass types. The low-e coating ensures that far-infrared heat is reflected back into the greenhouse, yielding energy savings. Calculations by WUR have revealed that energy consumption in a tomato crop can be reduced by about 22% (also in combination with other energy conservation measures, such as one or two energy screens). Due to the insulating effect of the glass, a greenhouse with Geysir heats up slightly faster, which in tomato results in half a bunch of blooms. Thanks to the low-emission coating, less condensation also occurs, allowing light to enter unobstructed. This led to slightly higher production in the 2022 season than in the standard greenhouse, although the difference was small. 
Durable against wear and tear
Together with the energy screens in place, a lot of energy can be saved on an annual basis, without sacrificing yield. On the contrary: by screening correctly, in conjunction with this low-e glass, the greenhouse climate is actually optimized and growth is promoted. In addition to this special Geysir glass, AGCulture has also developed a diffused glass, called Fountain. The etched side of this glass is protected by a durable and also hydrophilic AR coating. Advantage of both special glass types is the durability against abrasion, both for the AR / low-e coatings and for the diffused etching. The glass can be washed by the usual agents, although it is suggested that growers do not use fluorine, which even with one-time use completely removes the coating. Use of agents containing fluorine is therefore discouraged in all cases. 
Added value
According to Plaisier, there is a market for "glass with added value". Furthermore, he sees opportunities in the cooperation to match glass and climate screens even better in practice, resulting in even more energy savings while maintaining quality and yield. "We see the potential for this product for Dutch growers, very much so. It is quality glass with added value. We can demonstrate with ROI calculations that it is worth the extra investment. And for Geysir glass, many regions throughout Europe, the United States, and Canada offer incentives or rebates for installing energy-efficient glass. With this collaboration we can strengthen each other, both in terms of knowledge and products, resulting in the optimal greenhouse climate for the grower." 
Article featured in the April 2023 Issue of KAS Magazine.