Svensson & AGCULTURE enter global partnership
To support the horticulture sector in solving climate, light and energy control challenges, Svensson and AGCULTURE have formed a global partnership.
With this collaboration, both companies aim to serve the market with their expertise and premium quality solutions. Furthermore, the partners aim to capture synergies through a combined solution of glass, screens and advisory services, which will help growers and greenhouse builders achieve enhanced greenhouse climate and cultivation.
Climate solution provider Svensson and high-tech glass provider AGCULTURE share the same vision to continuously provide innovative products and solutions solving growers' challenges and needs. This common vision is the foundation of this collaboration.
"This partnership fits well with our strategy to create a better climate for people and plants in the horticulture industry. Through collaboration with AGCULTURE, we see great synergies in delivering light- and climate solutions to greenhouse owners and builders" says Anders Ludvigson, CEO at Svensson.
Svensson and AGCULTURE continue to sell their respective products and services while integrating the combined solutions into their portfolio. The complementarity of these two products in terms of energy savings and enhancement of the light quality inside the greenhouse along with advisory services, will optimize quality and yield while reducing energy costs.
"Studies [1-2], show that our combined products bring more than 23% additional energy savings with the same level of productivity and quality when used together. Because of this, we decided to move forward with forming an alliance and developing a global offer. We worked together with Svensson's experts to provide the most complete solution possible that aligned with our vision: Empowering growers to improve plant quality and increase yields while reducing their carbon-based energy resources" explains Mohammad Shayesteh, Director of AGCULTURE.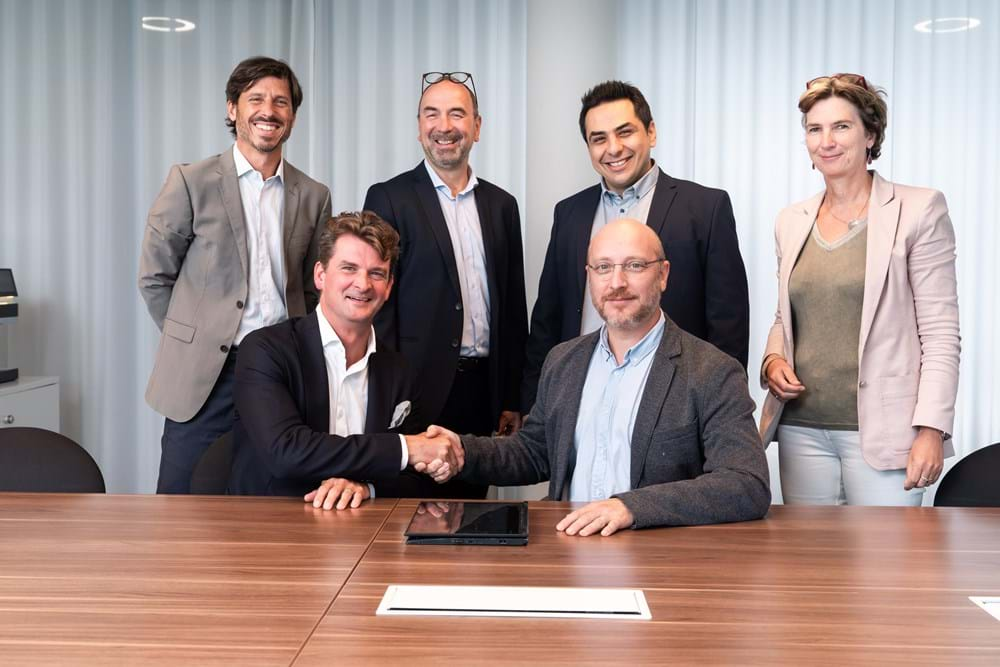 About Svensson
Established in 1887, Svensson is a family-owned business with more than 130 years of experience in the textile industry. Our climate and screen solutions, improve the success of professional greenhouse cultivation, enhancing the overall greenhouse climate. Svensson's functional solutions have been engineered for the greenhouse to save energy, control temperature, light, humidity and daylength, and reduce water and pesticide usage. More information on www.ludvigssvensson.com/en/climatescreens

For more information:
Svensson
Marcel Nouel, CCO
marcel.nouel@ludvigsvensson.com
AGC Glass Europe, a European leader in flat glass
Based in Louvain-la-Neuve (Belgium), AGC Glass Europe produces, processes and markets flat glass for the building industry (external glazing and interior decoration), the automotive industry (OEM and replacement glass) and other industrial sectors (transport, solar power and high-tech). It is the European branch of AGC, a world leader in flat glass. It has over 100 sites throughout Europe and employs around 15,200 employees. More information on www.agc-glass.eu (corporate site) and www.agc-yourglass.com (glass for the construction industry).
About AGCULTURETM
With a focus on addressing the global need for sustainable and efficient food production in ever increasing quantities, AGCULTURE™ is taking a major step forward by providing tech-driven and highly sustainable solutions for the horticultural market. AGCULTURE™ – a new business unit of leading flat glass maker AGC Glass Europe – was created in 2019 to leverage its full technological and manufacturing capabilities for solutions specially designed to help growers produce bigger and healthier crops and yields while reducing their use of carbon-based energy resources. More information on www.agculture.eu.
For more information:
AGCULTURE™
Mohammad Shayesteh
mohammad.shayesteh@agc.com
[1] https://www.kasalsenergiebron.nl/nieuws/proef-met-low-e-glas-heeft-mooi-resultaat-opgeleverd/
[2]https://www.kasalsenergiebron.nl/content/research/WPR-1040_Eindrapport_Zonder_emissie_naar_hoge_transmissie.pdf