March, 2016
Preventing energy radiation with Luxous energy screens
In the majority of cases, energy screens are installed to reduce energy bills. Not only do energy screens help cut costs, but they're also a useful tool that can influence the greenhouse climate.

With a Luxous screen, the humidity level in the greenhouse can be raised, which can be helpful at the start of cultivation, after planting. In addition, high pipe temperatures can be prevented, creating a micro-climate that's not as dry for the plants. The energy screen can also be used as a solar protection screen on summer days with a high level of fluctuating solar radiation, preventing growth stagnation and plants becoming stressed.
Evade reduced growth and condensation
On the basis of information provided by Het Nieuwe Telen (The New Generation of Growing), a new function of climate screens has been added, namely the prevention of energy radiation. If the greenhouse roof gets colder than the head of the crop, the crop will radiate energy and its temperature will drop. This "cold head" is undesirable as it reduces growth and can lead to the formation of condensation on leaves and fruits, resulting in quality issues. Closing the protective screen means that the plants no longer "'see"' the cold greenhouse roof, but see the warmer protective screen instead. The energy radiation will be less and the effect of the screen is maximized on clear nights.
During a cucumber test at the GreenQ Improvement Center in the Netherlands in 2015, the two installed Luxous screens were closed on clear nights to prevent radiation. The test took place during which time-saving energy was not necessary.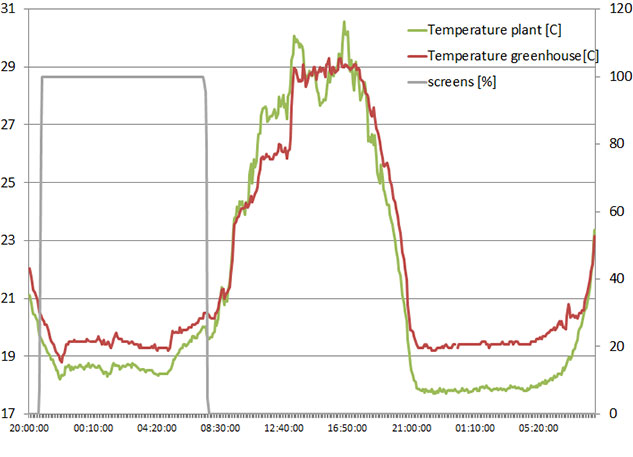 Higher plant temperature during the night
The graph above shows the air and plant temperature of the cucumber crop on two successive clear nights. On the first night, the double Luxous energy screens were closed, on the second night, they were deliberately left open. The plant temperature under the closed screens was 0.7, – 1 ºC higher than the plant temperature on the following night when both energy screens remained open, with the same ambient temperature in the greenhouse. It's also useful to (partially) close the Luxous energy screens at night, preventing energy radiation from the crop during the spring and summer, when there is no need to close the screen for energy saving purposes.