Better technologies provide better whitefly pest control
The growth of greenhouse tomato production in the state of San Luis Potosi, Mexico continues to rise, seeing some very progressive growers looking for better technologies that can help them to increase yields and mitigate the pests of the region.
With average day temperatures during the summertime, of over 80⁰ F, growers of San Luis Potosí face a wide variety of pest control problems. Ciudad Fernandez, San Lis Potosí has traditionally been a vegetable production area, and due to a tropical-like climate, white fly (Bemisia Tabaci) pest control presents a major challenge for all vegetable and fruit growers in that latitude.
Established in 2001, Eco Agri Tec, a 10 hectare greenhouse tomato production operation located in Ejido La Noria, Ciudad Fernandez, San Luis Potosí, knows very well how white fly pest control challenges the productivity of its operation. This is why José Alfredo López, general manager and business partner of the operation, partnered with other vegetable and citrus growers from the region to look for crop protection solutions that would help them mitigate the fruit fly pest issues and improve their protected agriculture production. "The original idea of trying a higher quality of pest control screens, came from a small group of vegetable and citrus growers from the region. We were focused on achieving higher yields in our protected horticulture operations and to produce a higher quality product for the export markets."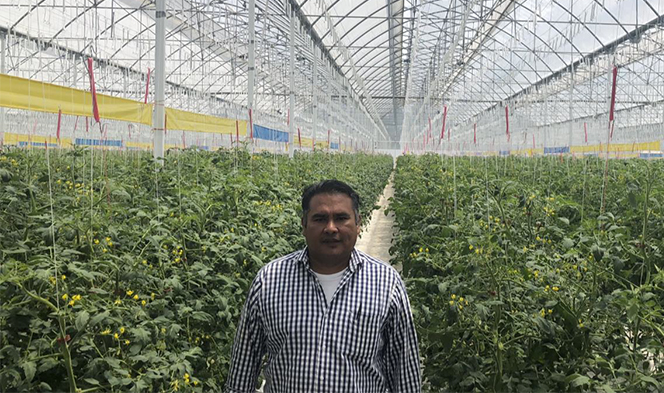 Alejandro Hernandez, head grower of the operation and also founding partner of Eco Agri Tec, shared with us his experience with pest management in this region. "We operate in a nearly tropical climate, where because of the high temperatures, we have to be very careful when selecting the greenhouse structure, plastics and screens to deal with the temperature inside the greenhouse and pest management; and also when selecting the tomato varieties we want to produce. On the plus side, winters are relatively short and not so extreme."
According to Hernandez, white fly is their major pest control concern because of its high virosis potential. "We used to apply pesticides 3 to 4 times a week just to stay within acceptable levels of pest control and lower our losses due to virosis. This made us realize that the conventional insect screen we were utilizing wasn't the effective solution."
Hernandez decided to try Xsect Balance screens in the greenhouse with the highest white fly issues and on the side with dominant wind speeds. The result of this test showed him a great reduction of the white fly population in that greenhouse, in comparison to the rest of his production area.
"After this test, we decided to replace all insect control screens with Xsect Balance. The results speak for themselves: With the conventional pest control screens we registered a 3 to 4% loss because of virosis; while with Xsect Balance pest control screens we registered a 0.3 to 0.5% loss because of virosis. A total of 2.5 to 3.7% gain in production."