Agroindustrias Villa Santiago improves greenhouse climate and increases crops' yield and quality with Xsect Balance insect net.
Located in the state of Nayarit, Agroindustrias Villa Santiago is a company that is part of the Chaparral Agricultural Group, dedicated to the horticulture of tomatoes and peppers in different varieties. They are defined by their conviction and commitment to offer food safety through the quality of their products. And the continuous improvement of their processes.
With the need to satisfy the market demand during the summer, this project was established in Compostela. An area characterized by a warm climate throughout the year. In the hot months, from April to June, average maximum temperatures of 35 °C can be reached. Precipitation is constant throughout the year, with June to October being the months with the rainiest days.
Being a region that does not present excessively extreme temperatures in summer, as in the other production sites of the Chaparral group, it is a feasible place for greenhouse tomato production during this season. However, due to the high percentage of rain and the constant warm days, maintaining the climate balance inside the greenhouse represents a significant challenge.
Invermex's advice on a Svensson climate improvement proposal, Agroindustrias Villa Santiago evaluated the Xsect Balance insect net and its climatic properties compared to the conventional 50 MESH net.
A test with two consecutive cycles, 2019-2021, showed a reduction in temperature and better humidity control by using a high porosity net that would allow more remarkable air renewal without sacrificing effectiveness in the exclusion of pests.
Two greenhouses were equipped with Xsect Balance net, one of them with recirculation and one with a conventional 50 net usually used by farmers in perimeter windows.
Ambient temperature and relative humidity (RH) were recorded with a climatic box.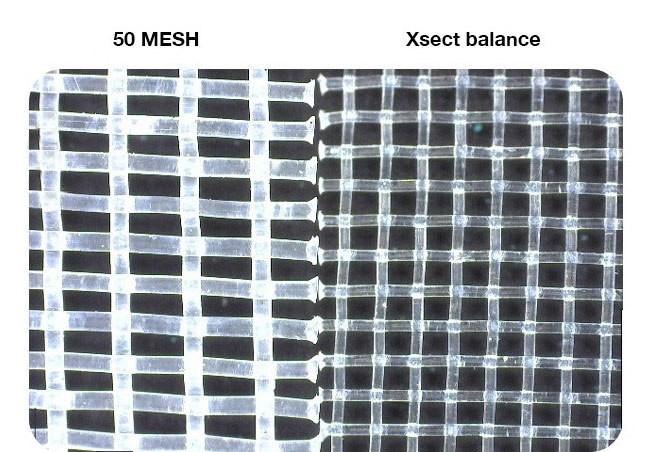 Monthly monitoring was carried out where climatic data and the effect on crop yield (Kg / m2) in the three greenhouses were presented. The results were the following:
Both Xsect Balance greenhouses registered lower temperatures than the conventional mesh greenhouse, with a differential of 3 to 5 ° C during the hottest hours of the day. The greenhouses yield with Xsect Balance insect nets increased by 12% (2019-2020) and 10% (2020-2021) compared to the conventional 50 MESH net greenhouse.

More than 30% in performance compared to last cycles (2015-2019), achieving an increase of 4.5 kg / m2. We can attribute a climatic improvement to Svensson's high porosity meshes and affirm that it is possible to significantly increase the yields and the quality of the crops through this technology.
"An evaluation of the return on investment in this technology was made with the results we obtained, concluding that it pays off in less than one year. So we decided to replace the 50 MESH net with Xsect Balance in 3 more greenhouses." .
Carlos Palazuelos comments, Director of Agroindustrias Villa Santiago