Better tasting fruit and increased energy savings with double layer climate screens
The Haisheng Group has already built the largest multi-span intelligence greenhouse for strawberries in China, located in Tongchuan. Now, they've achieved the perfect flavor and 'green concept' of growing by using double layer climate screens.
In August 2016 the Haisheng Group built the largest multi-span intelligence greenhouse for strawberries in China, located in Tongchuan. The greenhouse combines advanced equipment with growing techniques from the Netherlands. The strawberries have been supplied to high-end supermarkets at highly competitive prices, and consumers are highly complimentary of the strawberries perfect flavor and the 'green concept' of growing.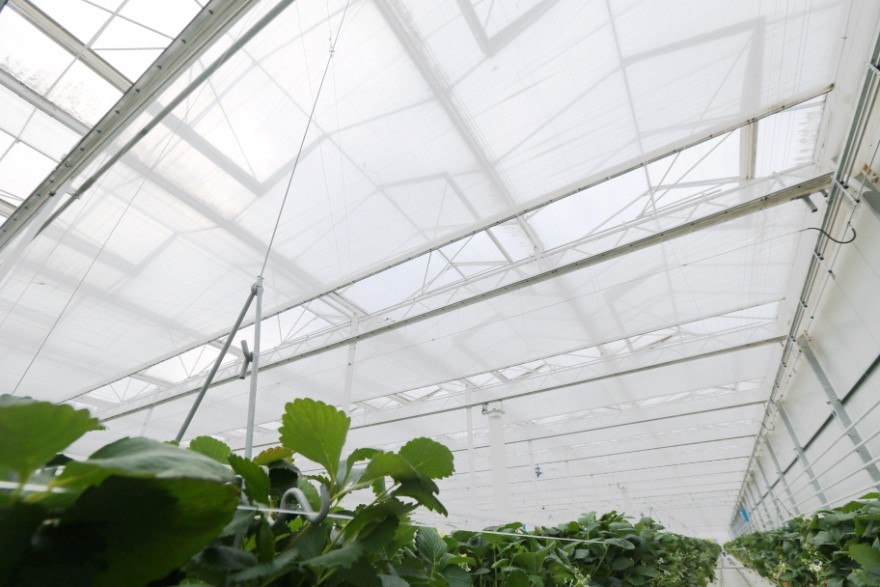 As one of the greenhouse project suppliers, Svensson participated in the early design phase. Well-tailored climate screen solutions based on the local climate data, growing requirements and the greenhouse equipment settings were provided.
"Strawberries flourish with light, thus we typically steer the day temperature to (71.6-73.4°F) 22-23℃", explains Wang Lei, Environment Engineer at Haisheng. "As the night time approaches, we typically have to begin heating, so the energy saving screen proves very helpful, and is especially useful in the winter, allowing us to maximize our energy savings.
Luxous 1243 was recommended based on its high light transmission capabilities. "In addition to using it at night, we're considering using it for more hours during day, as the light loss would be minimal. This would allow us to save even more energy while ensuring a more stable climate throughout the greenhouse."
The strawberry production period ends in May. The main cooling method is ventilation and misting. Harmony 3015 O, an open shade screen, was installed below the energy-saving screen as a second layer to increase cooling and benefit from diffuse light.
"We've now experienced one winter, and it's March, and we're still using our energy-saving screen," says Wang Lei. "At night time, we close both layers of screens to achieve maximum heat retention. Due to its closed structure, the Luxous screen allows for more energy savings than Harmony, but when using the two screens together, we're able to save even more. We rely on natural gas for heating, and keeping these costs down is important for us. Now, as we head towards warmer temperatures in the spring and summer months, we will adjust our screening strategy and start shading. Our Harmony screen will diffuse the light and will allow us to achieve a better quality of light. We expect this will make our strawberry plants grow faster and healthier."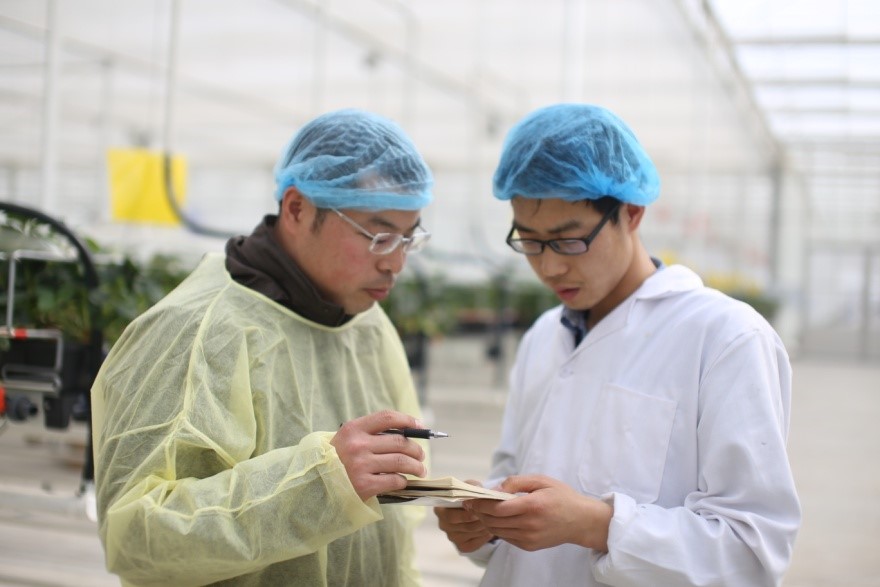 At noon the sun strongly shines into the greenhouse. We asked the grower to open the light-diffusing Harmony screen manually to demonstrate the shading. The light indeed feels softer under the screen, and in turn, it feels much cooler. Wang Lei expects to see additional benefits from his diffuse screen in the future.
"We are looking forward to further screening advice from Svensson to maximize plant growth, the quality of our fruits, and in doing so, maximizing our profits even more."
Svensson Climate Solutoins