Tianjin Binhai International Flower Science & Technology Park

Crop: Grows the potted flamingo flower plant, China's most popular flower, among others

Location: Tianjin, China

Greenhouse: 250,000 sq. m, aiming to reach 1 million sq. meter

Climate Needs: Energy savings and light conditions maximizing production

Svensson Solutions: Solaro 6720 O E WB, Solaro 3820 O, Luxous 1347 FR, Obscura 10050 WB, Tempa 9670 R
With new technology and smart climate screen solutions from Svensson, the future of this state-of-the-art greenhouse in China is bright
There are greenhouses that only need one or two watering cans. And then there are facilities such as the Tianjin Binhai International Flower Science & Technology Park, located just outside of Beijing, which has a goal of reaching a million square meters of greenhouse space.
It has been a fantastic journey for its owner, Tie Shun Yang, who got into the business in 1981 after completing his studies at university. "We got permission from the government to establish the company in Tianjin because it is a designated agricultural area," he says.
The sprawling facility got off the ground in 2009, and Yang is now almost halfway to reaching his square meter goal. The rectangular, hangar-like plant is impressive not only in terms of its size – it is so big employees have bicycles to get around – but also for the cutting-edge equipment that makes it possible for Yang to produce more than 1.2 million pot plants annually.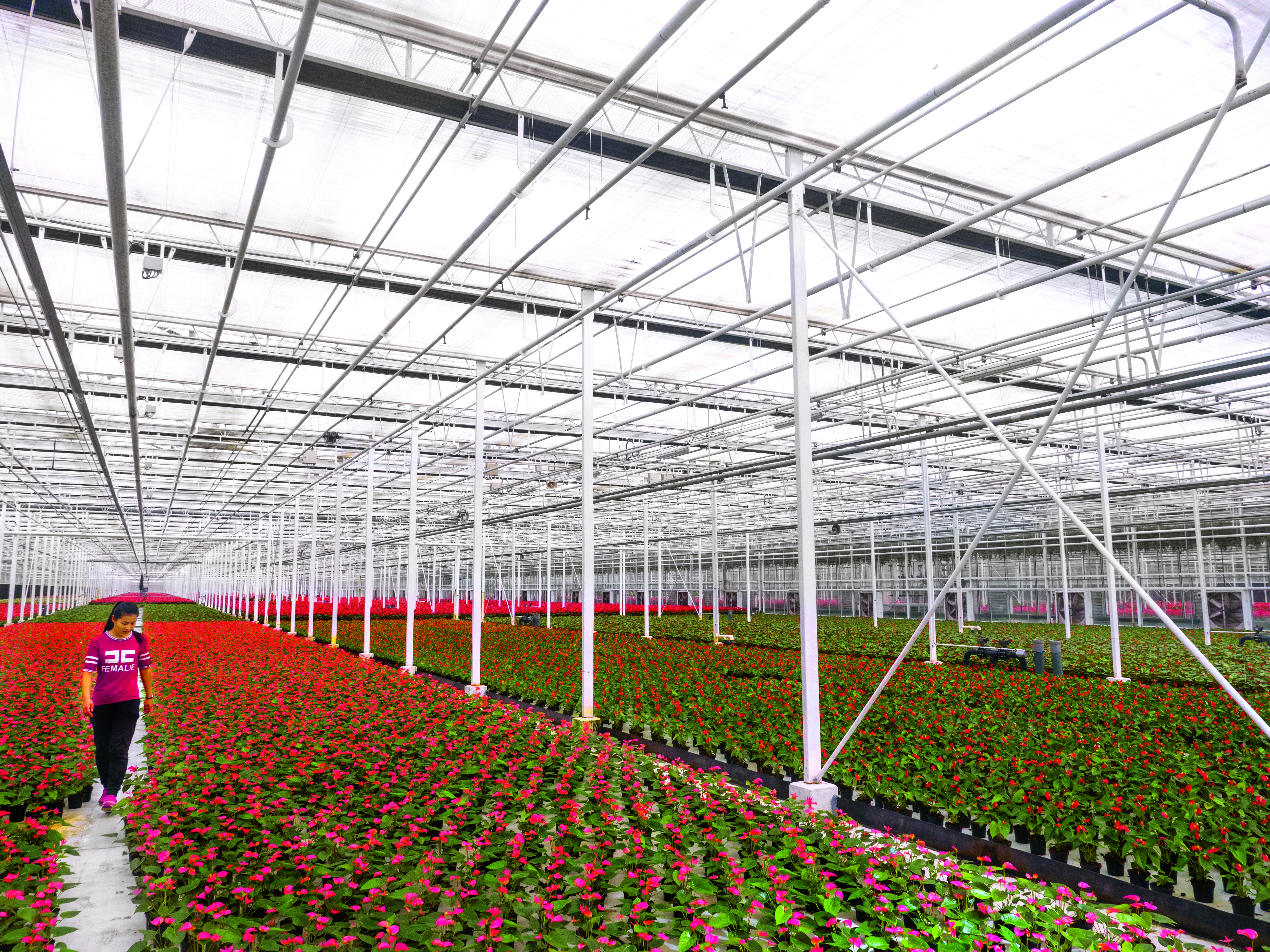 This is a state-of-the-art greenhouse, with automated processes and robots for packaging and geothermal heat from hot springs. Everything has been carefully thought through, including the high-tech irrigation system. The plants are watered using a sort of ebb and flood principle, where water and nutrients are flushed on to the floor for the plants to soak up and then drained away.
Managing light and energy saving with climate screens
But it is also about coping with the unforgiving climate outside. Tianjin in northern China is not only subject to hot summers but freezing winters where the average daily temperature can sink to well below zero. So how do you retain heat in the colder months while saving as much energy as possible and manage light in such an uneven climate? The answer is Svensson climate screens. "We chose Svensson as our supplier because of the quality of the material, pure and simple. It has a very long lifespan," Yang says.
"I first got in touch with them after an industry colleague who used their climate screens recommended them to me." Svensson visits the plant in Tianjin regularly to give staff advice on how to best use the screens to maximize the quality of the plants and production."The screens help us to create a climate that is perfect for our plants," Yang says. "It is all about temperature, light output, and light quality. And also being able to blackout when necessary so that the plants get the right day length."
Reducing risks of condensation
The plant uses five layers of climate screens, which together reflect and prevent too much heat from the sun during the daytime and minimize heat loss at night. Spreading the light more evenly reduces the risk of droplets of condensation destroying the plants below. Like everything else about the plant, there is nothing small scale about this production-boosting investment. Altogether Svensson will deliver six million square meters of climate screens to Tianjin in total.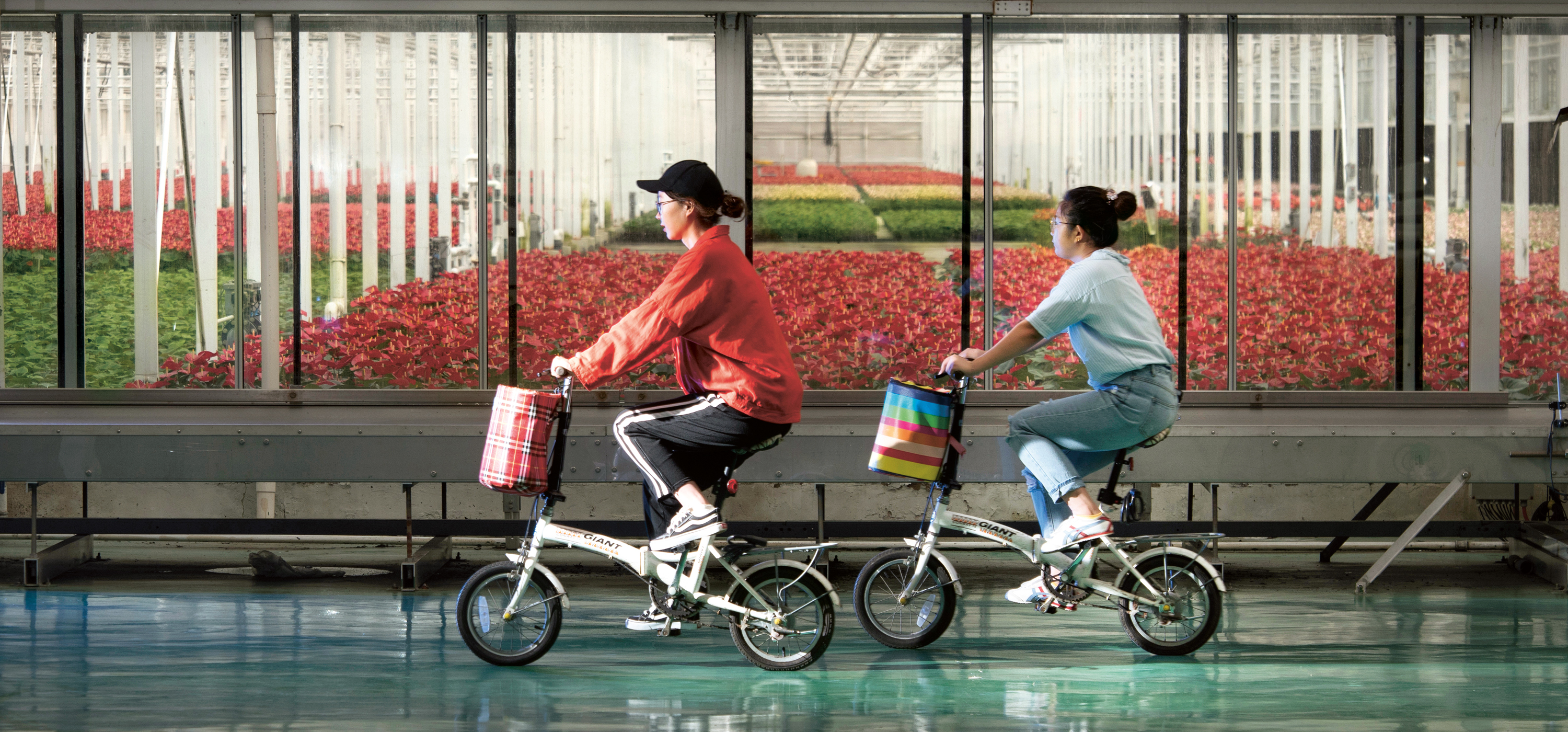 Svensson Climate Solutions