He was the CFO of Dutch Flower Group for more than twenty years. Dutch Flower Group is a unique family of more than thirty specialized trading companies that together serve the international floriculture industry. In the summer of 2022, Harry handed over the baton to Joost Gietelink. Harry is now a member of the Advisory Board, simply because the ornamental horticulture sector is not letting go of him. We recently had the pleasure of interviewing Harry ton learn more about his career, sustainability in floriculture, and vision for the future.
An important part of Dutch Flower Group's strategy is to 'Team Up With Growers', to strengthen the joint position in the chain. Why is this important?
Harry: "If you work together, you can respond much more quickly to the wishes of the customer and ultimately the consumer. This is important not only in our sector, but also in other sectors. We know what the consumer wants and we coordinate the offer. In this way we prevent unnecessary costs in the supply chain, but also waste of packaging materials, for example. Suppose, as a grower, you always package your flowers in a certain way, but the retailer repackages it because the consumer wants a different packaging. That is of course incredibly inefficient and a waste; we work to remove this kind of noise. And that's how we put focus on corporate social responsibility at Dutch Flower Group. For the long term, because we enter into strategic partnerships to make the chain more robust. And at the end of the day, the consumer gets more value for their money. A beautiful product for a fair price."
In 2022, the demand for flowers stagnated. The export value fell from €7.3 billion in 2021 to €7.1 billion in 2022. As a result, floriculture is no longer number one in the agricultural export list of the Netherlands. How do you see the future of floriculture exports? Where are opportunities and/or challenges?
Harry: "To paint a realistic picture, you have to view the figures in a historical perspective and compare the figures for 2022 with 2019: the year before the coronavirus pandemic broke out. Then, you will still see a small dip in 2022, but that drop is not that big."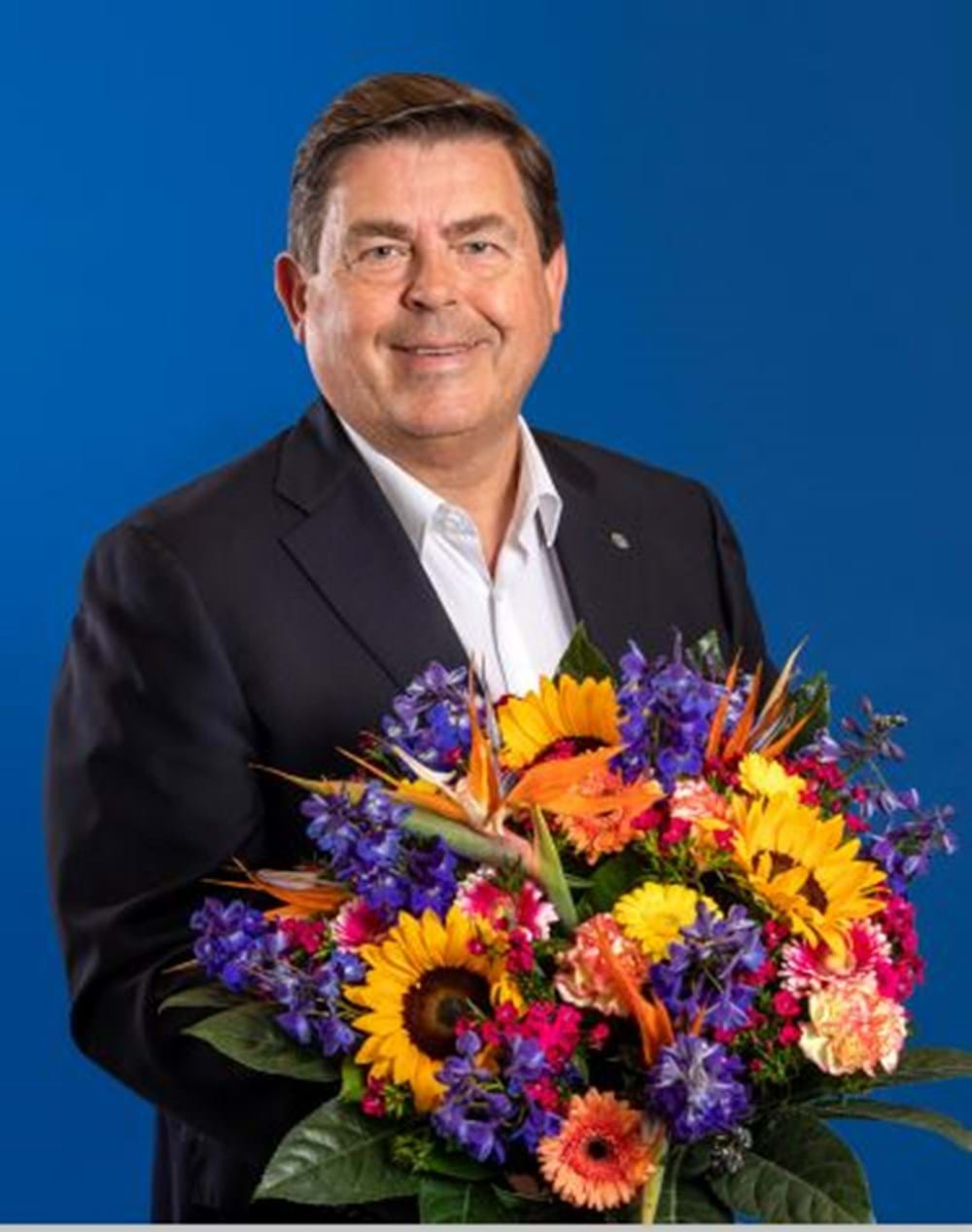 "What are the chances of Dutch export? The Netherlands has a leading position and I do not see that changing for the time being. We have various logistics hubs and greenports from which we export our floriculture products abroad. That has been the case for decades, as we in the Netherlands are experts. You can't just copy that. So I am positive about the future. There are still plenty of opportunities in Europe. But we will have to continue to listen carefully to consumer needs and move along with it."
"As for the challenges, of course the energy crisis puts pressure on our competitive position. If we don't address that, we're going to lose it in the long run. But I don't believe it will come to that. The sector has often proven to be inventive. Energy is saved and made more sustainable in every possible way. But that does not alter the fact that you should continue to do scenario analysis, just like we did with Brexit. At that time we also outlined various scenarios of the impact on the floriculture sector, in order to be able to anticipate developments in time. To rule is to look into the future."
Which trend(s) in retail do you think flower growers should keep a close eye on?
Harry: "Then I come back to that consumer's wish. You can grow such a beautiful flower, but if the consumer does not want it, then it is of no use. Another trend is of course sustainably-sourced products. You can see that consumers are eating more and more seasonal vegetables, for example. This trend is also continuing in floriculture. People want to be less pollution and environmental impact. You can also see this trend towards sustainability in the packaging material. Plastic pots are becoming lighter and a bunch of flowers is now more often wrapped in paper. It is up to the floriculture sector to continue to surprise consumers with beautiful, sustainable products, so that the consumer knows: the most has been done to reduce the impact on the environment. Only then will people continue to buy a bunch of flowers that make them happy."
Greenhouse horticulture has the ambition to work in a circular manner. How far is floriculture?
Harry: "We've come a long way, but there's still a lot to do. You should never sit still, because standing still is going backwards, we all know that. But we have already achieved a lot in our sector. If you look at the past, we have already made considerable progress in water management, LED lighting, how we deal with raw materials and the health of the crop. If we look to the future, yes, we will have to take further steps there. Collaboration is also important here, in the context of 'Team Up With Growers'. It is a journey we are on together."
How innovative is the floriculture sector?
Harry: "Glass horticulture is a sector in which entrepreneurs roll up their sleeves and go for something. I see unprecedented entrepreneurship among growers. They are always working on how something can be improved. Of course there are currently growers who are having a hard time with the high gas prices, but there are also growers who still earn a good living with a higher energy price. Usually because they already took innovative steps years ago."
"The World Horti Center in Honselersdijk is also a good example of collaboration and innovative power. This is where business, education and research come together to learn and innovate. The Dutch Flower Group therefore has a warm heart for the World Horti Center."
Finally, the next candidate for 'In conversation with' is Annie van de Riet. What question would you like to ask her?
Harry: "In which areas could the government support Dutch horticulture to improve its competitive position?"