The future of greenhouse horticulture lies in the hands of the new generation. But are they interested in it? How attractive is a career in greenhouse horticulture among young people and young adults? We spoke with 25-year-old Stef from Greenhouse Horticulture Netherlands, Inholland Delft University of Applied Sciences to find out.
The Inholland Delft experience
This academic year (2022-2023), 42 new first-year students have opted for the full-time HBO course in Horticulture & Agribusiness at Inholland Delft, 17 for the flexible part-time variant and 9 for the Ad course in Horticulture Management. In total, almost 70 new horticultural students. Is that a lot or a little? "Looking at the past few years, we see a slightly declining trend, coming from just over 50 full-time students in 2019," says Maarten Crum, Recruitment, Intake & Relationship Management Manager at Inholland Delft University of Applied Sciences. "Many of our incoming students come from the surrounding areas of Delft, Westland and Pijnacker-Berkel and Rodenrijs-Bleiswijk. Many have a background in horticulture, for example through the family business, or a part-time job in horticulture."
Most students are therefore familiar with the sector. Maarten thinks that the sector is relatively unknown to other young people, or has a bad image. That could be better, he thinks. "When you think of greenhouse horticulture? Young people think of mud, dirt, hard work and getting up early. There are also uncertainties such as job security, the global influences on the sector, the scope for entrepreneurship/entrepreneurship and the high-tech character of the sector." How does he think greenhouse horticulture can become more attractive? "By profiling itself better on these four aspects."
The experience of Stef from Beauty Plants
25-year-old Stef Koene never thought he would enter the greenhouse horticulture industry. "I thought it was all a bit simple," he says honestly. Nevertheless, after graduating from college with a degree in Commercial Economics, he started working full-time at his father's company, Beauty Plants.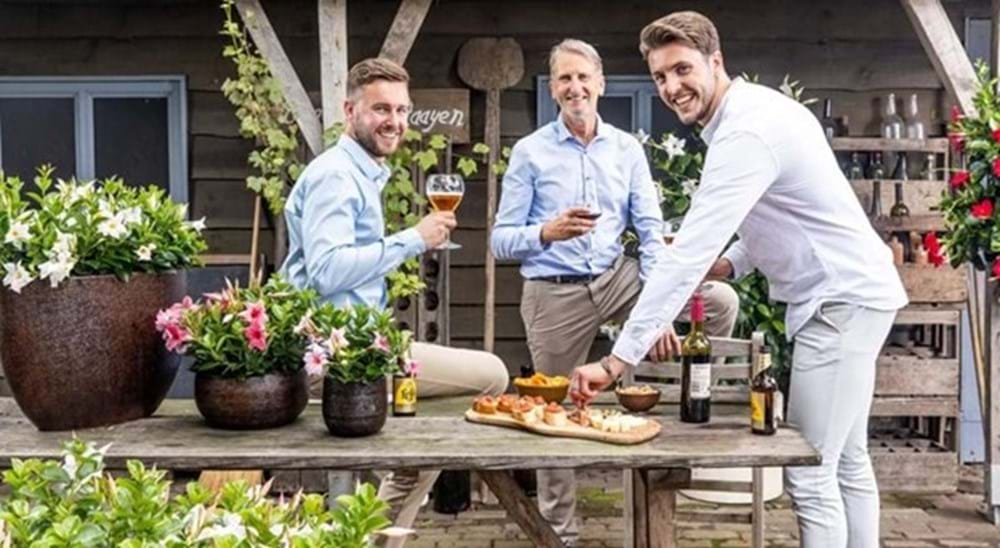 As a little boy he saw how hard his father worked. "He was always busy. It was a different time. He was still behind the potting machine himself and had no time to talk to customers, for example. No, that didn't necessarily appeal to me." But times change and so did Stef's opinion. "My brother entered the business. As a result, things changed. The company had also grown considerably through acquisitions. As a result, it has much more to do with entrepreneurship, instead of the old-fashioned 'farming', so to speak." And entrepreneurship, that's in Stefs' blood. After completing his studies, the family business was eager for reinforcement in the field of sales and marketing. Let that be Stef's passion. Still, he didn't make the choice lightly. "I struggled a lot. Maybe it's smart to get some work experience somewhere else first. You don't always know what you're doing right. But someone was desperately needed now, so I decided to fill the vacancy myself.'' That was three years ago now and the company has been successful since. Stef grew in his role within the company and enjoys his work.
How does he see his future? That is a difficult question, to which he does not have a ready answer. Stef may want to join the company for the long-term, a possibility that he is exploring with his family. "That is a big step, for the long-term. Becoming an owner is not something you do for a while. I have to think hard about that. In addition, the market is currently under pressure, with high gas prices." Still, Stef believes in a positive future for greenhouse horticulture. He sees many opportunities, also for other young people. "More and more companies are professionalizing which leads to more competition in the labor market. There are more and more interesting functions and automation ensures nicer, practical work. I do think that our sector can learn a lot from other sectors in the field of leisure outside work. People not only look at the function, but also at the fun. Companies will have to invest in job satisfaction to make greenhouse horticulture more attractive."
The projects of Greenhouse Horticulture Netherlands
Jacqueline Kroon is a Labor Policy Specialist at Greenhouse Horticulture Netherlands. She says that the outflow of young people in the industry is high. "The sector, like many other sectors, suffers from a major shortage of personnel. One of the reasons is that it is not possible to retain young people who come to work temporarily in horticultural companies. Research shows that the annual influx of young people between the ages of 15 and 24 is 56% and the outflow of the same group is 67%. Then you can count on your fingers that this leads to a shortage of workers. Particularly in view of the further increasing scarcity of personnel due to the aging population, it is essential that greenhouse horticulture companies succeed in recruiting young people and students for a career in horticulture. Otherwise, there will be even more shortages in crucial places."
"Greenhouse horticulture can learn from other sectors when it comes to relaxation outside work"
Jacqueline emphasizes that the influx of young people is also important for a fresh look, to help the industry move forward. "This is badly needed to further realize the energy transition and to remain a leader in the global market. In addition, there is an increasing need for specialists. An increase in scale, specialization and internationalization has created an enormous diversity of new positions, at MBO, HBO and university level." In short, plenty of opportunities in greenhouse horticulture for young people.
To bring the sector more attention and in the right way, Greenhouse Horticulture Netherlands has a dozen projects underway. Aimed at young people of different ages and at various levels. For example, 'Going Green in the Classroom' for primary education, which introduces children to flowers and plants in a playful way at a young age. Also think of HortiHeroes Students, where young, talented higher educated people (HBO/WO) are motivated to work in the horticultural chain. Another well-known project is GoGo Greenhouse. Entrepreneurs learn how to deal better with students and how to show that greenhouse horticulture is an interesting and promising employer with many opportunities. Entrepreneurs in both Westland and Noord-Holland Noord have now taken part in the program, which consists of a toolkit, an introductory meeting and four different workshops in which entrepreneurs learn to understand the world of youth. GoGo Greenhouse also has its own Instagram account that gives students a complete picture of what greenhouse horticulture has to offer. With the aim of positioning greenhouse horticulture as an attractive sector and employer.