Sometimes you have to be willing to make a move. That might be Frank Paul's motto. He's been willing to move as a young intern from one continent to another. To start his business, he moved from Ohio to the Blue Ridge Mountains. And as a grower, he's moved from fixed diffused glass and a relatively low-tech approach, to a highly automated, movable screen greenhouse with a PARperfect setup.
Following early success and rapid growth, The Plant Company has itself made a move from working more or less alone, to building a network of sub-licensees to meet demand.
Co-owner Frank Paul says he all-but requires the new sub-licensees to follow the Svensson-inspired double-screen approach used at The Plant Company.
"It has really worked," he says. "We're breaking ground on Phase 2 now in Virginia. We have two hectares in production and we'll now add another two hectares," he says excitedly.
"We began construction in January 2021, and it's off to a great start," he says. "The vision was to produce a better quality of indoor plants, free from insects and pests, so we took a bit more of a European approach by building a greenhouse where you have complete control over the climate parameters," he says. Paul recalls that as a junior grower he got to see how little control some growers using traditional shade houses had over temperature and humidity.
"This was key when we were approached by Proven Winners. They're the largest outdoor plant brand in the U.S., and they were looking for a partner who could help them match that range with a high-quality indoor plant range," he says. "In response, we came up with the Leafjoy™ concept and it has worked really well."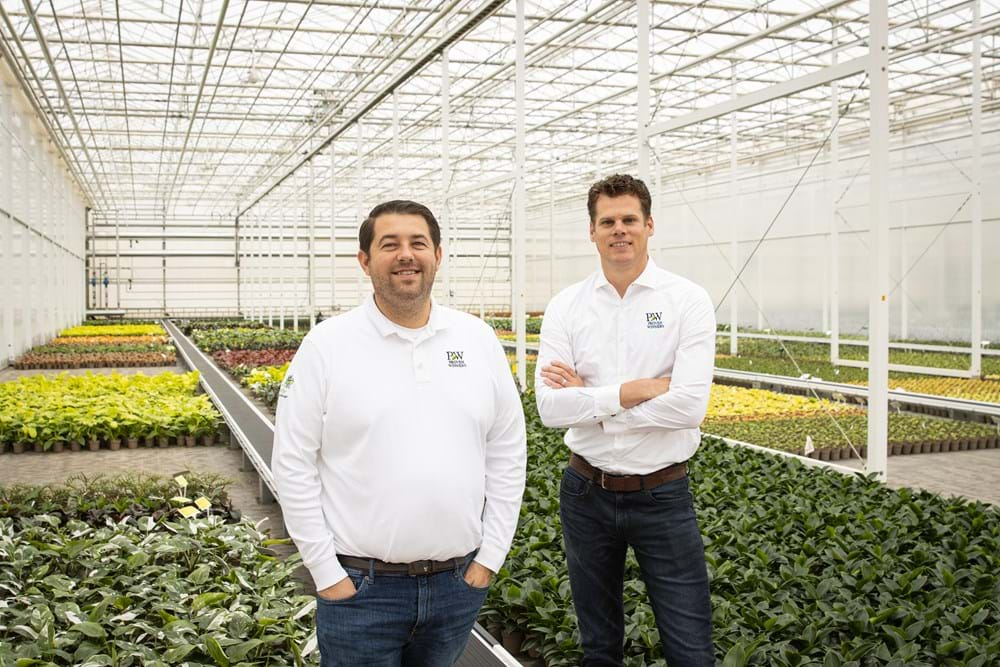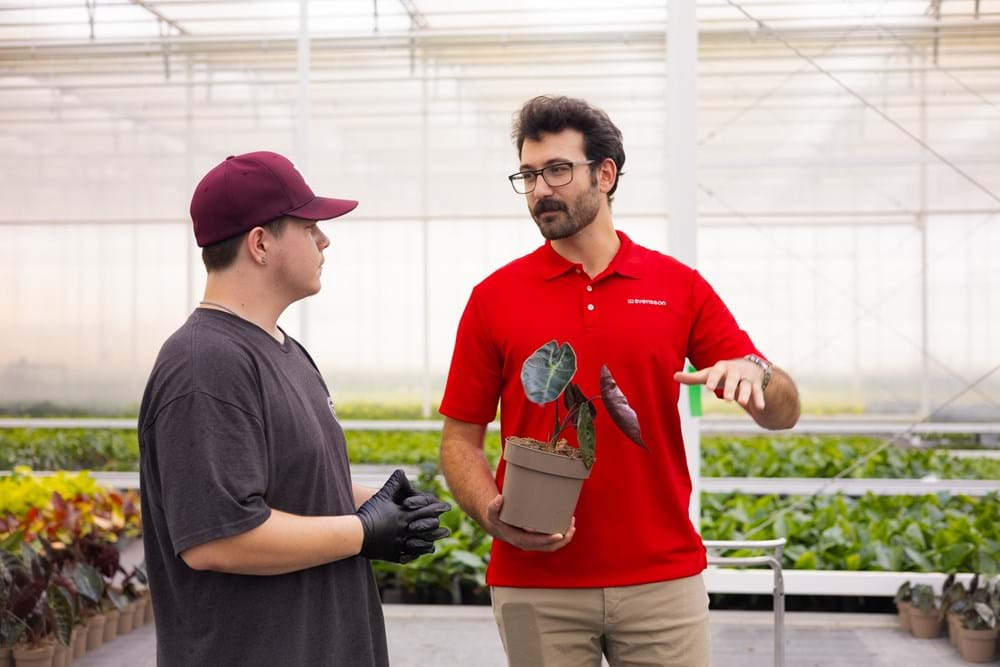 Svensson, a key climate partner
Paul says the relationship with Svensson has also been key. "I've known of Svensson for many years and that they were a respected supplier, but it was the PARperfect solution that did it for me," he says.
"To be able to take any incoming light and be able to disperse it evenly means that our entire crop enjoys a uniform light," says Paul. "You can walk around the greenhouse and you won't see any difference."
It was a big change for The Plant Company: "We started with diffused glass, but in a Venlo greenhouse you're going to have open vents and that means direct sunlight, so we started looking for an option and we found PARperfect and it's definitely worked."
The company has worked closely with Svensson Climate Consultant, Ton Habraken, says Paul. "He's been really helpful as we've learned how to operate the curtains and how to get the settings right. He really knows his stuff."
Frank Paul says he was skeptical of the idea of using a light abatement screen as one of the layers, and his decision has meant that the company has had to continue to use some whitewash in the early part of the season.
"In hindsight, I would probably have opted for a darker top screen," he admits.
But at the Stuarts Draft site in Virginia, it hasn't stopped Paul and his brother-in-law, Jason Vanwingerden, from getting winning results from the PARperfect approach to climate control.
"The bottom curtain is operated by outside light," says Paul. "The shade curtain above runs on PAR light. As the day progresses, we monitor the PARcumulation… the total number of micromoles we want for the day. If we're not quite on target, the system opens the shade curtain to allow more light in."
"We strongly advocate that our sub-licensees use Svensson PARperfect double screens," says Paul.
"We won't insist, but we recommend it very strongly, and they have to use double screens."
"You always get the right light, no direct light, less changes of leaf edges or burn. More success with the liners, less shrink, waste and plant loss," he says.
And there are other benefits to the logistics of the operation, which help the company with its ambition to provide an unparalleled variety of shelf-ready products in each delivery to customers.
"At the time of ship, the whole batch is ready at the same time, and that enables us to get the product packed with less sorting and more quickly," he says.
Would he use PARperfect again for the Phase 2 expansion?
Paul plans to use the HARMONY 2047 screen and then a Svensson light abatement screen below. He says he's excited that he can have the light abatement screen at 30% to 40% during the day and still have perfect diffusion below, and also be a good neighbor by night.
As for vertical airflow fans, Paul says he's been careful to look at some different options.
"We have had a fan type in the greenhouse that has a fixed motor speed, and having seen the results, we will go with Svensson for the new ClimaFlow vertical fans," says Paul. "It's because of the adjustable speed of the motor. We'll be changing in the new house to moving benches and I was concerned about the fans running at a fixed speed."
Creating a Plant Company quality standard
Today the company wants to share the best practice it has worked so hard to develop. "We strongly advocate that our sub-licensees use Svensson PARperfect double screens," says Paul. "We won't insist, but we recommend it very strongly, and they have to use double screens in any case," he adds.
"We've already seen one sub-licensee get started," he says. "They had 10 acres under blackout screen and since they moved to PARperfect – they're still assessing the data with Priva – but I've only heard and seen good things."
Sharing knowledge between supplier and customer
Frank Paul's parting thought is to express his appreciation for Svensson's involvement in the Plant Empowerment movement.
"It's been interesting to see Svensson's participation," he says. "We follow that as closely as we can. Svensson brings a lot of knowledge and we appreciate that."