Telen&Trends
GreenBalanZ in balance (again)
The Van der Weijden dynasty in Kudelstaart has been cultivating three generations of Phalaenopsis orchids. The current owner Lennard continues the policy of his father Sjaak with paint; grow as sustainably as possible. Phalaenopsis, even completely organic, has been on the market for a year or six. No easy task.
Having 'green fingers' is no longer enough to run a company like GreenBalanZ. With the acquisition of a breeding company in 2017, the area is 10 ha, and approximately 4 million Phalaenopsis go annually through freight forwarders to customers at home and abroad.
Lennard studied for a long time (Agricultural Economics in Wageningen), then went to work at Rabobank and joined the company 21 years ago. "It certainly helps to have a good education, but it is not a guarantee of success," Lennard begins. "Through the growth, the company has grown. I feel more entrepreneur than a grower. Of many more things, you must have more or less understanding. It's about leadership, delegating well to the numbers, and setting up a good marketing plan. We must be seen in the orchid violence."
As with many other flower and plant suppliers, COVID-19 put GreenBalanZ out of balance. Fortunately for Van der Weijden, the resident consumer in Europe revalued his own home. Not only was there a lot of cultivation, but also flowers and plants found their way to the house.
Lennard: "After the first lockdown last year, I had to throw everything away for five weeks, but then it started again. Then I woke up. Now I'm awake about how to get to my plants. It's going well."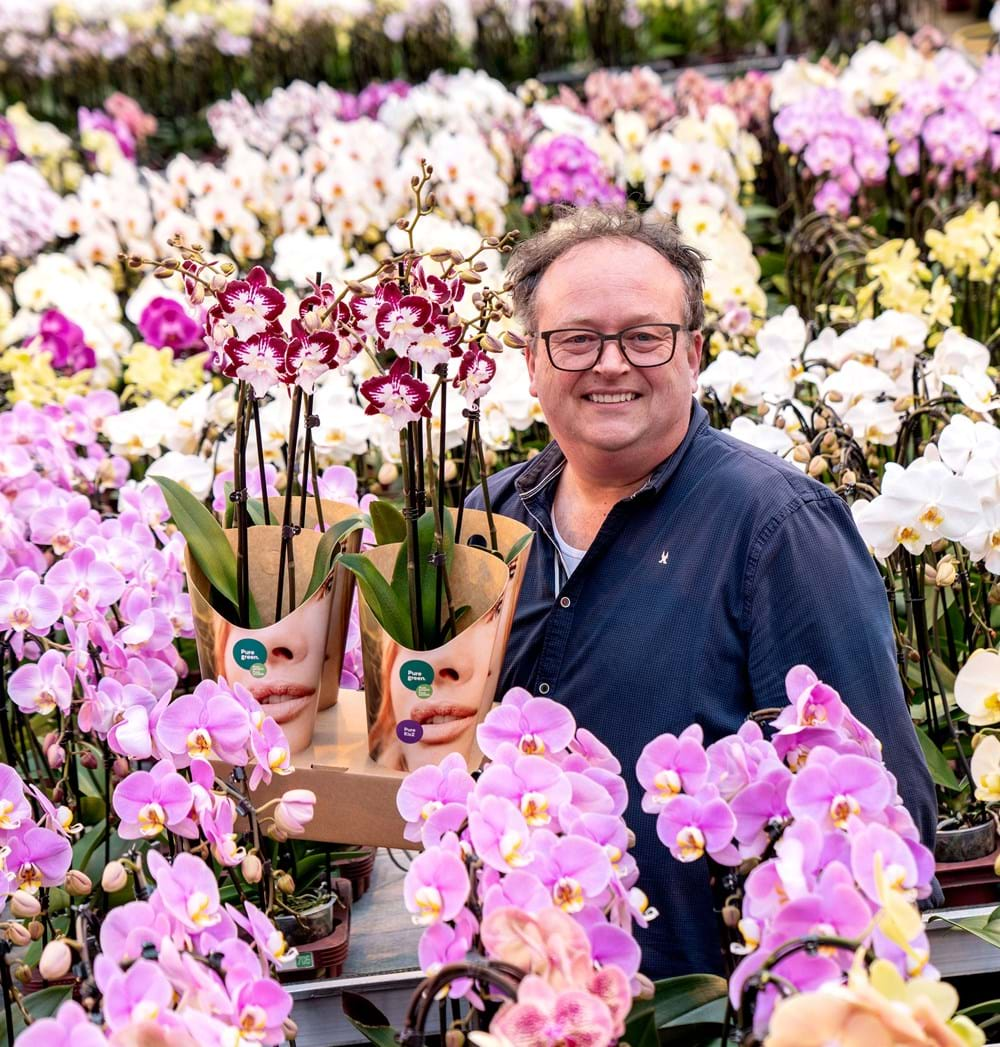 "Sustainability is not a catchphrase here: I want to leave the world a better place for the next generation."
Selling bio Phalaenopsis is a challenge
What does the consumer buy? You would say in a world that produces more and more organic products and therefore also buys organically grown Phalaenopsis. However, the reality is different. GreenBalanZ now grows about five hundred thousand biological Phalaenopsis out of a total of 4 million. We have buyers for that, says Lennard.
"It is quite difficult to sell this product because it is a few euros more expensive than the conventional one. We work with organic manure, which is why the plant grows a little slower. The cost price is, therefore, higher and we take that into account. What we have learned is to sell non-conventional and organic orchids in a shop. The consumer then often opts for the cheaper variant."
GreenBalanZ clearly states on the packaging material that the orchids have been organically grown. But still, it remains a trajectory of falling and rising. "I do not see it is growing fast. I am realistic about that. Completely biological? No. We do use the knowledge gained again in the cultivation of our other orchids."
Heat and cold from the bottom
Father Sjaak started making cultivation as sustainable as possible decades ago. "My father had fun scouting the crop, so he had to use fewer chemical pesticides. My father did it place by place then. Now we only use organic ", says Lennard, who continues in a sigh about the project' Greenhouse without gas'. But first, he says that idealism is essential, but it must all come out economically. "It's hard to be green when you're red, I read somewhere. You can be very romantic in that, but you also have to keep running your business."
Under its greenhouses, which contain a double-screen package, are two springs (aquifers / ed.) 300 meters apart. One is used to store heat and the other cold.
Lennard: "With heat pumps, we bring the heat from the greenhouse to the hot spring in the summer. In the winter, we then heat the greenhouse with it. We store the cold in the other source. In the summer, we use it to cool the crop. The Phalaenopsis needs cold in the summer to bloom. As a result, our gas consumption has been reduced by 1.1 million cubic meters." Ready and hanging back? Lennard says he continues to be patient. He is interested in following many trials where LED is used.
"In the context of energy saving, LED is a real option for years to come. We will also continue to make the packaging and trays more durable. Sustainability is not a container concept here: I want to leave the globe better for the next generation. It makes me feel good."