From analyzing data to optimizing cultivation
Where a horticulturalists used to walk into his greenhouse to feel whether the air had to be opened already, it is now the greenhouse horticultural entrepreneur who checks the climate data behind his PC. Sensors are the new green fingers in the greenhouse. Data is becoming increasingly valuable, also in greenhouse horticulture. That is no longer news. To measure is to know, but what do you know exactly? In addition to the data itself, the interpretation of data is just as important.
From measuring to analyzing
"You are not there yet with just measuring. If you subsequently do not know what the collected data means, then you also do not know which conclusions you can draw and which actions you should take," says Paul Arkesteijn.
As a climate analyst at Svensson, he knows better than anyone how important analyzing data is.
"Analyzing is a hobby in its own right. You have to have a feeling for that. Growers deal with this differently, often depending on the size of their company."
Large horticultural companies have a crop manager. Some of the big front runners even employ their own data analysts. Small greenhouse horticulture companies, on the other hand, often use external specialists.
"So you can see that the level of data analysis in greenhouse horticulture varies considerably. We spar at a high level with specialist cultivation advisers and we have to include the smaller entrepreneurs a little more in the story. In any case, every grower is now aware of the value of data. That is obvious."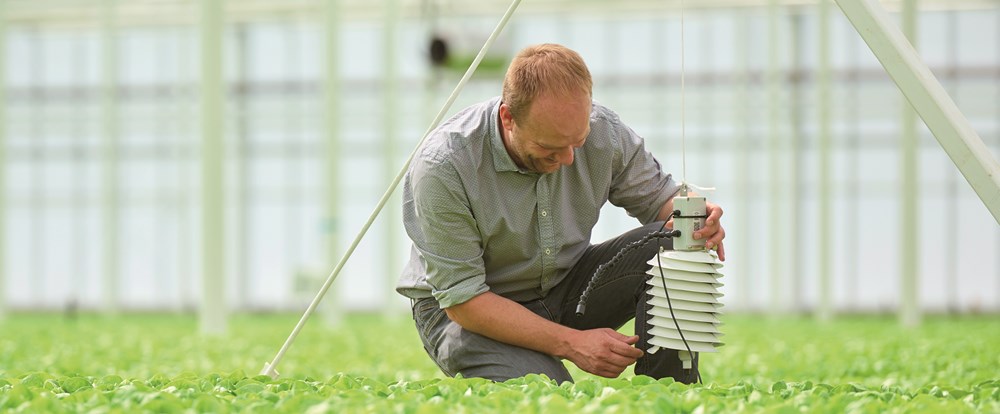 Analyze, learn and optimize
If you know what the data mean for your type of crop and greenhouse, then you can do something with it. "Then you can draw conclusions. It is too humid, too cold, too light, too dark, etc. You can then link actions to this, such as controlling the climate screen at a certain light intensity." A continuous process of analysis, learning, and optimization. "For example, you work by growing systematically to an optimal climate in the greenhouse."
The basis of Plant Empowerment, as Peter Geelen explains in this article about Plant Empowerment: "The cultivation strategy of Plant Empowerment is based on physical and plant physiological principles. The advantage of an objective cultivation strategy is that you can measure, compare, manage, repeat and improve it better. " At Plant Empowerment everything is focused on the plant balances. The conditions in a greenhouse should be such that the plant does not experience any restrictions (read: stress). By continuously monitoring and controlling the plant balances, it can function stress-free and deal efficiently with light, water, nutrition, and CO2.
Climate House: expert in climate optimization
Plant Empowerment is a data-driven cultivation philosophy to grow more sustainably and profitably. It is therefore not surprising that Plant Empowerment is an important starting point for Climate House, a new service from Svensson since October 2020. Climate experts Ton Habraken and Joost Haenen pool their knowledge of cultivation strategy, screen strategy, climate settings, and climate tools under this name. "One of the many components of greenhouse climate control are climate screens. We want to help growers to use the screens optimally. Moreover, a crop advisor often does not have enough time to analyze a grower's climate data extensively. That is the basis for us, "says Ton.
Climate House wants to take knowledge about cultivation and climate to a higher level, based on Plant Empowerment. Together with the grower and crop advisor. Joost explains: "With climate tools such as a thermal imaging camera, we can see at plant level what happens when you take certain climate actions. This allows us to generate extra data for growers, also in a company comparison context. This gives them even more insight into the effects of certain climate settings. "
Also experience the value of careful data analysis. Call in Svensson's Climate House experts to analyze your data and optimize cultivation together.