40 years Svensson Climate Screens
Here because of you
Most people overestimate what they can do in one year and underestimate what they can do in ten years," is a statement with which Bill Gates encourages us to look at the big picture. The year 2020 had a significant impact on our lives, both professionally and personally speaking.
In a year filled with so many changes and unknowns, what was it that we achieved? We remained busy adapting, limiting, saving, responding, and putting out fires. Entrepreneurs, fathers, mothers, and the many of us working from home, we all had our challenges, some big, some small, but what if we look at the big picture together?
What if we look back at not one but four decades?
What have we achieved then?
Together.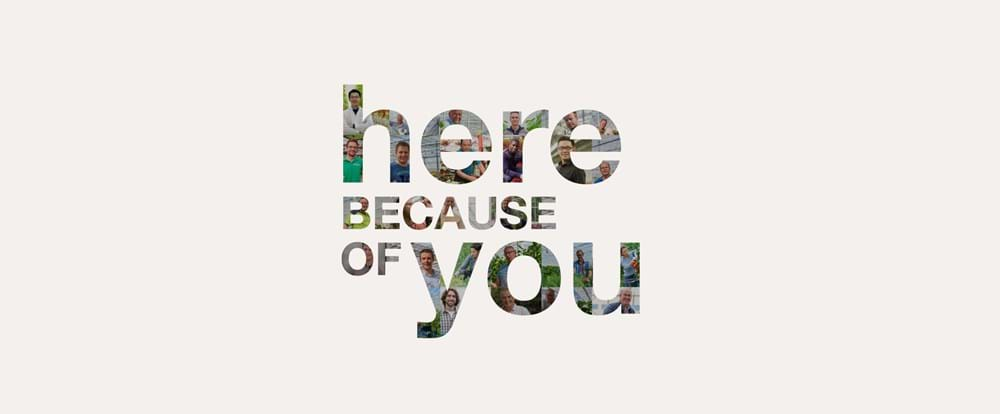 Why four decades? 2021 is a particularly special year for us; it's the year we celebrate 40 years with the Svensson climate screen. The history of our climate screens dates back to the mid-1970s when we introduced the first climate screen for greenhouse horticulture. Our big breakthrough came at the beginning of the 80s, with the debut of the now-classic greenhouse climate screen made with strips of aluminum and plastic films knitted together. With an advanced combination of materials and a unique production method, this screen made a major contribution to controlling temperature, light, and humidity in the greenhouse while significantly saving energy. In retrospect, this was the starting point of a series of revolutionary climate screens that would follow, with hundreds of variants adaptable for nearly every crop, greenhouse, and climate type around the world.

While we entirely devoted ourselves to developing the best climate and screen solutions, the rest of the greenhouse horticulture sector also remained busy. Together with growers, screen installers, greenhouse builders, consultants, and other industry partners, the ideal conditions have been created to complete our mission. We all strive for perfection, driven by a shared passion for greenhouse horticulture and ambition for innovation. But greenhouse horticulture is not just about cultivation and technology; it's the people who make the sector. We do business together because we want to and because we genuinely believe in each other's product. Together we make the most striking and progressive products.
And that's why we would like to celebrate forty years of the Svensson climate screen, showing our appreciation and thank you for your loyalty. We look forward to a new year of working and achieving goals together, accelerating ambitions together, and most importantly, investing together in the future…in the bigger picture.

We wish you a successful 2021.
May it be a fruitful, happy, and healthy year!​
Here because of you - 40 years with Svensson Climate Screens