PARperfect trial in Delphy with potted and perch plants.
Martijn Gevers is a senior consultant for potted and perch plants at Delphy. He guides and advises growers in their cultivation. "I'm a real grower." In addition, he is involved in research of Kas as an Energy Source, such as the experiment to grow fossil-free potted and perch plants. A study started at the beginning of 2020 and entered the second phase at the beginning of this year. The PARperfect screen solution played an important and successful role in this experiment. How? Martijn explains.
Delphy stands for Worldwide Expertise for Food & Flowers. At the heart of Delphy is the development of knowledge about crop cultivation and the optimization of growing conditions. Delphy has several teams and research locations, each with its specialty and sector. Delphy has over 240 employees.
Research in collaboration with growers
The potted and perennial plant team is a team of experts who jointly advise growers at home and abroad.
"We give technical cultivation advice to our customers, the growers. We advise how they can best grow their plants, advise on fertilization for example, but also the best climate settings for an optimal crop." Martijn and the team have intensive contact with the customer.
"This is how questions arise automatically. From the customer, but also from ourselves, to which we would like an answer. And then, we start research in collaboration with the researchers of the Delphy Improvement Center, such as this experiment to grow fossil-free potted and perch plants.
"The study is, therefore, in addition to Kas as an Energy Source, co-financed by Delphy customers (growers). They review the results booked and receive expert advice from the consultants who share their findings.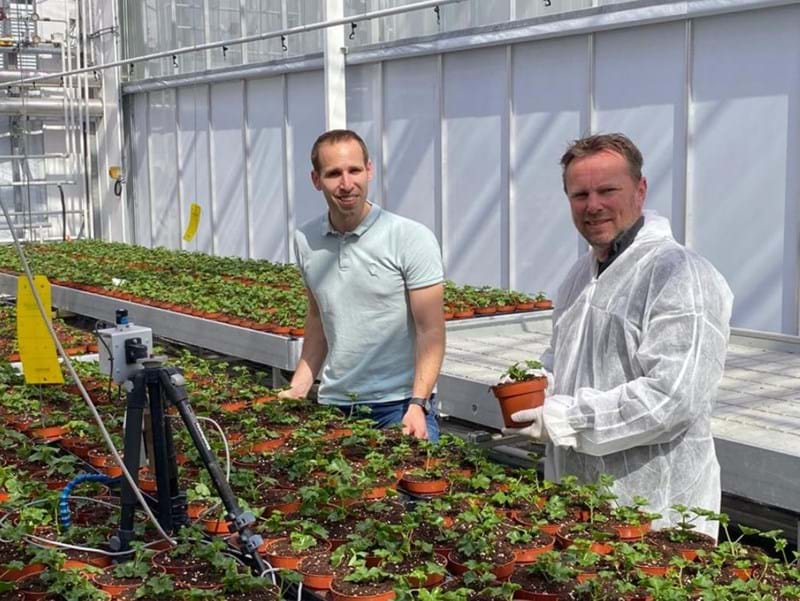 Reason for fossil-free cultivation research
In colder-grown potted and perch plants, relatively little attention is paid to The New Way of Growing (NWG).
"Limestone plants have a relatively low energy requirement and can have much light compared to shade crops. That is why Het Nieuwe Telen lives less among these breeders."
Time to make a difference, said Delphy and the growers involved. And so the idea arose for the trial that launched last year. Svensson is a partner of Delphy's Improvement Center and was asked to think about the best screen solution for this specific test.
"PARperfect was just out then. So ideal timing to use this screen solution during the test." A smart move, it turned out.
"The dual-screen solution allowed us to hold more energy."
Accurate light level control with PARperfect
The test was performed with six different types of potted and perk plants. Throughout the study, the PARperfect principle was used but received extra attention in mid-summer, in cyclamen cultivation.
"The sun is high then there is much light. Too much for a cyclamen. And that made it extra interesting to steer with the PARperfect principle". There was no crop cultivation in the summer, so with sensors under the screen and at PAR light level, precisely regulate the light level at plant level."
And according to Martijn, there is a significant gain for potted and perennial plant growers in the use of PARperfect.
"You can steer very precisely at the desired light level. The cyclamen received a maximum PAR light level of 400 and later 600 µmol / m2 / s, thanks to PARperfect. Unlike other screens, you have no shadow paths with PARperfect."
Where steering at PAR light level in shade crops is a matter of course, there is still a lot to be gained in pot and perk plant cultivation.
"It lives a little less among growers of potted and perch plants because the light level does not listen as closely as in shade crops. This experiment has shown that it is useful."
And then, of course, there is energy saving.
"During the energy-intensive period of the test, the windows were closed longer during the day. It kept the warm air in for as long as possible. We also left the screens closed longer to save energy."
Growing fossil-free potted and perch plants: yes or no?
The purpose of the poof was to investigate how fossil-free cultivation is possible in the potted and perk plants. One?
"In the beginning, we used another heating tube in the greenhouse. We took it away on a given date. That went well. With a closed, well-insulated greenhouse system, LED lighting, high-pressure atomization, outdoor air suction, PARperfect, the necessary sensors, and an advanced climate computer, we were able to regulate the climate optimally, without a heating tube in the greenhouse."
However, it is not yet profitable for pot and perk plant growers.
"That is the next phase. First, we wanted to set the ideal situation to test whether fossil-free cultivation is feasible. And yes, that's it. But the investment for potted and perennial plant growers is huge. LED lighting, in particular, is affordable."
Therefore, it is not plausible that growers are investing in this way of breeding unless they are going to build new ones. A matter of time and further development, Martijn thinks.
"I think it will take another year or 10 to 15, but that's coffee thick watching."
In February of this year, the second phase of the trial started at the Delphy Improvement Center, focused on the more practical side.
"We first created the ideal situation. We know them now. The challenge now is to create a more realistic situation, a feasible solution for the grower. We hope to achieve this by reducing the number of micromoles (µmol / m2 / s) LED exposure, resulting in lower investment and even less energy consumption. Still, no tube heating has been used, not even during the past cold winter."
The project is carried out by Delphy Improvement Center and financed by the program Kas als Energiebron, the action, and innovation program of the Ministry of LNV and Glastuinbouw Nederland. The Crop Cooperative One-Year Summer Flowerers, Signify, Ludvig Svensson, Florensis, Schoneveld Breeding, and Wireless Value also contribute to this project.
---
---
Generally, there are four key elements relevant to a climate that influence plant growth: light, temperature, humidity, and CO2 content. In addition to the fact that each element influences plant growth, they are also strongly interconnected.

Light in floriculture is all about finding the right balance: not too much, not too little, and for optimal crop growth, diffused light is preferred. When determining the right light levels, it is imperative that you know your crop. Download our white paper about varying light levels in the greenhouse to see how growers can accurately determine which light level is right for their crop.