CristalPlant controls insect plagues with Xsect insect exclusion screens.
We are at the premises of one of the largest seedbeds in the province of Almería, belonging to the CristalPlant Group, a company that produces horticultural and ornamental seedlings. We are greeted by the manager, the director of the production, and Svensson's climate advisor, to show us how they manage to control insect plagues in their plantations using anti-insect control screens.
Coming from El Ejido, a land of greenhouses located in the western part of the province of Almería, in Spain, we arrive at one of CristalPlant Group's production sites. At the site, we meet the manager, Tony Ortega, who took over from this father to continue running this family business, which nowadays distributes its products internationally. He kindly accompanies us to the seedling area: Hectares upon hectares are a testament to the business's growth and its quality to secure its position in the market.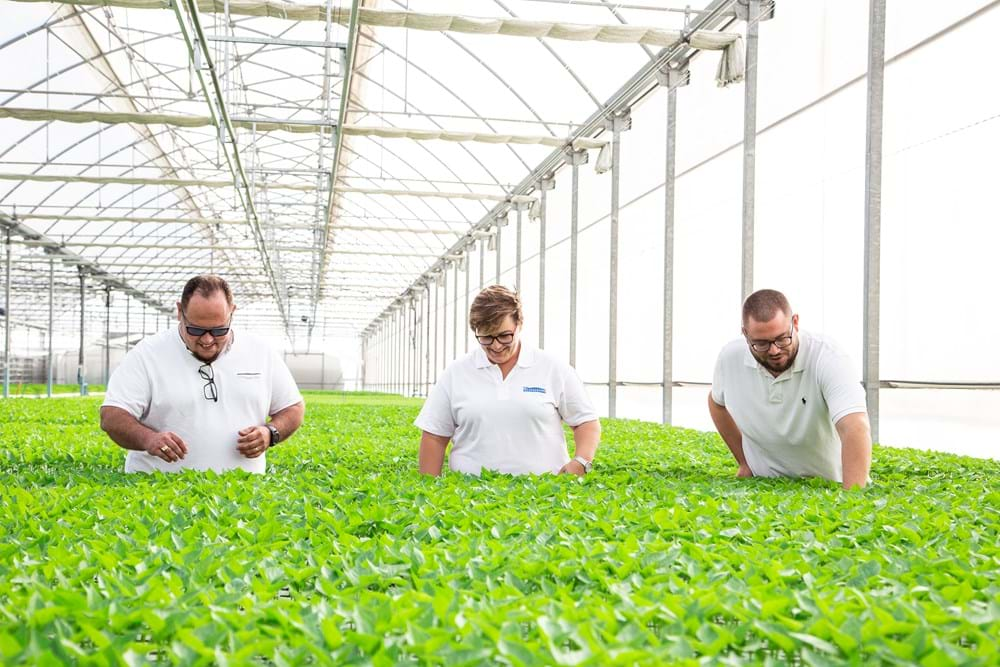 Tony, tell us a bit about the history of the CristalPlant Group and its differential factor.
The CristalPlant Group has been operating in the agricultural industry for more than 27 years, with a particular focus on producing horticultural and ornamental plants. It was the first seedling grower with Global Gap certification and, years later, CAAE certification for ecological production.
It began in the region of San Agustín, El Ejido in the year '93 and today has 11 production sites, which altogether make up more than 30 hectares of greenhouses. The sites are primarily  spread throughout the region of Almería, both in the east and west, but with offices in Motril and Seville, providing them with a very extensive commercial area.
"We supply plants to Spain, Portugal, Belgium, and are expanding to supply the entire EU. For the grower, the seedlings are their first step. They place their trust in us and we have an obligation toward them."
At what point did you begin to work with Svensson? How is your relationship?
We began our collaboration in May 2020 after conducting a trial in an 8,000 m2 greenhouse in the west and another 10,000 m2 greenhouse in the east, both of which with ecological production. We now regularly collaborate with Svensson and will continue to do so. They treat us very well, we have zero complaints, and they provide excellent consultancy, climate advice and overall service.
Continuing to walk through the seedbed and we meet the director of the production, Laura González, who enthusiastically shows us the Svensson insect exclusion screen they have recently installed.
She is accompanied by Svensson's climate advisor in Spain, Nelson Pérez, who knowingly greets us while he observes the improvements in the shipments.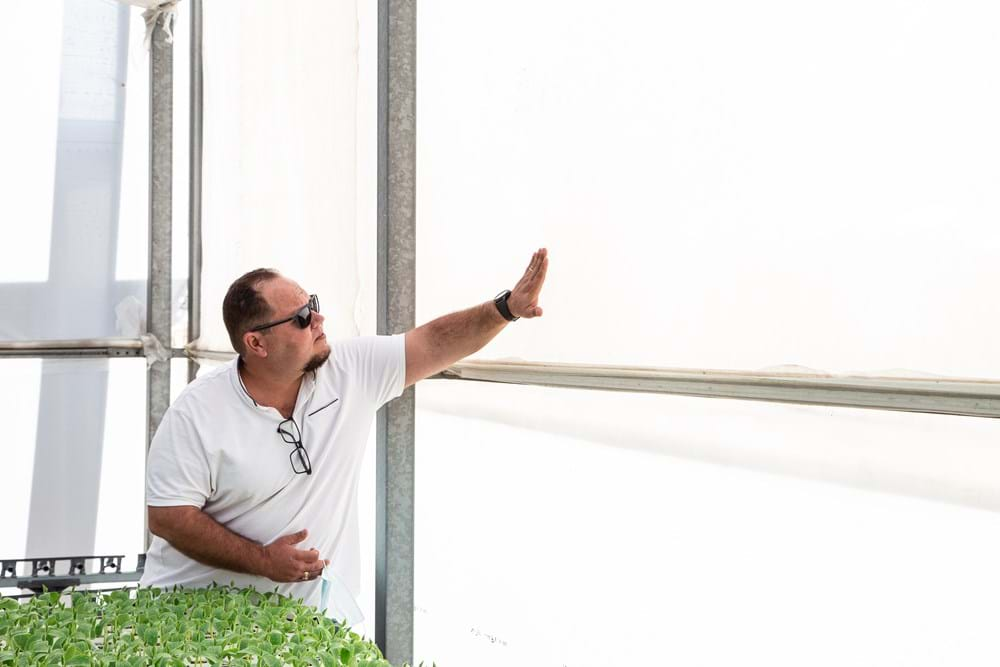 Laura tells us that the production region we are currently in, mainly Almería and Motril, has a very high pest infestation, mainly from thrips, whiteflies, and aphids. Most Anti-thrip screens have a hard time providing full protection from thrips, while Svensson's screens are effectively getting the job done.
Why did you choose Svensson's Xsect Xtreme and Xsect Xtra insect exclusion screens?
There are many hectares of production in the seedbed, and the plant grows quickly in our greenhouses compared to the total production cycle of the same. We cannot allow an infestation in our facilities.
The screen that manages these infestations is Xsect Xtreme, Svensson's insect screen for extreme exclusion of the smallest insects, such as thrips, which is why we decided to install it to fully eradicate our infestation challenges. With regard to Xsect Xtra, we have ordered it for a seedbed that is poorly positioned and therefore requires a lot of work to reduce the temperature in the summer and relative humidity in the winter. Xsect Xtra has a very similar yarn design to Xsect Xtreme, effectively keeping pests out while allowing for greater ventilation.
What effect do you notice that the screen has on your seedbeds?
We began using this screen in the ecological area of two seedbeds since it is the most difficult area to control infestations. We have seen results in the summer season, where infestation levels are high and insects quickly appear on plants. The results have been really positive. We haven't had any infestations and thus virus issues at any time during the season.
We have managed to supply a plant that is completely clean and, according to our customers, it has performed well on the field.
This type of screen has helped us to take it one step further and produce plants using releases of auxiliary insects, which is why the combination of both systems has helped us to eliminate the use of insecticides by almost 90%. This allows us to give our customers a cleaner plant with fewer residues and with less abuse from chemical treatments, in addition to delivering them with beneficial bugs that help to better manage infestations on their farms.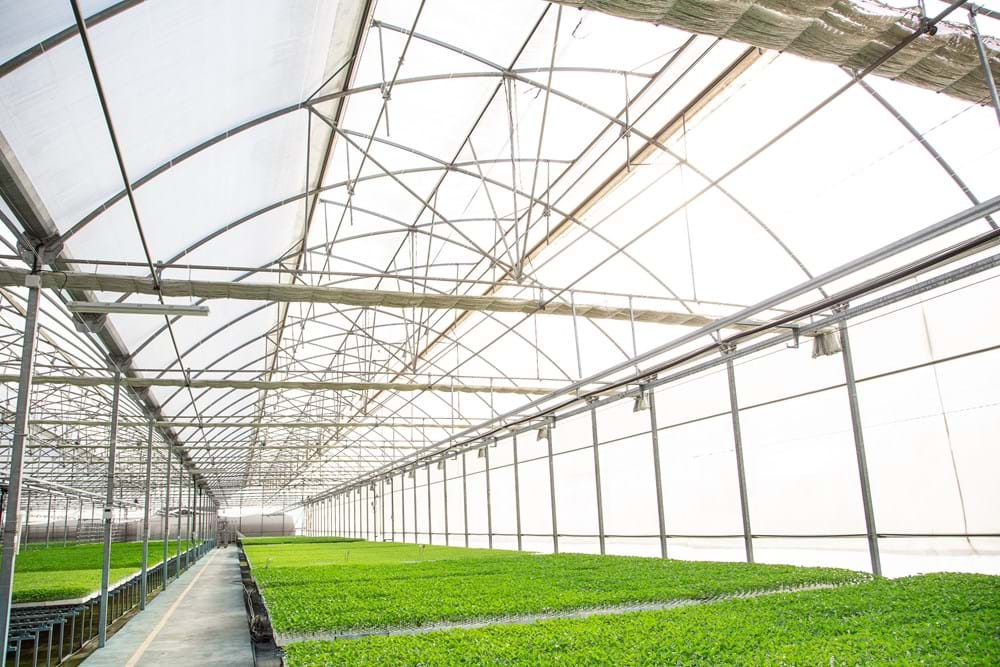 How are you planning to replace the products that you previously had in different locations with Xsect screens?
There will be a gradual change. Before the end of the year, we will have stronger, higher capacity seedbeds, all of which will be intended for ecological production with these screens. We will then retrofit 10 hectares of greenhouses, installing Xsect screens in these houses over the remainder of the year.
We will continue replacing the insect screens in the remaining greenhouses throughout 2021, and we estimate that 80% of our facilities will already have Xsect screens by the upcoming summer season. We firmly believe in this material and wish to continue providing our customers a plant with outstanding quality, less residue, less auxiliary fauna, fewer problems derived from one bad plant, or a plant infected by a virus.
Francisco Sánchez, one of the growers who works with CristalPlant, finally shows up and has just entrusted his next shipments of peppers to Tony and Laura's technical team. Francisco works in biodynamic agriculture, which is why thorough work is needed for their plants to reach that level of perfection
We personally see him visit his shipment of peppers for the first time. Pepper crops are very sensitive to the cold and tend to be easily attacked by the spotted virus, which is transmitted by thrips, which are damaging insects. He looks at the cuttings and stops.  Finally he says surprisingly: This is the first time that I've seen something like this! Not a single plant had the virus after his peppers were transplanted. This seedbed is doing something right. Nelson smiles and winks at Tony and Laura. They know what they are doing and they are doing it well.
Francisco, why did you choose CristalPlant to buy your agricultural cuttings?
I have been working with CristalPlant for 6 or 7 years, ever since becoming a grower. To this day, since transplanting on August 12, I have not seen a single plant with the virus. This has never happened before. We know that oftentimes, no matter what the technical team does, infestations cannot be fought off. It isn't a coincidence. It is a multitude of things: the technician's work in the seedbed and good production.
What differences have you recently noticed in your crops upon incorporating Svensson's insect screens?
It was nearly impossible to not have thrips appear twenty days after sowing. On the field, it is normal to find ten or twelve plants with viruses a week or two after the transplant. It was something relatively normal, but this is rare and extraordinary.