Ornamental aloe vera under Svensson's Harmony screen
In a greenhouse located in the southern Spanish province of Almería, known as the "sea of plastic" for its proliferation of greenhouses, we meet with José Manuel Sánchez Marín, the pioneer behind the company Plantas del Cabo, where they grow aloe vera using the most advanced technology on the market: Svensson screens.
On the way to Níjar, early in a September that has held on to summer's heat, we arrived at our appointment with José Manuel, agricultural expert, farmer, and driving force of the company called Plantas del Cabo. He was there waiting for us with Nelson Pérez, a climate advisor at Svensson. We find them immersed in a conversation about recent developments in the greenhouse. We started talking to José Manuel, who welcomed us with a smile.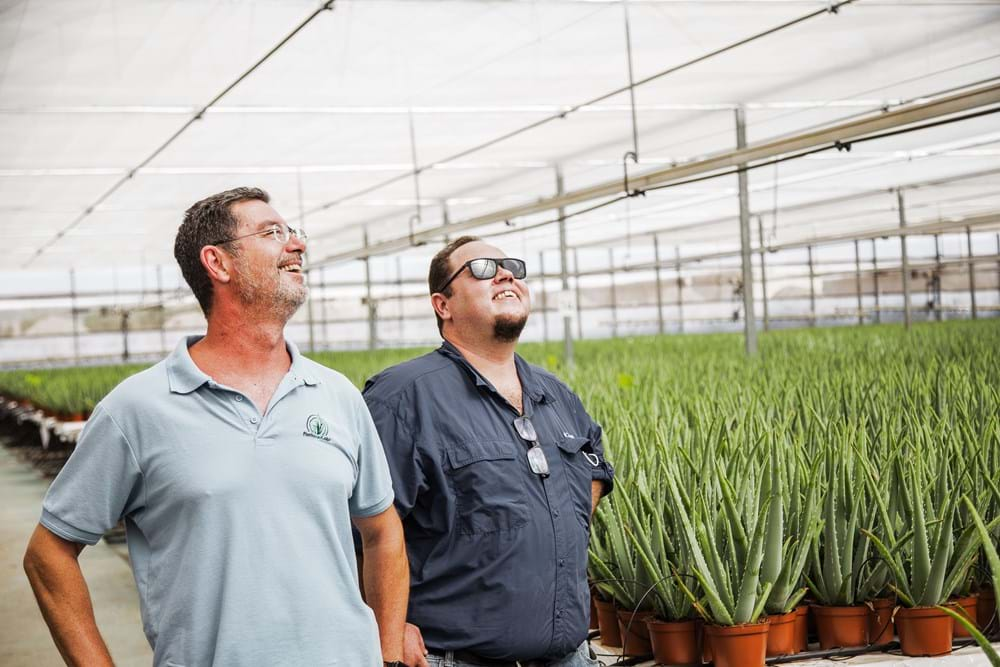 José Manuel How
did you start "Plantas del Cabo," and why did you choose to grow aloe vera?
Great question! I started after finishing my degree. I already had previous training in cultivation because it runs in my family: my mother was a plant lover, and she instilled that love in us. We started with a small gardening company and quickly realized that there was an opportunity to grow.
We started by growing tropical plants, but my mother discovered that aloe vera could be a perfect solution for many people who had problems. She started to do the first field cultivation tests, investigating how to produce the aloe gel. Little by little, we realized that we could make a nice plant so that people could take it home. We started with a fundamental and small structure. From there, the company grew as it acquired knowledge in production technology.
In
your
experience,
what
difficulties did the semi-arid climate
of
Almería present for cultivation?
In Almería, we are a world power in terms of sunshine hours and managing our climate. The sun is an infinite battery, so all the production structures are solar collectors – they are batteries. It is a semi-arid climate, so there are difficulties posed by excess temperature in summer and low winter temperatures.
Within those ranges, you can try to maintain and compensate for it. The competitive advantage is producing-quality products where some of the costs are reduced. It means not having to use fossil fuels or additional energy to grow. In countries of northern Europe, they need a lot of energy to grow these crops. That's the big battle: you have to strive to be more efficient in your energy use.
At what point did you find out about Svensson's Harmony screen, and why did you decide to incorporate it into your greenhouse?
The first screen I mounted was only aluminized and twisted fiber. It was from a different brand rather than Svensson. The traditional technology employed in Almería consists of controlling the light by blanching, that is, by a completely static shielding, where there is no control over the amount of light. The screen, which is made from a flexible material that you can control and roll up with a motor, can be made to behave dynamically. That is the benefit that makes it possible for you to push the cultivation to impossible limits with blanching.
In 2015, I went to an international trade fair in Germany and met Svensson's distributor, who gave me technical information on how their screens work. We decided to replace the old screen with a new one from Svensson at another farm I had in Cabo de Gata with their support. On this estate we recently acquired, we found an older technology being used. As soon as we arrived, we immediately replaced it with a Harmony-4015-O.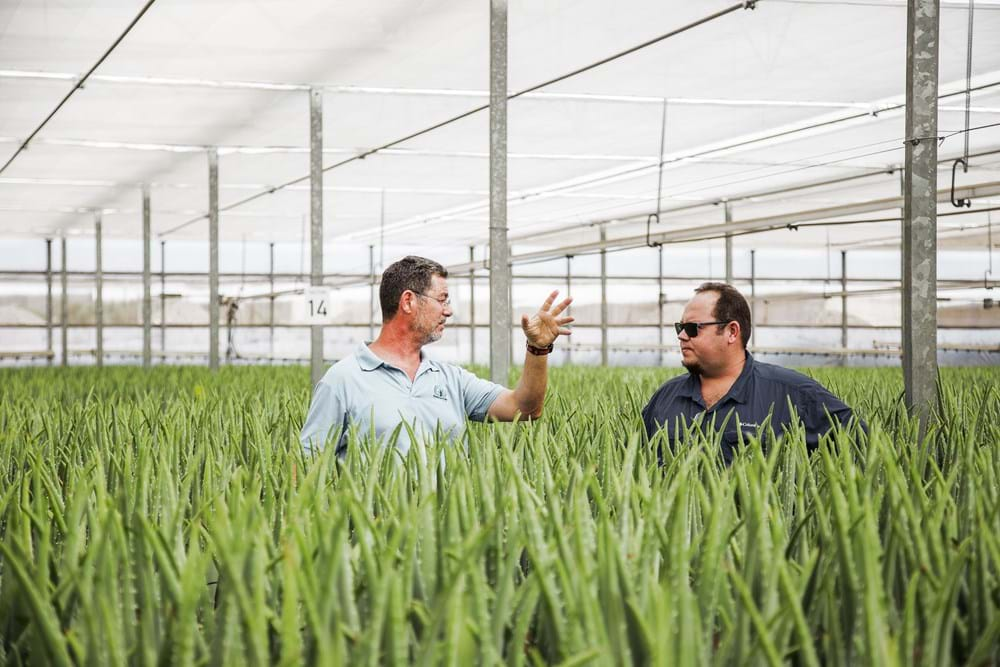 What screen do you use?
Here, we use a Harmony-4015-O, which provides 40% shading against solar rays and features a screen made of flat, white bands – it has an amazing rate of light diffusion and greatly improves the crop's quality.
What
impact
does this screen have on the environment?
Because it is a white screen, the albedo – that is, the reflection of the light towards the outside is maximized, which we look for a lot in summer. The 40% of the light that passes through the screen has a much better aperture ratio than a gray, black, or other color screens. This is due to the material it is made from and the technology of the bands themselves' placement. That is what we are looking for. We want the plant to receive exactly the micromoles or watts per m² of energy it needs in the best possible conditions.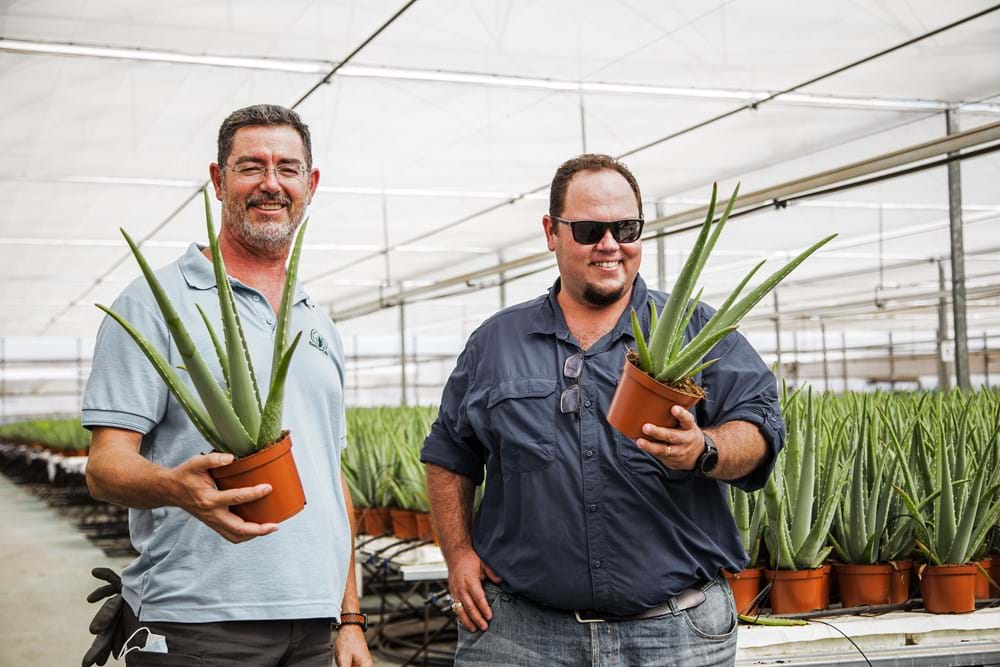 How has the screen had an impact on the growth and health of the plants?
There is a huge leap in the quality of the material and the type of diffusion of this screen compared to a screen from another brand that is not thermal and the Svensson shading screen.
Having a dynamic screen that can be controlled instead of conventional blanching is a big step forward. Still, that extra quality means that these screens' profitability is based on leveraging every last square centimeter of arable land.
In these uncertain times, we are going through, how has the coronavirus crisis affected your business?
In my particular case, it is the strangest situation because I am coming from a site in Cabo de Gata that had all this technology and suffered two consecutive years of flooding due to climate change. A conventional farmer, cleans, removes mud, and replants. I have lost a lot of money because of that, but I found the opportunity to move to this greenhouse, update its technology, and start producing when the markets opened. When all this happened, I had recently bought a Svensson screen and lost the entire investment. Svensson stood by my side by giving me a price reduction on this new screen as a sign of support for this type of system and agriculture.
What do you see as the future of your business and your sector?  
I'm afraid of what's going to happen now. I am part of the recreation and services industries, so if the economy doesn't pick up, we will have a problem. I am a little more optimistic because we do not depend on the national market. We export almost 80% of what we grow because we produce something they cannot produce elsewhere in Europe. After all, they do not have the necessary solar power. A naturalized plant is extremely hardy and can endure a lot inside houses or on shelves. That's our most valuable input: being able to produce with very little energy.