Svensson introduced its latest and greatest new climate screen, HARMONY 1315 O FR, at the HortiContact in Gorinchem. It is specifically designed for cultivating greenhouse tomatoes as well as other vegetables and fruits. The screen creates a more comfortable environment not only for the plants, but also for people working in the greenhouse. In addition, it makes whitewashing and painting redundant. 
Harmony 1315 O FR's unique feature is the screens high permeability of light and air. In its closed state, it creates a light shadow effect (13% in case of direct light) and high-quality light diffusion. This allows the light to reach the deeper layers of the plant's leaves and thus the entire plant continues to actively contribute to photosynthesis.
Harmony 1315 O FR was especially designed to prevent plant stress and quality problems in the summer. Tests at the Improvement Center in the Netherlands have shown that on extremely sunny days, the temperature of the tomato plants was lower, and more even, and that thanks to screen, the plants evaporated less water. This in turn results in less water consumption, which ultimately improves the quality of the roots in the mat in the long run. Besides easing the hot summer days, Harmony 1315 O FR is also very beneficial at night. Thanks to the screen's open structure, which creates sufficient air exchange, the greenhouse temperature can cool down at night without overcooling the top of the plant. Harmony 1315 O FR gives growers a unique tool to control the light-temperature ratio and to optimise the three plant balances.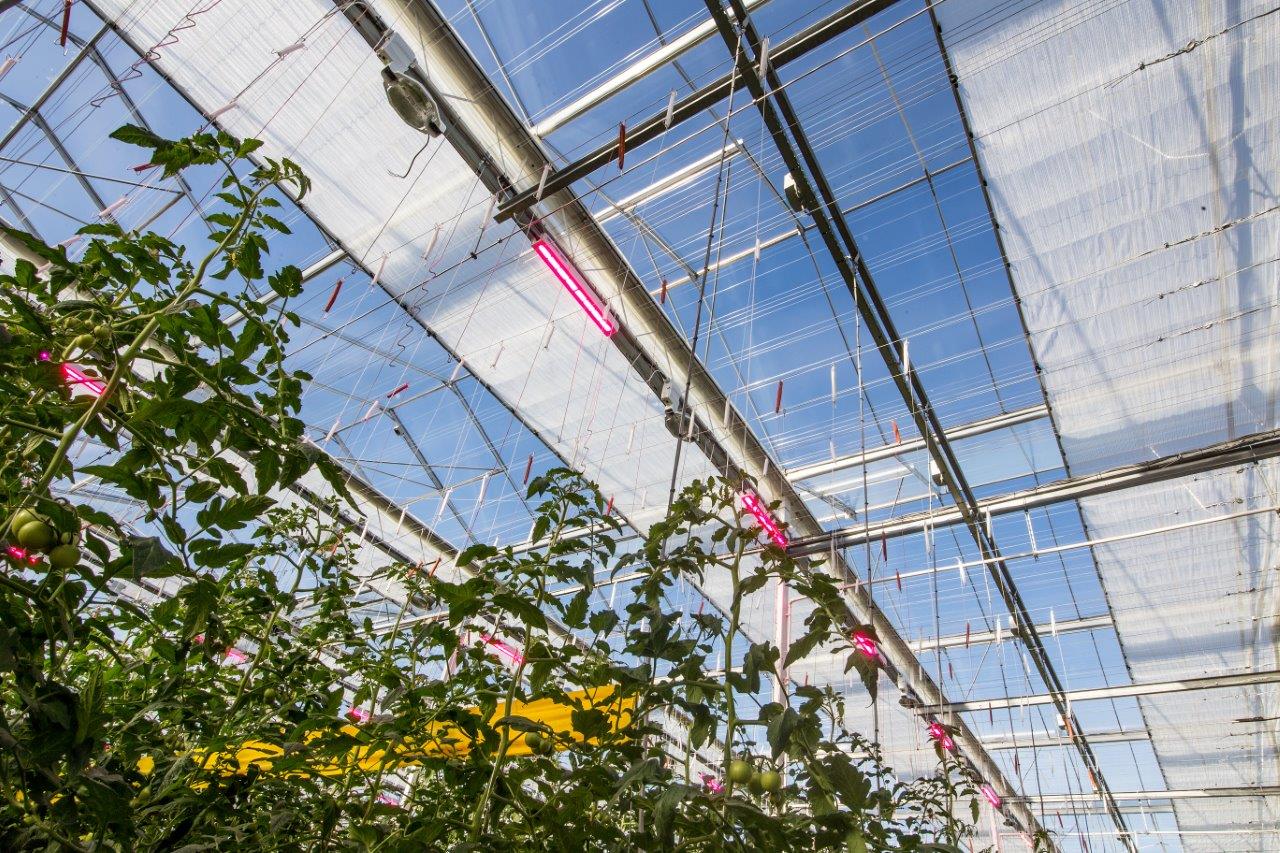 Extreme summers
This new Harmony screen is a solution that Svensson has developed in response to the changing cultivation schedule of greenhouse tomato growers. Greenhouse growers are beginning to plant increasingly early, sometimes as early as August or even June. This is very hard on small plants due to the high light penetration and temperature. During this time of year, this new screen is perfect for keeping the plant in balance.
One of the major benefits when using a Harmony screen compared to whitewashing or coating, is that on darker days and at dark periods during the day (for example, in the morning and late afternoon), you don't lose valuable light because the screen can remain opens. Growers have more flexibility with movable screens and optimally allows them to benefit from all the available light, preventing quality problems and growth stagnation.
Harmony 1315 O FR also creates a more pleasant climate for the people working in the greenhouse. Although last summer was exceptionally warm, climate experts warn that extreme summers will occur more often, which helps to justifiy the investment in screening in the long term.
Quality from Sweden
Svensson's Harmony 1315 O FR summer screen is manufactured in Sweden and complies with the highest quality and safety standards. Harmony 1315 O FR is flame retardant and features unique, patented diffuse strips.