Dane Rosa Eskelund is no stranger to the world of roses; in fact, she is the only female rose breeder on the planet. Working with her husband Harley and her staff, she is creating the latest generation of pot roses, garden roses and cut roses, in the tiny village of Dyreborg located in southern Denmark. Recently, the fruits of her labor consist of the fabulous and edible Gourmet Roses. These Gourmet Roses that are not just beautiful, fragrant and have a symbolic value, they are also edible and grown to perfection with the help of Svensson climate screens.
'A rose is a rose is a rose...' is a statement Rosa Eskelund has made on several occasions. She uses the world-famous quotation from the flamboyant American writer, Gertrude Stein (1874-1946) to illustrate the real impact of this flower, which appeals to the imagination. Rosa's aim is focused on showing that the rose requires no further explanation. Eskelund has been active in the rose industry since 1982. Now, just 36 years later she's a household name in Denmark, speaking to magazines and television channels on the many delights of roses. It's no surprise that the Danish royal family has even blessed four new rose varieties with champagne toasts in recent years.
In 1988, she worked with Harley Eskelund on setting up the Rosa ApS production company. "I'm trained as a cultivator and started off by working in a greenhouse in which roses were grown. Nursery Rosa ApS, located close to Aarhus, Denmark, is now headed by our son, Anders. We started off with miniature roses in pots, bearing the names Roses Forever® and later the Infinity®. These days, we have many more different varieties of roses grown in pots, such as the 'I am Different®' series. Rosa ApS now has a total surface area of three hectares and produces around five million miniature roses grown in pots each year. The overwhelming majority of these are for exports, primarily in Europe."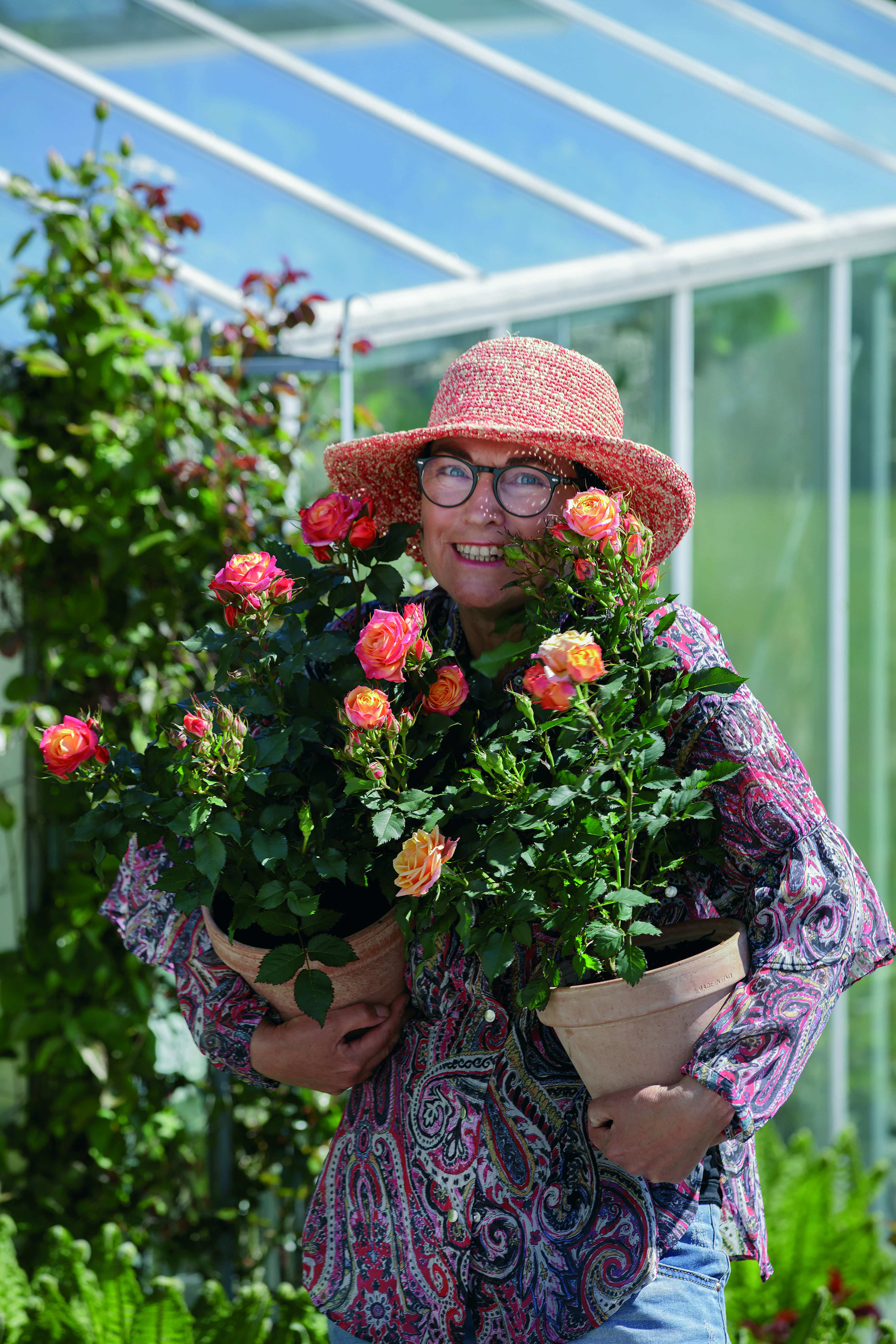 From China to Russia
Over in Dyreborg, far away from Aarhus, Rosa has been developing the new generation of pot roses, garden roses and cut roses since 1996. The company, owned by the Eskelund family was given the name of 'Roses Forever.'
"Roses that we breed here by means of cross-fertilization are licensed for cultivation by growers throughout the world. Rosa ApS in Denmark is one such company, along with BM Roses and Pligt Professionals in the Netherlands. In Africa, Molo River Roses which is located in Kenya has been the first cut rose farms to introduce the spectacular 'Rosa Loves Me®' series."
In the meantime, China has been beckoning. "We've signed a licensing agreement with a number of producers in China," Rosa proudly states. "In due course, that's going to be a bigger market for us than Europe; the growth there is enormous. Chinese producers have constructed state-of-the-art greenhouses in which our miniature roses can grow under the very best conditions. We provide a number of growers with cuttings and expertise to ensure that each one can grow a 'Roses Forever' or 'Infinity Rose'. Chinese consumers want roses of a certain standard of high quality, both for the home and for the garden. In addition, major hotel chains are buying our products."
Another market in the Eskelund family's sights is Russia. Rosa Eskelund cites Gertrude Stein again. "Consumers in Russia also want beautiful roses for their homes. We hope that our roses will be grown there too within a few years; it's simply a case of finding the right cultivator."
Brewing beer with roses
Rosa Eskelund is modest as far as her professional achievements are concerned, but she has been impressively working on a new generation of cut roses since 2004. Her efforts resulted in a rose that not only smelled delightful but could also be cultivated in special colours. But it has another remarkable use. If it were up to Rosa Eskelund, these roses, called Gourmet Roses, would receive their rightful place in every cupboard. They are the ideal flowers, both for decoration and as edible ingredients. "It all started in 2012 when we worked with a small German cultivator to produce special miniature roses (measuring two to three centimeters in diameter) to be eaten. After five years of development and testing, the Gourmet Roses are ripe for the global market," Rosa shares with excitement.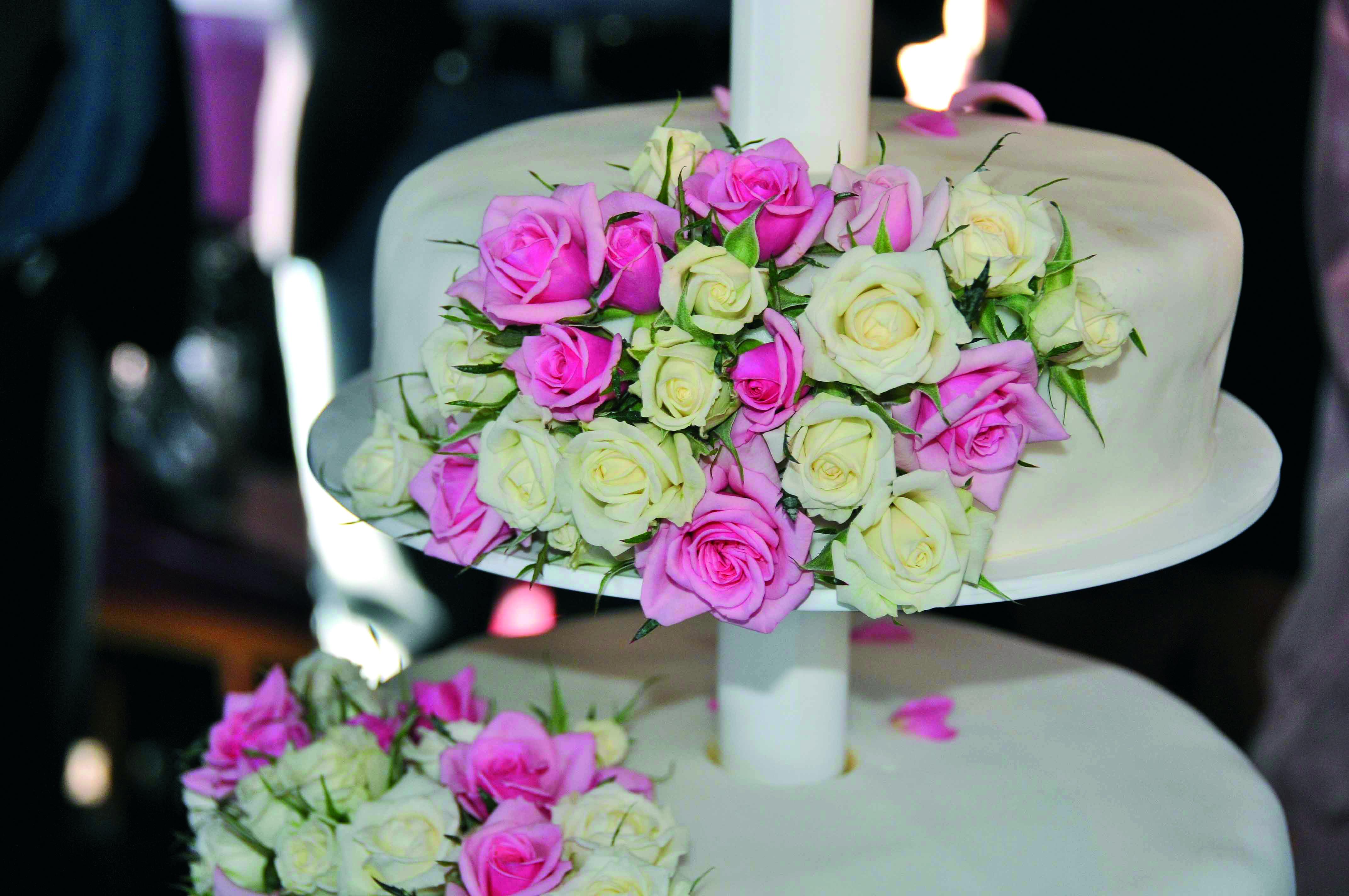 Danish herb cultivator Legro grows the product and delivers it to leading restaurants across Scandinavia. The Gourmet Rose can be used to decorate wedding cakes or even as part of a delicious, fresh salad. Not only does it give the salad a dash of colour, but the slightly more bitter flavor improves the overall taste of the salad. The flower festival in Odense of August last year saw beer on tap that had been brewed using Gourmet Roses. Rosa says it tasted wonderful: "A three-course dinner was presented as part of the festival, and our Gourmet played an important part in this!"
Rosa and Harley are currently in talks with a Dutch cultivator as they continue their quest to conquer the global market. "The small boxes used for the rose heads are easy to transport. The petals and buds remain fresh for up to four weeks, and by this time they're being used in kitchens across the world. Gourmet Roses are ideal for use in leading culinary kitchens, catering firms and also in the kitchens of consumers homes. I hope that the boxes used for the rose heads will one day be available in the higher-end supermarkets. We're anticipating being able to start exporting from the Netherlands beginning in early 2019."