You meet Dutch entrepreneurs all over the world, including in South Africa. The country and the African continent is popular business locations for flower and plant growers. Lourens van Geest left the Netherlands for South Africa with his family three decades ago. With LVG Plants, he is now the biggest producer of pot plants in Southern Africa.
Lourens takes part in the conversation from the background. The founder of LVG is now in his seventies. He placed his three sons in charge of the business. Geert van Geest (36) is the general director, while his brothers Ivo and Bart have other roles. Geert leads the conversation. His brother Ivo is the director of the sales and marketing company Plantimex, which is fully owned by the Van Geest family. Among other things, he is in charge of Pure Emotions, the company's premium line. Bart is in charge of production at LVG Plants. The third generation of Van Geests are still studying and there is a chance that one of Lourens's four grandsons or two granddaughters will go on to work for the family business.
Smiemans greenhouse
'I moved to South Africa when I was three years old,' begins Geert. His Dutch is interspersed with a South African dialect. 'In South Africa, we grow in plastic greenhouses. After more than 30 years, you can imagine how I have become completely South African. The country flows through my veins, as it were. Would I ever return to the Westland region my father comes from? Never! The disadvantages of this country and continent do not outweigh the beautiful vastness and pleasant climate. From my garden, I have an unobstructed view that stretches for six kilometers and you can see the deer rambling through the fields.'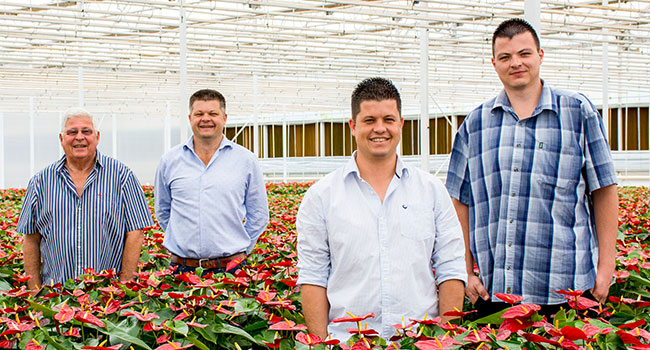 The story of Lourens van Geest, who left Naaldwijk for Krugersdorp outside of Johannesburg almost 30 years ago, intersects with that of Joop Smiemans, a greenhouse builder who wanted to sell a so-called Smiemans greenhouse to the South African Pieter Toxopeus. 'Joop and Pieter came to take a look at our business,' recalls Geert, while his father helps him out with the names from the background. 'Toxopeus then jokingly asked my father if he would be interested in running the new greenhouse.'
One thing led to another. In 1986 Toxopeus set up LVG Plants. In 1995 our family acquired full ownership of the company. In 1999 we set up our distribution, sales and marketing company Plantimex together with another family. In 2014 we acquired full ownership of this company, which has fifteen trucks and is in charge of logistics.'
Westland mentality
In the last thirty years, LVG Plants Group has grown into the biggest producer of pot plants in Southern Africa. While most rose growers in Africa export their products to Europe, LVG Plants only focuses on its home country and surrounding countries like Namibia, Botswana, and Zimbabwe.
"Of our production on 16 hectares, around 10 hectares are our own and then we purchase the rest. Around 80 percent will go to the domestic market in South Africa," reveals Geert. "However, this is a smaller market. Of the country's 52 million residents, only around 5 million are in a financial position to buy a plant. It is not in their culture to buy plants and flowers because they spend a lot of their time outdoors." One trait that the Van Geest sons inherited from their father is the Westland mentality which means never giving up, aiming for the best possible quality and growing plants and flowers in a sustainable way.

'Geert does not hide the fact that things are not always easy in terms of the political, social and economic climate. 'Due to the high level of crime, we have implemented measures with regard to our safety and the safety of our staff. If the exchange rate of the rand to the euro changes as a result of political measures, that can be frustrating because we import our plant reproduction materials from the Netherlands. So it is important for us to keep a close eye on the news. But we still have a wonderful life in South Africa. It is actually much more challenging to find and keep good staff. LVG Plants employs 240 permanent employees and 60 seasonal workers. 'Compared with the Netherlands, we need to explain the work in detail to our staff, who are unskilled, and we need to keep repeating it. Our workers come from Africa and they have a different mentality from the workers who work in Dutch greenhouses. I don't have a problem with it. I grew up in this country, so I fully understand.'
Solar thermal collector
In the area of sustainability, I would like the company to stop burning coal. The greenhouses are kept at 28 degrees Celsius by burning 3,650 tons of coal a year. Following the completion of the biggest area in thermal solar panels in South Africa in June last year, an investment of 25 million rand, CO2 emissions should be reduced by 80 percent. 'With a surface area of over 1 hectare, the thermal collector is used to heat water that is stored in a buffer tank. At night this warm water is transported to the greenhouses in pipes,' explains Geert van Geest.