With dual screens, residual heat and residual CO2, Flemish pepper grower VGT is betting heavily on sustainability
In late 2013, Flemish pepper grower VGT bought 40 hectares of land in the Autrichepolder in Zeeuws-Vlaanderen, the Netherlands. In late 2016, phase two will begin with the cultivation of red bell peppers. 'By using residual heat and residual CO2 from fertilizer manufacturer Yara, we cultivate in a fully sustainable way," says Koen Neyens, one of the four partners of VGT.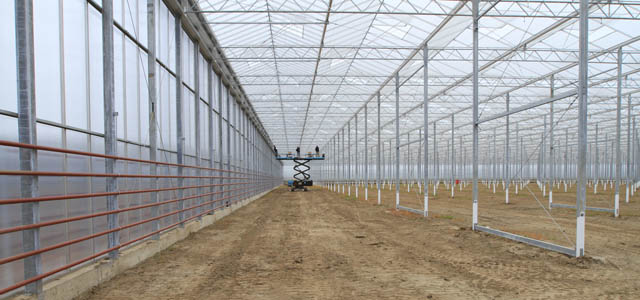 The company Verenigde Groentetuinders was created through the merger of four growers: Jos Wuyts and his son Wim, and the brothers Geert and Koen Neyens. Each had a private company active in paprika cultivation, de Wuyts in Rijkevorsel and the brothers Neyens in Olen. "We were struggling with the same problem," says Neyens. "All of us ran into the limitations of space and development opportunities. That's how the idea of the cooperative society VGT was born, which we established in 2003. "
VGT built seven hectares of greenhouses in Rijkevorsel in the year of establishment, and in 2006 built another eight hectares. These greenhouses are heated by cogeneration plants, an environmentally friendly method of heat generation, but one which is still dependent on fossil fuels.
30.2 hectares of pepper cultivation
VGT started looking for a plot that offered plenty of opportunities for expansion and sustainable entrepreneurship. The Autrichepolder near Westdorpe in the municipality of Terneuzen, met their requirements. At the end of 2013, VGT bought a 40 hectare plot there in the greenhouse horticulture zone. The day-to-day management is in the hands of a daughter and son-in-law of Jos Wuyts. "Of the first phase, the second crop has gone in," says Neyens. "More than 15 hectares of yellow bell pepper. We are currently working on the second phase, another 15 hectares. We expect that the plants, probably red bell peppers, can go in at the end of 2016."
Sustainable entrepreneurship
Sustainability has always been a high priority at VGT: solar cells, biological crop protection, re-using irrigation water, According to Neyens, the cooperative in Zeeuws-Vlaanderen goes one step further. "For heating the greenhouses we make 100% use of residual heat and residual CO2 from Yara, a Norwegian fertilizer group whose largest ammonia-nitrate-based fertiliser factories are in Sluiskil. This is heat which would otherwise be lost in the atmosphere."
Energy saving and solar protection
In the greenhouses in Zeeuws-Vlaanderen, dual LUXOUS 1347 FR screens have been installed. Neyens: "The screens have a double function, energy saving in the winter and as a sunscreen in the summer. We also have the newest type of diffused glass with double anti-reflection coating, but if there is lots of sunshine and heavy radiation, we also screen during the day. Even though we heat the greenhouses with residual heat, they are arranged in such a way that we can get by with as little energy as possible. For us, every day is dedicated to sustainability and innovation. Even though one can almost not exceed what we already do, this is currently the maximum achievable."