Growing together. These two words actually reflect a whole philosophy, namely the philosophy implemented by Lans. The tomato grower, which has greenhouse complexes in the Westland region and Zeeland regions of Holland, forms partnerships at every conceivable level: from seeds to software and logistics. Its aim is not just to realise the best possible product, but to also establish effective business processes that lead to acceptable margins. "It is impossible to develop everything ourselves if we want to retain our leading position."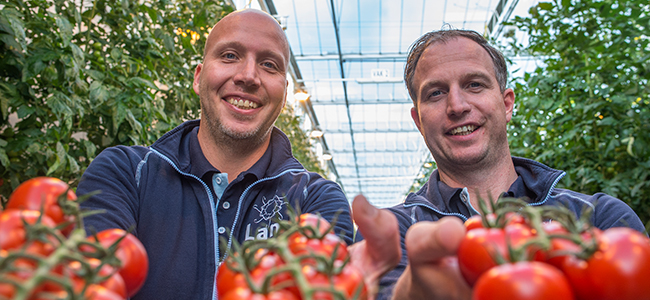 At the end of the last century, brothers Cees and Leo van der Lans were truly ahead of their time. They started to expand their tomato company when their father Bert passed away unexpectedly at the end of the 70s. They not only did so alone, but also established alliances with, or bought shareholdings in, companies that were part of the supply chain. This was an innovative business model at the time, and something unique in the world of greenhouse horticulture.
And Leo's sons, Erwin and Vincent, have now continued this approach. "It's part of our DNA", explains Erwin van der Lans, who is responsible for HR management for the company's 300 employees. His brother Vincent joins a little later, having had a phone conversation with his energy manager. "Yes, we also trade in short and long-term energy supply. We have fourteen CHP installations that allow us to trade in electricity, which we do not use ourselves for growing light (80% of the 52 hectares of greenhouses is illuminated), but to acquire gas. We are a small energy company." Erwin continues: "Part of our current success can be attributed to the shareholdings of Lans, which were established by Cees and Leo.
We want to be able to manage, influence and have a clear insight into the whole supply chain, from seed to final delivery. In addition, we do not want to be reliant on a few suppliers. The only thing we are not interested in is cultivating tomato plants." Just to be clear: the core business of Lans involves growing tasty tomatoes, of which there are currently six different types.
The two brothers emphasise that they try to improve bit by bit every single day. During the conversation, we walk through the greenhouse behind the company's head office in Maasdijk, and both brothers take a critical look at the condition of the cocktail tomatoes for Harvest of Health and Red Pearl. These brands belong to grower's cooperative Harvest House, of which Lans is a member. Their PR man Wilko Wisse says retailers and wholesalers want these cocktail tomatoes to be in bunches of eight or nine, and want each tomato to weigh around 40 grams.
"When it comes to the retail trade, small packages are created at Greenpack. For wholesalers, cardboard boxes featuring 3.7 kilos of tomatoes are prepared at the company under the Harvest of Health or Red Pearl labels. The company then supplies products to fruit and vegetable stores or the hospitality and catering sectors, or exports them to markets abroad." Everything in the greenhouses, thus also here in Maasdijk, goes to buyers at home and abroad. "We have fixed agreements with our customers, wholesalers and retailers", explains Vincent. "Customers keep coming back to us because we are able to grow in accordance with their wishes, all year round. These wishes relate to size, taste and ingredients. Some of our customers have been with us for a very long time. And a major part of our production in 2017 has already been 'set aside' for various buyers."
From seed to software
Back to the DNA of Lans: innovation. 'There is no future without innovation' reads the motto on the company website. "We also see collaboration as a form of innovation", explains Erwin. "It makes us and our partners more effective. Another important part of our strategy involves acquiring knowledge from the outside world. It is impossible to do everything on your own."
Examples of this strategy include shareholdings in a software firm (Nitea) and a seed breeding company (Axia vegetable seeds). "Together with seven other growers, we play a part in Nitea, which develops software for our sector. This means we do not have to rely on other suppliers, where you have very little say in the matter. In addition, we collaborated with Priva when developing their so-called Deleafing Robot. And we will start using the robot very soon. High quality tomatoes can only be produced using high quality seeds. That is why we are a part of Axia.
This is where top specialists in breeding vegetable seeds and top growers sit together to look for new tomato varieties. It gives us the opportunity to remain a step ahead of our competitors." The aim is to further develop the company, but not only in terms of size. "To meet all customers preferences, we could ideally do with a few extra hectares", adds brother Vincent. But, in the spirit of their father and uncle, they are also seeking growth when it comes to other applications for tomatoes.
Greenblend is one such example. Tomatoes that aren't quite good enough for the shelf are used for blends in the hospitality sector. "We do not waste anything we produce. Every part of the tomato can be put to good use", says Erwin. "We do this by working with marketeers at Harvest House. In the coming year, we will be examining which other tomato-based products can be launched to the European market. This is another form of innovation.
Lans: big in Zuid-Holland and Zeeland