The Hybrid House is a brand new type of self-sufficient housing. On one side there is greenhouse construction, and on the other side there ia an isolated residential area. Two types of climate screens from Svensson are being used in the project.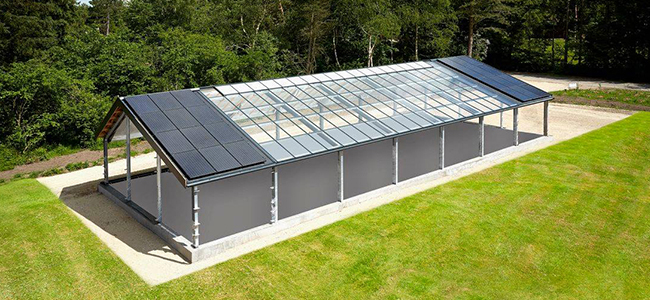 Over the past 25 years, Jörn Rosager has projected several greenhouse installations for growers in Denmark and abroad.
"I love to get into a nursery and have always dreamed about living in a greenhouse. So eighteen months ago I started the project to build a Hybrid house" he says.
Solar panels and solar cells on the roof collect energy during the day to heat up the water and produce electricity. Most of the energy is converted into thermal energy which is saved in three heat storages. This will portion the energy and heat out when the house is lacking energy.
In order to reduce the consumption of tap water, rain water is collected and reused for the toilets and washing machine, as well as for watering plants in the greenhouse section.
Inside the greenhouse two types of climate screens from Svensson are installed.  Harmony is mounted at the top in a rolling system that provides both an elegant broadcast and harmonious light in the house when radiation is too strong. At night, an Obscura screen is closed making  the house dark while at the same time saving energy.