West-Friesland is perhaps one of the most international regions in the Netherlands. Almost all seed distributors have offices, greenhouses, warehouses or R&D centres in the area and their seeds find their way to many other countries. But the same also applies to Bakker Brothers in Noord-Scharwoude. "99% of the 3,000 tonnes of seeds we produce are exported by sea or air."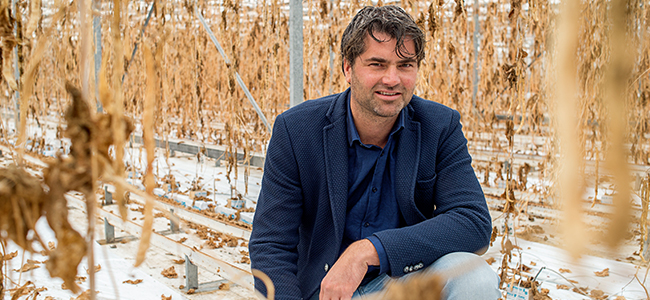 It's almost like a scene from a science fiction movie; ghost-like linen sacks hang on wires in a sealed greenhouse. The greenhouse has been exposed to the Tuta absoluta, which is one of the most harmful insects (Gracillariidae; tomato leafminer) for tomatoes. The moths, which originate from the Amazon region, are capable of destroying a whole bunch of tomatoes in no time at all. Due to ever increasing international trade, the moth can now be encountered in many parts of the world, including Europe. Wouter Bakker looks at the linen sacks through the glass. The pale light and low temperature in the greenhouse make things look even more mysterious.
"Our activities here and at other locations are aimed at making our six crops, including tomatoes, resistant. One particular wild tomato is immune to the Tuta. So we are trying to transfer this property to a variety within our range of tomatoes. This will help to make tomatoes a bit more resilient, without having to use chemicals. Most of our seeds for courgettes, beans, onions or aubergines are used in open fields, thus not in greenhouses. Partly due to climate change, the conditions there are a lot more troublesome than climate-controlled greenhouses because vegetables are attacked by insects. We do not spend our time developing things like small cucumbers or special types of lettuce for consumers. Our drive is to feed families at the lowest possible price."
Fourth generation
Wouter represents the fourth generation of the Bakker family. Together with his uncle, Eric Bakker (third generation), he runs the seed distributor which initially started out with cabbage seeds in 1928. Bakker Brothers is now a seed breeding, production and distribution company. Bakker Brothers has had an international outlook ever since it was founded, but its approach intensified after the Second World War. In America, the company is sometimes jokingly referred to as Bakker Bros.
Since the company became part of South Africa-based Klein Karoo Kooperasie in 2003/2004, and later Zaad Holdings Ltd. (a subsidiary of South African agri-investor Zeder), internationalization has only gone from strength to strength. Wouter is also on the board of Zaad Holdings. "Bakker Brothers is a small player in the breeding world and only has turnover of around 16 million Euros when it comes to vegetable seeds. But by being part of Zaad Holdings, which has turnover of circa 100 million Euros, we are a very powerful company and find it easier to obtain licences and collaborate with universities, research institutions and fellow companies. We do not perform the underlying research ourselves. We are actually a company that launches licencebased developments on to the market, which gives us access to the latest technology for breeding our crops."
Breeding is a quest
While builders are renovating the company's offices, he tells me about his work with great enthusiasm. We have just explored the huge warehouse and the filling lines. The seeds sent to Africa leave in large and small tins, not only so they arrive unscathed but also so the local population will later be able to use the famous tins to make toy cars. Wouter Bakker: "Our drive is to play a role in resolving the world's food issues. Seeds are the starting point for all vegetables.
The better the seed, the more farmers are able to produce. Our breeding stations in Jordan and South Africa, as well as ten testing stations worldwide, put us in a position to breed very quickly. We are able to realise a stable variety within seven generations. This, for instance, takes place over a period of approximately 3 years because the steps are taken at our three different breeding stations. In the past, it used to take us 7 years. Each year, we are able to advance seeds for most crops by three generations.
Production activities for realising stable seeds are outsourced to twenty companies in China, America and France. Seeds from these companies are all transported to Noord-Scharwoude and, after treatment and packaging, are then sent to the distributor. Not a lot of people know that Bakker Brothers is the largest supplier of vegetable seeds to the Food and Agriculture Organisation (FAO) at the United Nations. Uncle Eric coincidentally passes by: "We pay very close attention geo-political situations in particular regions and countries. We always take volatile regions into consideration. That's why our warehouse contains seeds for South Sudan, Iraq and Syria, which we sell to the FAO at cost price."
Nephew Wouter resumes the conversation: "We work with around two hundred distributors in Europe, Africa and the Middle East. Wars tend to destroy these networks and prevent farmers from doing their jobs. And this results in famine. That is why the FAO is using seeds to prevent such situations. In addition, 20 percent of our seed production goes directly to so-called processors. These processors, like Bonduelle, produce tinned vegetables. They then pass on the seeds to contracted farmers who possess hundreds of hectares of ground."