Wouter de Jong is the commercial director at Svensson. He supports screen installers who are looking for new screen systems for their customers. Wouter will be experiencing a first today: Beekers Berries - a customer of installer Alweco - is the very first strawberry grower to opt for the Luxous 1147 FR energy screen.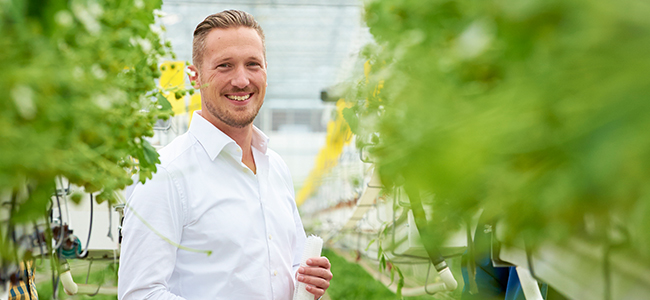 10:55 o'clock
It's an overcast day in Maasdijk, Zuid-Holland. Wouter de Jong, commercial director at Svensson, arrives at Alweco Scherminstallaties in good time. It is not Wouter's first appointment of the day; he has already visited another horticultural supplier earlier in the morning. "On average, I have two appointments a day, which can be anywhere in the country. I normally meet screen installers, but also visit greenhouse constructors." Wouter is thus familiar with the countryside as well as the city. But today's appointment is with Alweco representative Jeroen van Gaalen, who is also a seasoned campaigner. Jeroen's catchment area covers the southern region of the Netherlands, Belgium and a large part of the European continent. He visits growers that require new screens almost on a daily basis. Today's visit involves travelling to Beekers Berries in Made, together with Wouter.
There is a jovial atmosphere from the outset. Jeroen teases Wouter with a broad smile on his face: "You're too late; you can go back home again." Both of them appear to have visited the hairdresser recently and look approvingly at each other's hairstyles. Wouter: "Your hair was shorter last time." Jeroen: "I told the hairdresser that it couldn't be too short. But he immediately set about my head with his shears!" Enough horseplay. Time to talk business. This is something Wouter and Jeroen do on a regular basis, but normally via the phone. They normally talk about ongoing activities, new requests and product developments at Svensson. Jeroen: "I normally get to work around half past six, and set off to visit customers at seven o'clock. So I don't spend a lot of time in the office."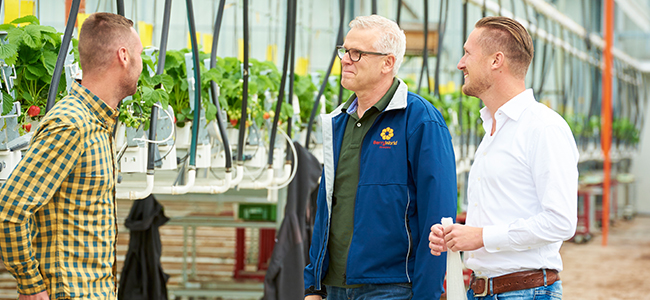 Wouter: "We work with Alweco a few dozen times a year. This sometimes involves relatively minor activities like replacing existing screens, but normally entails the installation of completely new systems. I normally contact Jeroen in such cases, but also deal with general director Leo Alsemgeest and export director Nico Niepce." Jeroen: "Alweco is very strong at the international level. We were very quick to explore the international horticulture market. And this put us in a better position to deal with the crisis in the Netherlands." For instance, Jeroen regularly visits growers in countries like Austria, Hungary and the Czech Republic. Before formulating a quote, I always speak to growers about their plans for the future Today's topic of conversation for Wouter and Jeroen is Beekers Berries. The company's owner, Wil Beekers, had phoned a few weeks ago: the screen in one of his strawberry greenhouses needed to be replaced.
Jeroen recommended the Luxous 1147 FR, which is a new energy-saving screen with a surprisingly high level of transparency. "It allows 2 percent more light to pass through it than comparable screens. This can partly be attributed to the way in which the yarns have been woven." The Luxous 1147 FR will be installed at Beekers Berries in around six weeks' time, which will make it the first strawberry grower to opt for this type of screen. "It is thus a first in the sector." Reason enough for Wouter to also go and visit Wil Beekers. After talking shop for around an hour, both cars start the journey from Maasdijk to Made.
12:00 o'clock
Wouter and Jeroen drive to Beekers Berries in their own cars, which is handy considering Wouter's other appointment later in the afternoon. Jeroen munches on a cheese sandwich while he's on the road. Wouter had already eaten his sandwich before the appointment at Alweco. "I have now worked at Svensson for around three years", he says as we travel.

 "Before that, I worked as machine builder in the horticultural and agricultural sector. I started out as a draughtsman, but gradually worked my way into engineering/development and sales. And then came the opportunity to move to Svensson." He appears to be very proud of his employer. "Svensson closely follows the latest developments and is very active in the field of innovation."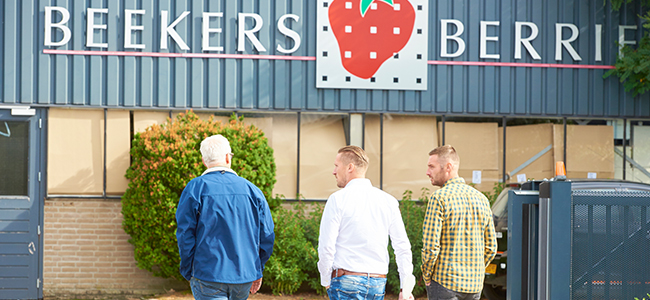 12:50 o'clock
The journey went smoothly. Wouter and Jeroen arrive in good time for their appointment at Beekers Berries; the impressive company owned by Wil Beekers. He previously worked as a vegetable distributor and took the step of becoming an independent grower in 1991. "I started out with cucumbers. I wanted to cultivate something other than tomatoes in the autumn, because that's what everyone else was doing. So I decided to give strawberries a try. And things went so well that I had switched completely to strawberries within a couple of years." That was back in the mid-90s. In the meantime, Beekers Berries and its ally BerryWorld (a partnership between Beekers and English company Berry World UK) have become a household name in the distribution, production and sale of soft fruits. In the Netherlands,Wil Beekers has several production locations with a surface area of 14 hectares and is a fixed supplier to clients including Albert Heijn (and also featured in one of the supermarket chain's commercials). "But England is the most important sales market for our strawberries."
The cultivation of strawberries is barely comparable to that of tomatoes and peppers. Firstly, strawberries are a cold crop. Therefore, there is barely any need for screens to keep the heat out - or keep the cold temperatures in, except during the winter. Wil: "We aim to realise night-time temperatures of 8, 9 and 10 degrees Celsius. During the day, we try to realise temperatures between 17 and maximum 25 degrees. That is why we sprinkle the greenhouse surface so often.
"Strawberries do not require a lot of light", says Wil. So the question is: why invest in a new screen which stands out because of its light permeability? "Even though strawberries do not require a lot of light, light continues to be the most restrictive production-related factor during the course of the whole year. In addition, the choice is based on the screens sustainability and life span." Plus, the current screen, which came from another supplier, is ten years old and needs to be replaced. This can mainly be attributed to the sprinkling process on the greenhouse surface, where water drips down on to the screen. This causes a build-up of dirt and results in damage.
Wouter: "The Svensson screen is stronger and has a better structure; the strips are fixed horizontally, which makes the screen easier to fold." And although strawberries don't need a lot of light, Beekers likes to manage the temperature in the winter and further improve light inflow by a few percent. That is why he opted for the Luxous 1147 FR after being advised by Jeroen. Wil: "If it's too cold outside, then I leave the screen closed. This means I can fully control the crop", he explains, while running a sample of the Luxous 1147 FR through his fingers. "But the screen has to be durable if it is to be effective."
13.50 o'clock
A visit to Beekers Berries would not be complete without visiting the strawberry greenhouses and processing areas. Wouter and Jeroen are shown around and are given a box of the very best strawberries to take home with them. In unison: "The box might be empty by the time I get home."