As part of our dedication to education Svensson has joined forces with Ceickor University in the sponsorship of a $5000 Scholarship grant to the University.
Education and knowledge transfer are critical in both the future and the strength of our industry.  Through scholarship opportunities in support of Universities such as Ceickor who are committed to the advancement of the protected agriculture we help instill the groundwork for future leaders.
Located in Querétaro, Mexico Ceickor University's academic program is centered upon the training and involvement in real-life production greenhouses, enabling students to develop a highly specialized skill set and the knowledge to excel in the increasingly competitive industry.

The institutions main purpose is the provision of higher education offering an Advanced Technical Degree in Protected Agriculture after a five semester program. Svensson's educational grant covers a 80% scholarship for one student for a complete year. The beneficiary student awarded the scholarship will be selected by Ceickor based on the University's regulation requirements for acceptance.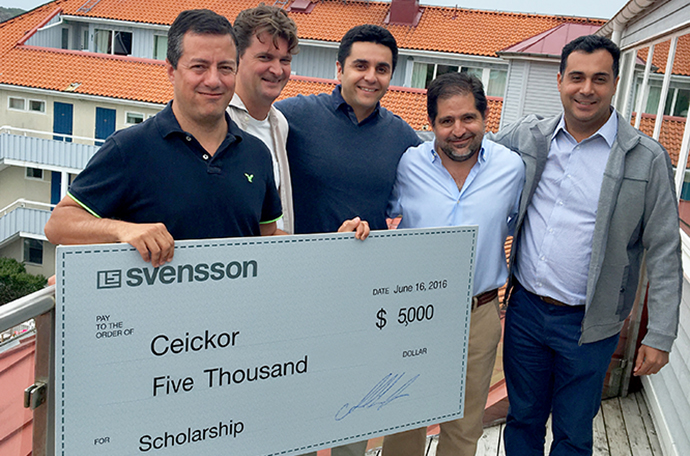 Protected Agriculture in Mexico continues to grow at a rapid pace, growing by nearly 1500 Hectares annually, which is a significant increase compared to fifteen years ago when the industry consisted of only 700 Ha, by the end of  last year it had grown to over 23,000 Ha.
Greenhouse production is becoming one of the most thriving economies in Mexico's agriculture sector, accounting for approximately 240,000 direct jobs and another 300,000 indirect jobs with 10,000 new jobs being created yearly.
"It's the people that make the difference in a greenhouse, technology and processes are important and are ever evolving but they will never replace the human factor" says Director of Ceickor University, Félix Tarrats, adding that experienced growers with proper knowledge and discipline are essential when it comes to the future competiveness and profitability of the industry in Mexico.
"Our success is based on the vitality of the markets in which we're active in, at Svensson we believe that helping educate new growers will lead to a better future for our children" says Mauricio Manotas, President of Svensson's Americas subsidiary.
We're honored to have the opportunity to support future students through such contribution.