Anders Ludvigson has been President of Svensson for just over eight months. He took over from his sister Anne. Both of them belong to the fourth generation of Ludvigson's. They head up the Swedish textile manufacturer of climate screens and interior textiles. We talk to him about the family business and the future of Svensson.
In 1999, the then Director of the Dutch subsidiary Cees den Boer invited him to come to Hellevoetsluis and take charge. Since 1985 this had been the site of the central warehouse for the Netherlands and later on for the rest of Europe. "Up till that point in time I was working for the Swedish company Intentia. I was supplying ERP systems [Enterprise Resource Planning - ed.]. My father Ivan didn't put any pressure on me to start working for the family business. It was something I did entirely of my own free will. It was my time. That's the strength of a family business like ours. The family members who choose to work there do so off their own back and not because that's what mum or dad want. An external supervisory board subjects us to scrutiny to see whether we are the right people for positions within the company. Otherwise it's game over. It's about getting the business to progress, to enable the next generation to enjoy the prospect of working here if they wish."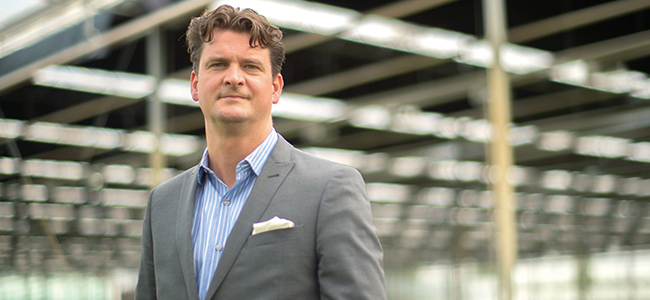 Interior textiles
The foundations were laid for this multinational organization around 130 years ago. It started out in textiles for the purposes of making such things as curtains for the home. It was Anders' father, Ivan Ludvigson, who, after the Second World War, in fact from the 1950's and 1960's, laboured to internationalize and modernize production and innovation. Ivan travelled across the globe with suitcases full of material samples to tap into new markets. With plenty of success. The pillar of climate screens for use in greenhouses now makes up 70% of turnover, with the rest coming from interior textiles. Anders has always worked in this division and even managed it in recent years: "I'm quickly learning how the world of interior textiles works."
In Hellevoetsluis, Anders got to know the family business and the world of greenhouses, screens , growers and greenhouse builders. "After all, I was from the world of software", he says with a laugh. "During the period running from March 1999 to May 2005 I learned a great deal about the business, enabling me to take this knowledge back to the head office in Kinna. It's because of that spell in the Netherlands that my eldest son Jacob has Spijkenisse as his place of birth in his passport. My other two sons were born here in Sweden. Will they be the fifth generation? No idea. I certainly won't be pushing them. Free will, as I said already, produces a better result. Jacob recently travelled with a consignment of screens from Kinna to Hellevoetsluis to be there at the delivery to a customer in the Netherlands. He was able to experience the end-to-end chain first-hand. He thought it was exciting."
Climate screens
Back in Sweden, Anders started working under the auspices of his father Ivan, who passed away last summer. "It was partly for that reason that I took over the presidentship from Anne and she became president of Ludvigson Invest AB. Anne and I don't differ in terms of our vision. The aim is to keep growing, to ensure that the company stays strong in the future." He cites his legendary father Ivan Ludvigson. In fact, it's only in the last 35/40 years that the climate division has experienced tremendous growth. Over the space of a couple of decades it evolved into one of the largest producers of climate screens in the world. In recent years, consultancy services to growers and greenhouse builders have been added.
Families
When we asked what he learned from Ivan there is a brief silence. Anders muses on the question and mumbles: "Don't fret. Life is too wonderful to worry about trivial things. Don't get caught up in things, keep moving forward." Over the past year Anders and his team have categorized all different types of climate screens into five product families. This subdivision into 5 product groups provides a better overview. Asked about his further efforts over the next few years, Anders is unequivocal. Becoming and remaining a significant player in food production. "Stable food production is becoming increasingly important. More and more mouths need to be fed. Svensson is providing added value to make this possible. Our climate screens enable more sustainable cultivation and increase greenhouse yield. Moreover, you can see our company also moving towards consultancy. The hardware, and the screens , are getting better and better, but we will also have to provide our buyers with knowledge and help them with the food issue. Only then will we be able to contribute successfully to feeding all those billions of mouths."