After 20 years as a textile designer and 7 years as a textile product developer in the automotive industry, Pernilla McGillivray joined the design team at Svensson in late 2018. Today textiles for curtains fill her sketchbooks and her working day, in a style which often feels rather Japanese. Where the main sources of inspiration are drawn from the world of art, fashion and architecture. 
---
Pernilla has been working at Ludvig Svensson for almost 2 years now. A whole new approach to textiles is, above all, exciting. Having worked with textile covers for archaeological sites as well as textiles for the automotive industry, creating curtains is a whole new direction.
"Curtains require a different approach, which can vary depending on the type of curtain to be produced. For example an acoustic curtain must be able to absorb sound. It should preferably be dense, while having a soft texture and a free drape, so that it hangs beautifully. When it comes to sheer curtains, the design must fit the purpose. You cannot have too many threads fluttering on the surface. Unless, of course, that is the effect you wish to achieve. It is a challenge to get the balance right."
Designing textiles which feel alive
Pernilla has a preference for a Scandinavian and Japanese style, which she feels has many similarities in common. Conservative when it comes to colour, Pernilla prefers to focus on a combination of textures in conjunction with subtle gentle contrasts such as matte and glossy, dense and sheer or sleek and sharp She aims to design textiles which feel 'alive'. Which are inspiring and evoke happiness. By working with materials which grow over time and with details which awaken the senses. 
"I work with industrial and commercial materials; however, my aim is that the product must have its own personality, something to make it vibrant. It can be slightly uneven, textured and have a patina. Natural materials often have these properties, which I find beautiful. It is like the Japanese philosophy of Wabi-Sabi, which celebrates the ever changing and imperfect. You have to respect the ageing process."
Taking inspiration from just about anything
Pernilla describes the creative process as two interconnected parts. One is the day-to-day observing, constantly looking for inspiration. Open to opportunities and ideas when it comes to art, design and everything around us.
"I take inspiration from just about anything. It can be the table setting at an al fresco get-together or a graphic text or film. When it comes to creativity you should never say never. The more open you are to new ideas, the more you will ultimately find. Personally, I think it can be difficult to find really inspiring textile designs, but some fashion designers, such as Iris van Herpen and Hussein Chalayan, work with textiles in an innovative way. Then there is some incredibly exciting inspirational architecture. Buildings, façades and construction materials.  Interactive art is fun. Preferably whole experiences, in which the environment plays a role.  Where sound can also play an important role in promoting well-being. The COS installation during the 2017 Milan Furniture Fair is a good example of an overall experience, which left a lasting legacy."
The second part of the creative process is the more concrete one, where you work on specific projects and solutions. Here it is important to produce the right product, in the right place and at the right time. Everything depends on context. This requires investigating what is already on the market but also understanding and having a dialogue with customers. Pernilla generally likes to work according to concrete plans, rather than open assignments without guidelines or context. 
"Many people probably see textiles as something flat and one-dimensional, but textiles are actually very technical. I design and create a fabric. I work with the weave to get the look and specific properties right. The questions I ask when designing include what environment I am designing for? What do the requirements look like? Which functions must the curtain serve? What do I want to emphasise and which feelings do I wish to convey?" 
It is not unusual for the brainstorming to begin on the sketch pad. Pictures, sketches, collages and little notes are added. It is often raw, unfinished and messy, but acts as a bank of ideas which form starting point when she begins to develop a material. It is also a lifeline when she gets stuck and the ideas dry up.
"I work pretty intuitively. Ideas may lie dormant for a while but when I start, I prefer to make quick decisions, test, evaluate and re-evaluate. The image in my head often changes throughout the process. What I find most inspiring is when you get thrown off track and down unexpected paths. These are always filed away in the sketchbook."
Pernilla points out the importance of having the courage to test out ideas. She believes that product development should be vibrant and ever changing. Like a marathon consisting of many fast sprints. 
"Theoretically, everything is always correct and beautiful. In reality there is always a compromise where you adapt and learn to make do. Even when things do not turn out as intended, they can often  prove to be correct  within a different context."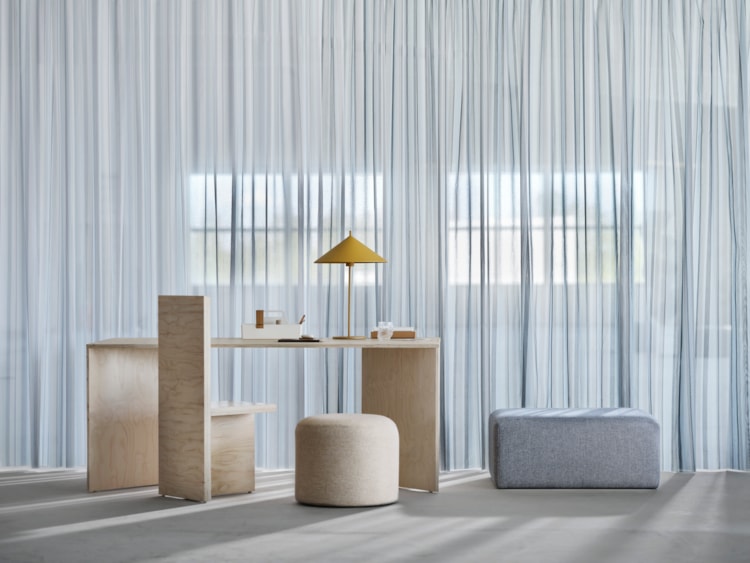 Textiles with different functions will continue to develop during the 2020s
Pernilla predicts an increased demand for textiles with various key functions for office environments. Textiles have, for example, an excellent ability to absorb sound. Sound-absorbing textiles have therefore become an integral part of the Svensson range, which she is involved in developing alongside light-regulating textiles.
"The textile works with light purely by regulating the light input. We can also stimulate our senses in a playful way by utilising natural or artificial light and creating patterns and shadows. All of this can contribute to a much more comfortable and inspiring environment." 
In addition to the growing popularity of functional textiles, Pernilla is predicting a new trend, where new office environments have a more personalised touch to represent the businesses housed there. The workplace will feel more personal and human-focused as the activity-based workplace is being upgraded. Sustainability is seen as a matter of course, while a focus on well-being and health in the office environment is on the rise. Questions raised include; what promotes health and well-being? And what can generate a creative environment in which new ideas can be born? 
"Textiles provide a fantastic opportunity to adopt a much more important role within these environments. That's because their are infinite possibilities as textiles are so varied and can fulfil so many functions, not just in a technical sense, but also aesthetically. Textiles can create soft surfaces to contrast with harsh finishes and can screen areas offering varying levels of transparency and privacy."  
Sustainable design and the textile industry of the future
For Pernilla, long-term vision and a holistic approach are key factors in order that the textile industry can remain sustainable. This applies to both the choice of material and the production chain. 
"Textiles have incredible potential for varied and long-term use, which is what sustainable design means to me. Quite often a fabric has more than one function. Textiles do not ever need to be thrown away. Start with the look and feel of the material and create something new. Furniture materials last forever and can even be turned into a perfectly good coat."
In addition to sustainable use, it is still important to improve the processes in the textile industry, from finding good input materials and utilise them fully without creating waste, to finding ways to deal with them afterwards. 
"Here at Svensson, we have a clear advantage as most of the processes are contained under one roof and can be adjusted if necessary."
Collaboration is also important. Pernilla believes that transparency in the supply chain is now more common than ever, which has led to a more open climate. This makes it easier to have conversations and hopefully find solutions together. 
Pernilla's personal favourites among Svensson's products
"Rami Plus is a favourite. A lovely material with coarse, visible texture. I like how the textile feels sturdy and pronounced, while also being luxurious. And, Softmill and Be On are beautiful classics that will never go out of fashion. They enhance whatever they are used with."
"I also like many of our climate screen fabrics. You do not need a technical reason to use them at all. The rigid fabrics are fantastic in different environments. Just like with Japanese paper screens, you can play with wall concepts while incorporating the light with shadow effects. You have to dare to experiment a little."
---
Pernilla McGillivray is the designer behind our beautiful curtain fabrics Felix, Fields, Salt and Siri