When the award-winning interior designer Linda Evensen was tasked with creating a modern retirement home outside Oslo, she chose Svensson textiles. The snug building has dramatically improved the health of its residents.
On a hill overlooking the sparkling Oslo Fjord sits the most impressive care facility in Norway. Built entirely in solid wood, the New Ullerud Health Centre in Drøbak is not only striking for its architecture but for an interior built around the people who live inside.
The interior designer Linda Evensen has an impressive CV, having, among other things, made her mark on the Norwegian embassies in Brussels and Kathmandu. In this building – a 108-room retirement home – she was assigned the difficult task of creating a homey feel within the walls of an institution.
"For many, this will be their last home in life, but most buildings of this sort are cold establishments, I didn't want that," she says.
But how do you create warmth on this kind of scale?
"By being selective in terms of colour, materials and lighting. I have also chosen furniture and decor from home interiors manufacturers. And then you have the textiles, which really soften the feel of a room both visually and acoustically while lending them a certain character."
When Evensen describes the selection process behind her choice of textiles, it is clear just how careful she has been. But in the Svensson collection, she found what she was looking for.
Flock, a curtain where stylised birds in a variety of colours float over a white background, runs like a red thread throughout the new nursing home. The colours of the birds are also picked up in block textiles, simultaneously creating uniformity and variation between different rooms.
"It is also a bold pattern that older people with impaired vision find easier to perceive," Evensen says.
In rooms that required a dimout effect, the curtain Twin came in handy. While at the opposite end of the spectrum, you have the sheer, cloud-like Cirrus. Evensen also drew on the classic elegance of Karat and the shimmering upholstery fabric Happy, woven in durable chenille yarn.
"Svensson has a wide range of functional textiles. They also meet flammability standards, which is very important in these kinds of buildings. I have used Svensson textiles in almost every room."
Evensen also appreciated the professional service provided by Svensson.
"They are very service-minded, turn up for meetings at building sites and attend surveys. They answer the phone quickly and are to the point when it comes to their products. That is a big help and instils confidence in us interior designers."
So what do the residents think of their new lodgings?
Evensen says they tell her it is like staying in a high-end hotel. "Many of them have come from another nursing home and the nurses say they can see a big change. They are happier, feel better and don't need as much medication as before.
"They have become healthier, more social and more active. And I am convinced that the interior design is an important part of that," Evensen says.

Facts: New Ullerud
Retirement home and nursing home in the Norwegian city of Drøbak, completed in 2017. Complementing existing buildings, the business now has a further 160 hospice beds.

Interior designer Linda Evensen has previously worked at the Norwegian architectural firm Snøhetta.

Svensson textiles used in the New Ullerud Health Centre include the curtains Flock, Twin, Cirrus and Karat, as well as the furniture textiles Happy and Intro.
| | |
| --- | --- |
| Object | Nya Ullerud |
| Location | Oslo, Norway |
| Architecture & Design | Linda Eversen |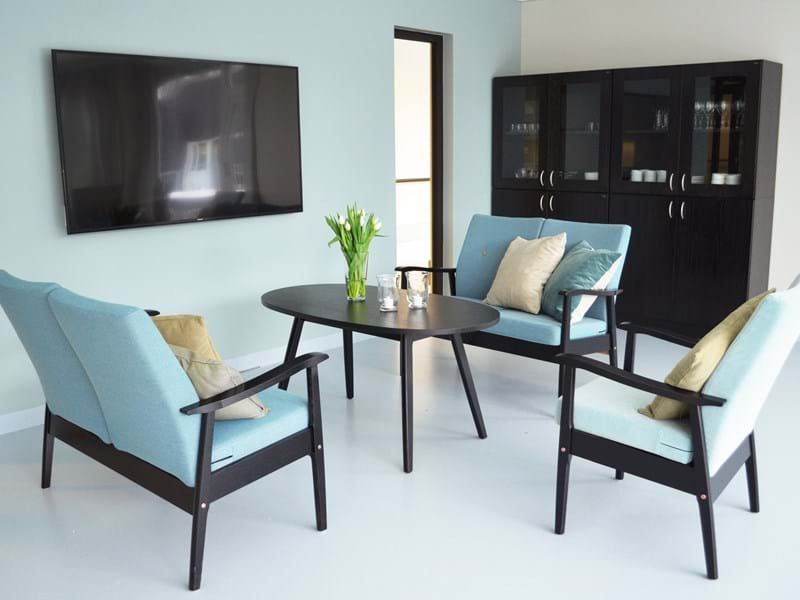 Finsalhagen Omsorgssenter
Finsalhagen Omsorgssenter in Hamar, Norway is a 4900 m² retirement home for patients with dementia. It has 28 new residental homes and 14 nursing homes.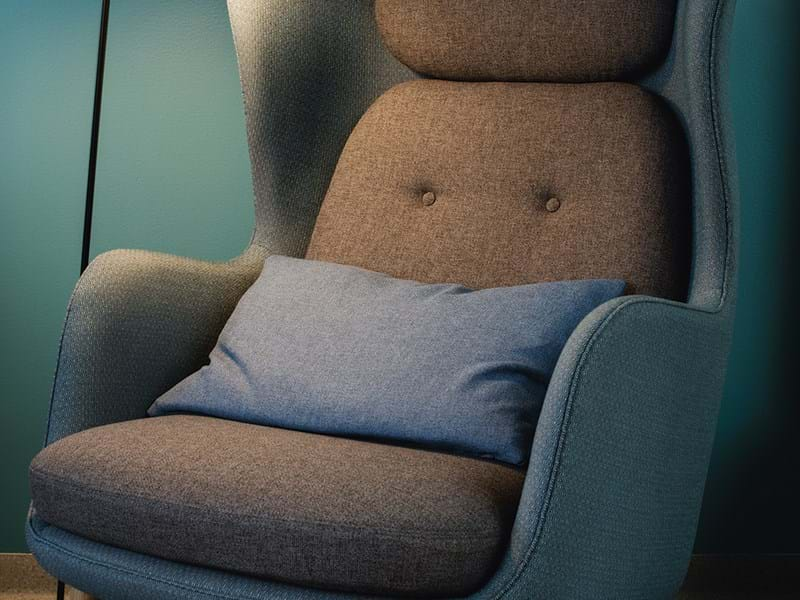 New Ullerud
Retirement home and nursing home in the Norwegian city of Drøbak, completed in 2017. Complementing existing buildings, the business now has a further 160 hospice beds.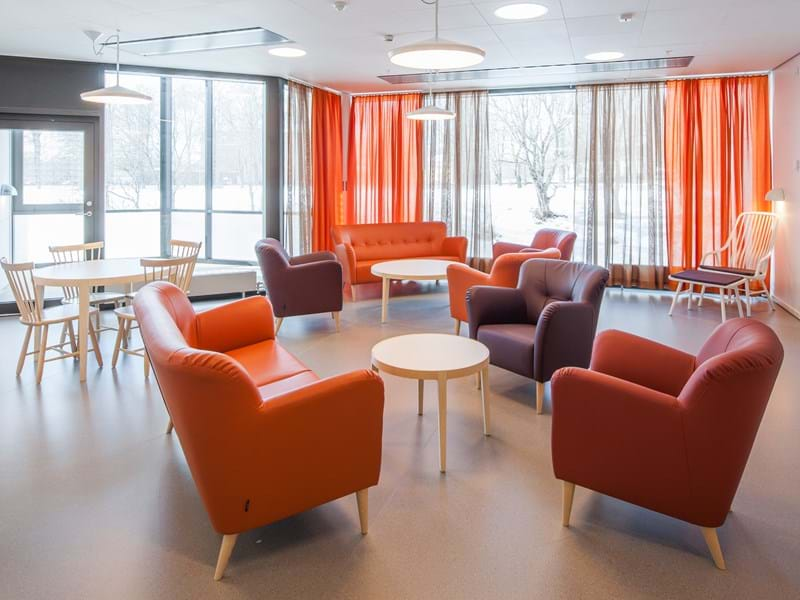 Psykiatrins Hus
Psychiatry's house being built at the University Hospital in Uppsala area. The new building comprises approximately 33,000 m² gross area.