During spring 2018 Konstfack's restaurant 'The Plant' was decorated with a huge woven photographic collage. The textile art was designed to commemorate 175 years of Swedens University of Arts, Craft and Design also known as Konstfack.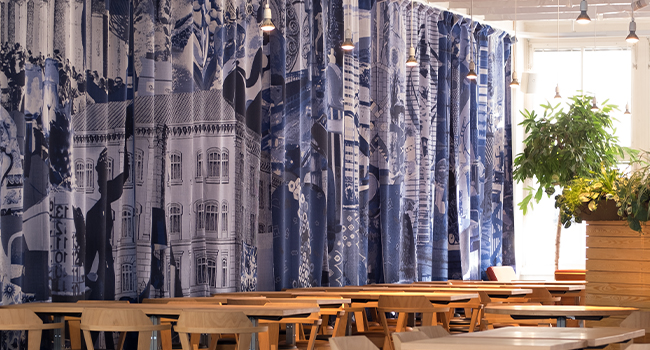 The fabric installation is a work of art for Konstfack's students and visitors to enjoy and it is an honour for Svensson to have developed the fabric at our factory in Kinna. Former Art School students have left an iconic mark through design over the years. A number of these iconic pieces have been used for the detailed drapery, which is now majestically displayed in The Plant's dining room at Konstfack in Stockholm. Such an exciting and aesthetic way to highlight and draw attention to Konstfack's 175 year history.
The fabric is designed by architects Uglycute in collaboration with designer Johan Bisse Mattisson and artisan artist AmicaSundström. Consisting of 10 separate layers that together form more than 60 square meters of a continuous large area. The fabric is made with over 160 different bindings - all based on a black and white warp with two different blue shades in the weft.
Among the pictures we find Swedish classics like StigLindbergs Berså, Skrot-Nisse, Matta by Märta Mås-Fjetterström, Jonas Bohlin's chair Concrete and Tove Jansson's Moomins. 
You can also find a fabric from the Stockholm subway, designed by another well-known former Konstfackstudent - Lasse Åberg, developed in collaboration with and produced by Svensson in Kinna for many years.
- "It's great fun to develop a piece of textiles like this," says Annika Svedberg, Business Area Manager at Svensson. "In close collaboration with Uglycute and Konstfack we have been working with bindings and design documentation to transfer the vision to an actual fabric which was a great trip with a result we are very proud of. The project shows both the width of Swedish design icons, but also the complexity and possibilities of the weave. "