The exciting upholstery fabric called Tableau is part of the new spring collection from Svensson. Already, the newcomer is showcased in the celebration of the 100 years memorial of Ingmar Bergman, selected by students of the Swedish Träcentrum producing furnitures inspired by the movies of the demon director.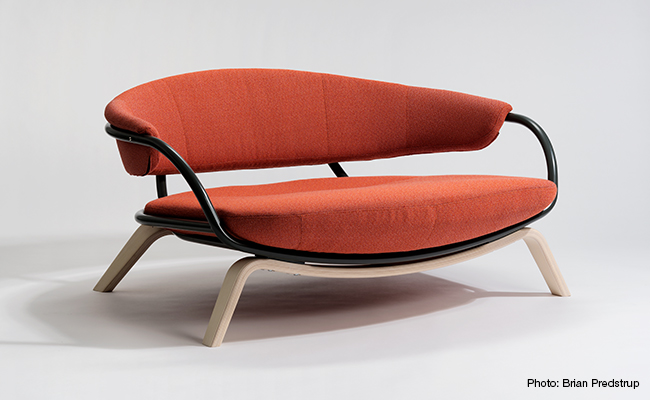 The year 2018 marks 100 years since the birth of the Swedish world-famous director Ingmar Bergman. The students of Product Development with Furniture Design have used the centenary as inspiration and the central theme of their graduation works. This week at the Stockholm Furniture and Light show the result is being exhibited.
One of the seven pieces in the collection is Oidipus, a furniture piece created by Sebastian Galo, Sanna Andersson and Eddie Gustafsson, is beautifully dressed up in Tableau from Svensson.
"Ingmar showed his mother deep love and affection, but felt that he got nothing back," tells the threesome. "The movie Persona reflects his relationship with his mother and the lack of love and attention he experienced. We were inspired by that movie."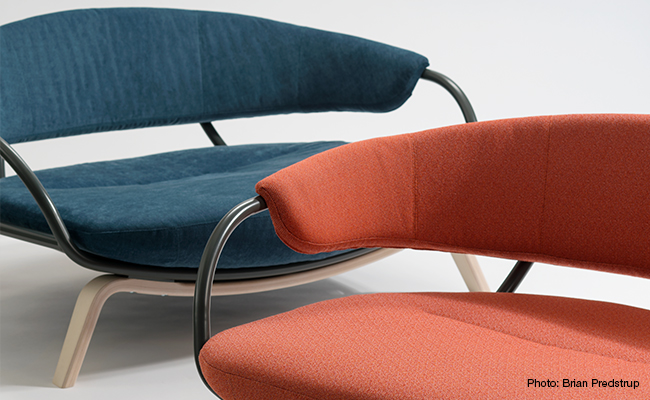 The armchair Oidipus is created to embrace and give a warm feeling as the love of a mother. With round shapes and deep colours, the creators hope the armchair for two can give a glimpse of what Ingemar was longing for.
"It symbolizes the energy created when two people are sitting closely together in an intimate atmosphere. Sitting alone on the other hand, the chair becomes too big, something is missing." When selecting fabric for the chair, the students turned to Svensson. They got a 'crush' on
Tableau – a new woollen upholstery fabric, influenced by Coco Chanel, with a gentle nod to the sixties in wonderful colours.
"We like supporting the projects of tomorrow's designers, it feels meaningful," says Camilla Parneving, Brand Director of Svensson."The students have made a remarkable piece of furniture with our fabric Tableau being the icing on the cake."