One of Iceland's most popular interior designers "Fröken Fix" chose three upholstery fabrics from Svensson when Iceland's largest insurance Company received a facelift.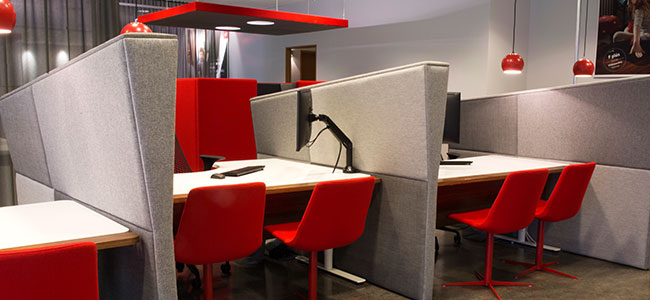 When "Fröken Fix", one of Iceland's most popular design companies, was commissioned to give the office of Iceland's largest insurance company a facelift, they chose to use fabrics from Svensson.
"We chose the fabrics Juno, Happy and Moss. I love them! For the interior, I wanted to use the company's colors, red and grey. These colours can at times be a little difficult to work with because of their very nature. Red can be too strong and grey can be a touch boring. I wanted the customer to feel at home, comfortable within a professional environment. Therefore, I chose fabrics from Svensson that provide a tactile solution, fabrics that perform and are of the highest quality and design." says Sesselja Thorberg, owner and designer at Fröken Fix.
In addition to decorating the workplace Fröken Fix designed sound absorbing walls and sofas also upholstered in fabrics from Svensson.