Innovative and daring design. With Vy upholstery fabric, Svensson takes the classic Jacquard to a new level.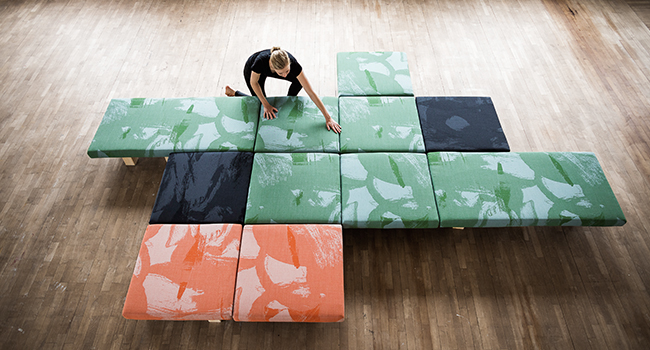 "Vy is a fabric that really stands out. We've never worked with our Jacquard on this scale before and I don't think anyone else has either," says designer Eva Larsson.
Textiles with many possibilities
Vy is woven in wool with one colour in the weft and one in the warp. Along with various weaving techniques, the fabric has wonderful depth. With a pattern that runs across the entire width and with essentially an endless repeat, many opportunities are created.
"Every interior and piece of furniture had the potential to be entirely unique. Imagine an auditorium where every seat is like its own little jewel," says Eva Larsson, who designed the fabric along with Aoi Yoshizawa.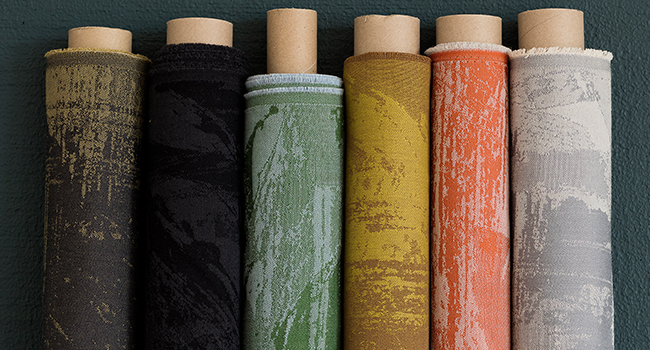 Generous colours
The idea for Vy started with the form of a piece of crumpled paper. Aoi Yoshizawa created a painterly pattern that Eva Larsson then developed on the loom. "It's really fantastic to be able to produce this kind of fabric. With Vy we take the classic Jacquard to a new level," says Eva Larsson.
With Vy we offer an edited, but generous palette consisting of camel, lime, brick, ochre, graphite and sophisticated black.