Reusing textiles can give new life to materials that have already been produced, while also benefiting our environment. A worn pair of trousers can become a vest, a bed sheet can be turned into a bag, or why not transform the whole leather upholstery from a car seat into a coat? Together with textile company XV Productions, Svensson explored how the new autumn upholstery could be turned into a complete wardrobe.  
XV Productions was founded in 2019 with an idea of changing the textile industry through sustainability and transparency. Making use of textiles that are left over, or repairing worn textiles and giving them a new life is the very core of their business model. An idea that turned out to be aligned with the times.
– We have seem that the demand for our services has increased, and we have been able to go from searching for projects to start choosing collaborations that match our profile, says Evelina Ingvarsson, Art Director and one of the company's founders.  
All under one roof
­Over the years, the three founders have developed their idea and managed to grow into company with over ten employees. A old spinning mill of 400 square meters houses product development, planning and production – all under the same roof.  
– Everyone who works here is extremely skilled at what they do. We are able to try an idea and quickly get a result that we can choose to either go ahead with, or take back to the sketching table and develop further, says Linnea Mgnusdotter, Creative director and founder.
From upholstery to complete wardrobe
XV Productions was commisioned by Svensson to create a complete upholstery based on Ink, an upholstery fabric that is being relaunched in new colourways. The result was a blazer, a coat and a pair of trousers.
– We were really satisfied with the result and hope that is shows in the photographs. We managed to find a feeling that conveyed future reuse, while at the same time showing off the textile in a neat way, says Linnéa Magnusdotter.
Transforming an upholstery fabric into a garment has its challenges. For example, you need to think about how the material breathes, but also how the textile wears of differently.
– When you convert an upholstery fabric into a jacket, you need to think about the abrasions that can occur, for example around the arms and elbows. It will be a different kind of impact than what the fabric has been designed for, says Linnéa Magnusdotter.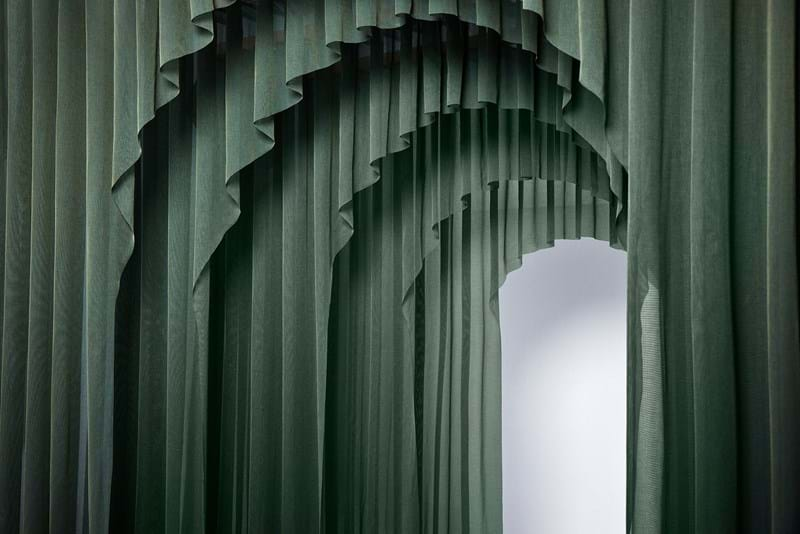 A textile portal
In connection with Svensson's autumn launch, XV Productions was also commissioned to create a vault from the new hanging textile, Veil. A textile portal that shows Veil's ability to pleasantly filter light and how it can be used to create an atmospheric ambience in public environments.
– I immediately liked the idea of making a textile installation. Something awe inspiring. We also got to try doing something that we don't usually do that often, says Evelina Ingvarsson.
As the ceiling height was limited, each cut had to be done separately, where each individual part of the vault had to be hung up and taken down, one at a time.
– Since we couldn't hang the entire vault, we had to be a little creative. I started by making digital prototypes and entered all the measurements digitally before we made the first cut. It was a little nerve-wracking, but we think the end result speaks for itself, Evelina Ingvarsson.