Annie has created several successful textiles  for Svensson throughout the years. For Svensson's autumn launch, she is the designer for two new textiles – hanging textile May and an updated version of classic upholstery fabric Ink. 
---
Combining her interests in colour, texture, materials, architecture and interior design, Annie found her calling in the textile industry. Whether she is working on limited-edition design pieces or projects geared towards larger productions, Annie approaches every project with careful consideration and attention to detail. 
"I used to work in Amsterdam where I was introduced to the studio method, where an idea is explored through extensive sample making. A selection is made and further developed in a new round of sketches and samples. I iterate and refine many times before I am content. It is a very hands-on way of working that suits me well."
The future of textile design
Reflecting on the evolution of the textile design industry in recent years, Annie is optimistic and is looking forward to the emergence of more sustainable material alternatives. All while still adhering to the same main goals when designing. 
"This on-going development will undoubtedly reshape the landscape for designers like me. With experience, the ability to design develops in more advanced ways. It is important that textiles that end up on the market are well thought out and deserving of their place for a long time. Both for the producer, the customer and for our environment. Still, my work will always revolve around finding a shape or colour that strikes a chord within." 
Annie explains how she is at her best when she gets to sit down and work with her hands, as with each new exploration, new, innovative ideas are born. 
"Personally, every project involves an initial phase of questioning, but I have learned to trust the process."
Updating a classic upholstery fabric
This autumn, Annie has designed two textiles for Svensson's latest launch: the patterned textile May as well as an updated version of Ink, an upholstery fabric originally designed by Eva Larsson. 
"Anyone who takes a closer look at Ink will discover exactly how many colours are included in each colour scheme. I would say that it is possible to find inspiration for an entire interior design, solely through this fabric."
For the updated version of Ink, Annie has aimed to expand upon this distinctive quality and incorporate it into additional colour variations. At the same time, it was important that Ink would not stray too far from its original composition. After receiving the full collection of available yarn colours, Annie started to build a large system of samples, focusing on combinations of warm, cold, light, and dark . 
"When it was time to weave the samples, I went up to the factory in Kinna to stand at the loom with my extensive list of colour combinations. I spent a lot of time picking out the samples I found most compelling, making sure they came together and then trying to optimize the number of warps. It's a puzzle that makes textile design that much more interesting"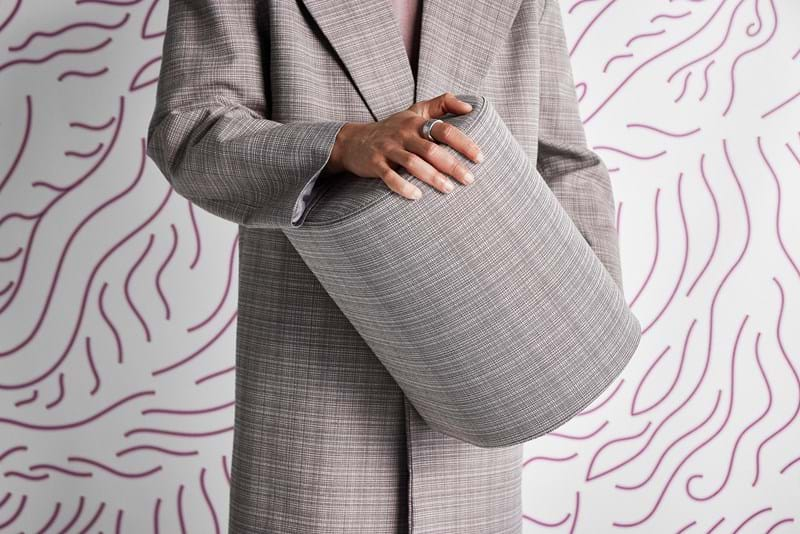 Humanising public spaces
When Annie first got the assignment to create the hanging textile May, she had just been to an exhibition in Copenhagen. Some of the works using neon lights served as inspiration in the creation of the striking curtain fabric. 
"It resulted in May having an 'edge' that makes it fit nicely into many different environments, regardless of the age of the architecture or furnishings, says Annie"
Annie hopes May will encourage interior designers and architects to embrace patterned textiles to humanise public spaces. She then explains that May is a dense but also transparent textile with a smooth surface, making it possible for the pattern to unfold and come alive. 
"I'm excited to have several colour schemes printed on a coloured base. It is not common in textiles for public environments, but they turned out so nice, says Annie. I can really envision a longer wall or glass section where the pattern is displayed in multiple panels, adding colour and depth to the room"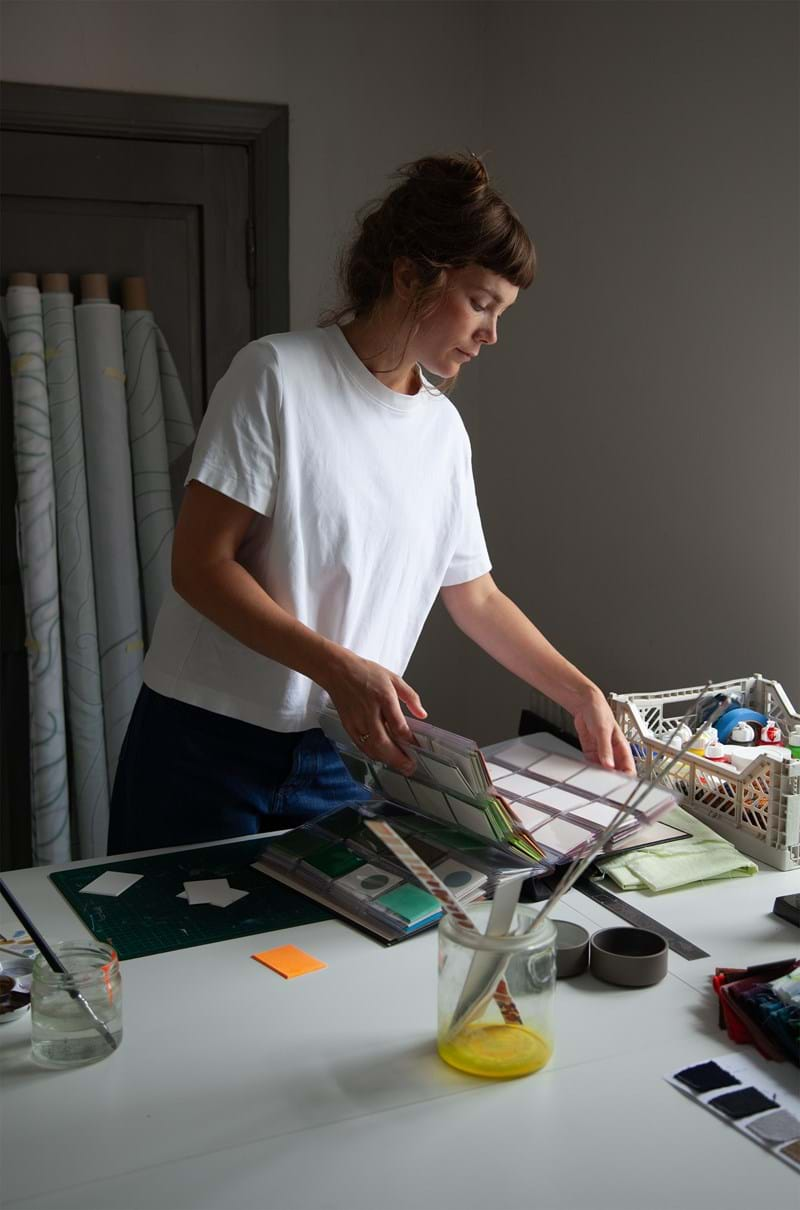 ---
Annie Lee Jönsson is the designer behind Svensson curtain fabrics Akemi, Ara and Mint