Creating circular furniture flows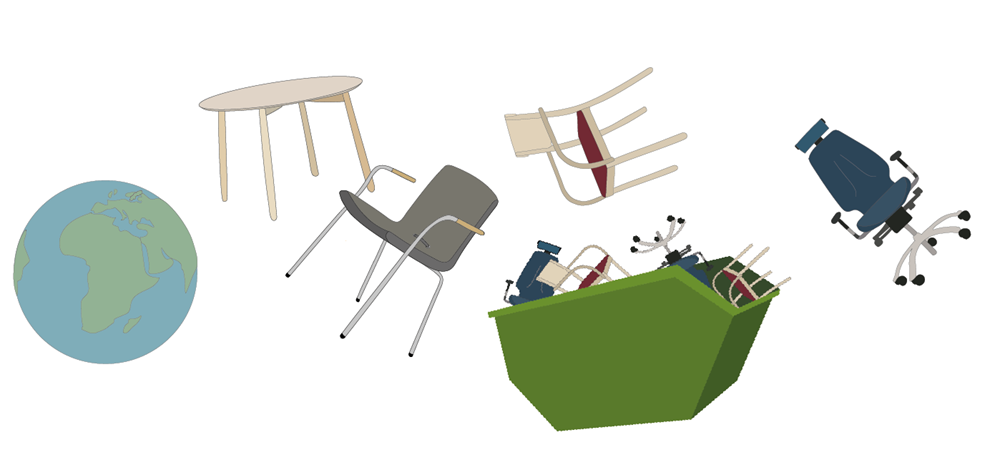 For the past four years we have worked in the Vinnova-founded project circular furniture flows, which aims to meet society's need to make better use of all types of resources to create more sustainable industrial development, by providing the conditions for a production and consumption of public furniture that is more resource efficient, less environmentally harmful and at the same time strengthens the companies' international competitiveness.
Finding solutions by taking the sustainability work to the next step by creating more circular flows and new business models on an industrial scale in everything from business models, labeling and traceability to design and manufacturing.
In Sweden, furniture is produced for around SEK 23 billion a year. By using circular business models - where furniture is renovated, repaired and sold again, it is possible to halve the resource consumption and reduce the climate impact by about 30 percent compared to today's linear system where furniture is produced, used and finally disposed of. The circular furniture flow's vision is that the Swedish furniture industry will be internationally recognized to show how large-scale transition to circular economy can be implemented in practice.
Many thanks to Vinnova, Rise and partners in the project: Albin i Hyssna, Allies, Rekomo, Centigo, FLOKK, Gärsnäs, Input interiör, Region Jönköping, Kinnarps, Kammarkollegiet, Linköpings universitet, Lots Design, Offecct, Recycling partner RP, RISE, Region Skåne, SKL Kommentus inköpscentral, Svensson, Swedese Möbler, Swerea IVF, Trä- och möbelföretagen (TMF), Vasakronan, Västra Götalandsregionen, Volvo, White Arkitekter.
Read more about the project HERE